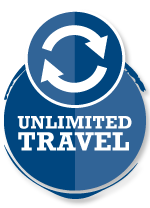 At Kiwi Experience, we want every traveller to get the most out of their trip and encounter the real New Zealand. Our flexible bus network is designed to suit backpackers and independent travellers who want to see and do it all.
That's why, if you choose a Kiwi Experience bus pass which includes unlimited travel, once you have completed your trip in full, you can travel the route again as many times as you like for up to 12 months.
Talk about a flexible NZ travel network!
Popular passes which include our unlimited travel option are The Whole Kit & Caboodle, our most comprehensive pass, and the Funky Chicken – our popular base pass.