Kiwi Experience passengers enjoy guaranteed accommodation as they travel, even in the busiest season. Rather than sticking just to New Zealand hostels, we take you to unique places where you can get amongst the locals and experience the legendary Kiwi hospitality.
BOOKING YOUR ACCOMMODATION
Accommodation is not included in the price of your bus pass, however your Driver Guide will be able to book a dorm bed for you. We partner with great hostels around the country that provide comfy, clean and reasonably priced beds. If you want to sort out your own accommodation, that's no worries! Just make sure you are not staying too far away from one of our Pick Up Points and don't forget to let us know so we can update your bus booking.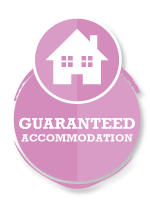 GUARANTEED ACCOMMODATION
When you're on board Kiwi Experience - we guarantee your first nights accommodation at every overnight stop (two nights in Taupo and Franz Josef and three nights in Queenstown). Even in peak season when accommodation can be hard to come by, your accommodation is guaranteed when you are travelling with Kiwi Experience. Your driver guide will take care of all bookings for you as you go. If you are planning to stay somewhere longer than the minimum travel time, we recommend you book these extra nights ahead of time to avoid dissapointment at peak times (October - March).
PRICES AT OUR HOSTELS
A dorm bed will generally cost you around NZD $30 - $35 per person, per night. This is what we can book for you. Double room's are approximately NZD$80/night ($40 each) and you will need to book in advance.
ACCOMMODATION PACKS
If you prefer to pre purchase some of our unique overnight stays, we have some pretty sweet Accommodation Packs you can buy before you jump on the bus. We provide you with the vouchers and it's up to you when you want to use them (while you are on the bus). Your driver guide will still help to book the accommdation in as you travel, but the cost will already be taken care of.
UNIQUE OVERNIGHT STOPS
Our team are always sniffing out secret spots that no amount of Googling will surface. Hidden gems around New Zealand that embody the values and ethos of adventure and offer a truly unique opportunity to experience the culture and magic of Aotearoa 'the land of the long white cloud. Being the original adventure bus, we've clocked up a few miles around our beautiful country and we've been able to secure some amazing stops for your New Zealand trip. Click on the locations below to learn more about each of our overnight stops.
North Island
Paihia: Pipi Patch - the Winterless North
Auckland: Nomads Auckland - the City of Sails
Hot Water Beach: Hot Water Beach Holiday Park - dig your own spa pool
Waitomo: Kiwi Paka - Legendary Black Water Rafting and Glowworm Caves
Rotorua: Hot Rocks - with the option to upgrade to a Marae Stay at Tamaki Maori Village
Taupo: Base Taupo (Southbound), Urban Retreat (Northbound)
River Valley: River Valley Adventure Lodge – one of New Zealand's best kept secrets
Wellington: Base Wellington - New Zealand's capital city
South Island
Kaiteriteri: Kaiteri Lodge - thegateway to Abel Tasman National Park
Westport: Bazils Hostel & Surf School - those sweet as Westcoast vibes
Lake Mahinapua: The famous Mahinapua Hotel - over 25 years of history
Franz Josef: Rainforest Retreat - nestled amongst native bush, built to embrace the natural environment
Wanaka: Base Wanaka - home to "That Wanaka Tree"
Queenstown: Nomads Queenstown - the adventure capital of New Zealand
Invercargill: Tuatara Lodge - New Zealand's most Southern and Western city
Dunedin: On Top Backpackers - the best student city in New Zealand
Lake Tekapo: Lakefront Lodge - night famous for delivering one of the clearest night skies in the world
Christchurch: YMCA - the South Island's largest city
Kaikoura: Lazy Shag - home of Dusky Dolphins and Sperm Whales
Glamping is available throughout the Kiwi Experience route at a variety of overnight stops. When on the bus, your Driver Guide will inform you of the locations and can book you into this on-bus exclusive option.