GREAT ACCOMMODATION FOR BACKPACKERS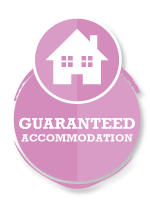 Kiwi Experience passengers enjoy guaranteed accommodation as they travel, even in the busiest season. Rather than sticking just to New Zealand backpackers and hostels, we take you to off the beaten track places where you can get amongst the locals and experience the legendary Kiwi hospitality. We even offer Glamping!
GUARANTEED ACCOMMODATION
When you're on board Kiwi Experience - you're guaranteed your first nights accommodation at every overnight stop (two nights in Taupo and Franz Josef and three nights in Queenstown). Even in peak season when accommodation can be hard to come by, your accommodation is guaranteed when you are travelling with Kiwi Experience. Your driver guide will take care of all bookings for you as you go.
TYPICAL PRICES AT A BACKPACKERS HOSTEL
A dorm bed in an NZ backpackers' hostel will generally cost you around NZD $30 - $35 whilst a double room is approximately NZD$80/night ($40 each). If you are planning on staying in private accommodation, we recommend pre-booking your accommodation, especially in peak season (October - March).
TENTING, CAMPING AND TRAMPING
New Zealand is a great place to go tenting/camping/tramping. However, for ease, speed and a good night's sleep, the majority of Kiwi Experience passengers choose low cost backpacker accommodation in NZ. You'll need the good night sleep once you see what we've got planned for you the next day! If you are keen to go tenting though just let us know and we'll point you in the direction of some awesome camping locations.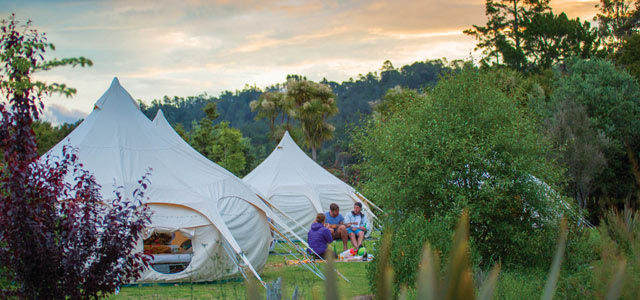 UNIQUE OVERNIGHT STOPS
Where will you be sleeping tomorrow night? Travel with Kiwi Experience and it could be a remote adventure lodge or a Kiwi holiday park next to one of the world's best beaches (according to Lonely Planet) .Being the original adventure bus, we've clocked up a few miles around our beautiful country and we've been able to secure some amazing stops for your New Zealand trip.
Hot Water Beach Holiday Park - next door to a beach that is famous for, you guessed it, hot water!
Marae Stay at Tamaki Maori Village
River Valley Adventure Lodge – so far off the beaten track, the bus can't even get there
Award-winning Bazils Hostel & Surf School
The famous Mahinapua Hotel - over 25 years of history!
Stay on the lake front at NZ's most instagrammed location - Lake Tekapo
Glamping is offered exclusively to Kiwi Experience passengers en route - find out more from your driver guide.
Glamping is available throughout the Kiwi Experience route at a variety of overnight stops. When on the bus, your Driver Guide will inform you of the locations and can book you into this on-bus exclusive option.
HOT WATER BEACH HOLIDAY PARK, COROMANDEL PENINSULA
Hot Water Beach Holiday Park is your typical Kiwi holiday park set beside native bush and only a short walk from Hot Water Beach, rated by Lonely Planet as one of the top ten beaches in the world. With fantastic purpose-built cabins for our passengers, Hot Water Beach Holiday Park is a great place to get to know your fellow passengers and to mix it up with holidaying Kiwis in this popular spot.
RIVER VALLEY ADVENTURE LODGE, TAIHAPE
River Valley is an adventure lodge, offering outdoor adventures and activities including rafting, horse trekking, river journeys, kayaking, and the River Valley Spa complex. It's a combination of everything - adventure, atmosphere, fun, great food, beautiful surroundings and friendly staff. Get outside, explore, take part, immerse yourself in the surroundings and enjoy the River Valley culture.
TAMAKI MAORI VILLAGE
Spend the night immersed in a peaceful and authentic Maori village deep within the heart of a Rotorua forest. Beneath an ancient Tawa forest canopy, enjoy an afternoon engaging in a variety of traditional Maori activities before participating in the famous dinner and show. Later, an open camp fire beckons where you will enjoy tales of Maori myths, legends and stories from our history, before relaxing in one of the hot forest spa pools. Retire for the night for a restful sleep in their intricately carved Whare Moe (sleeping house).
GREAT NEW ZEALAND BACKPACKERS & HOSTELS
In addition to the unique accommodation Kiwi Experience also stops at the heart of the popular towns and cities within walking distance of what you'll see and do. Kiwi Experience can recommend some of the best New Zealand backpackers and hostels the country has to offer. With the entire bus getting along great guns all the passengers usually decide to stay together at the same place. However, you're always more than welcome to stay somewhere else and our Driver Guides can help you with this.
For more information about benefits of Kiwi Experience accommodation, check out the Guaranteed Accommodation page.