10 #NZMUSTDO ACTIVITIES
A trip to New Zealand is never short on adventure, but there are also opportunities aplenty to kick it up a notch. Get the ultimate Kiwi Experience as you make your way around this incredible multi-island nation; make new friends and feed your adventurous spirit with some amazing experiences that are sure to tick a few items off your bucket list.
1. Surf the sand at 90 mile beach
– Head north with the
Bay and Cape pass
for a memorable drive on the sandy beach from Paihia in Bay of Islands to Cape Reinga, where the Pacific and Tasman waters meet. Along the way, you'll encounter crashing waves, rainforest canopies, and sand dunes meant for surfing at high speed; truly an unforgettable experience.

2. Go black water rafting –
One of the
North Island "gotta do's"
is a black water rafting escapade through the Ruakuri Cave in Waitomo while glow-worms sparkle around you. The Black Labyrinth tour will have you tubing on an underground river, over cascading waterfalls and through limestone corridors for a subterranean adventure like no other.

3. Ride the Tranzalpine Train –
The
Tranzalpine Dog Leg
will take you on a wondrous journey across the Canterbury Plains on the Tranzalpine Train, known as one of the world's great train journeys for its remarkable scenery. Head to the open carriage for breathtaking views of the mighty Southern Alps and the ice-fed Waimakariri River, as well as deep gorges and native beech forests; your camera is sure to get a workout.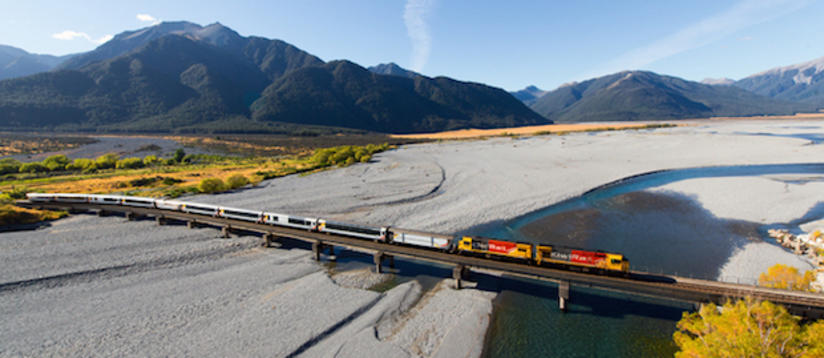 4. Skydive in Taupo
–
Get Kiwi Experienced
in Taupo with a 200km per hour freefall out of a pink plane from as high as 15,000 feet. This tandem skydive over snow-tipped mountains, emerald green fields and sparkling lakes is breath-taking.

5. Whale Watch in Kaikoura –
A spectacular seaside location where the landscape is formed by colliding tectonic plates, Kaikoura offers a fantastic opportunity to get up close and personal with its abundant marine life. Join knowledgeable guides on a catamaran with the
Naturemax
pack and see the Giant Sperm Whale in its natural habitat.

6. Go ice climbing on a glacier –
No trip to New Zealand would be complete without hiking on a glacier. The
South and Sound
pass will take you through glacier country to Fox Glacier, where the ultimate adventure awaits as you climb vertical ice walls and pinnacles through a spectacular frozen wonderland.

7. Bungy Jump off Kawarau Bridge
– Home of the world's first bungy jump, the 43 metre jump off historic Kawarau Bridge in Christchurch will definitely get the adrenalin pumping. Whether you jump alone or with a friend, this is definitely one of the
South Island's "gotta do's"
.

8. Go in a OGO
– Stop in Rotorua on the
Northern Roundup
and have a hilarious time as you fling yourself down a hill in a giant inflatable ball. Zorbing is truly a unique adventure that will take you back to your childhood.

9. Skywalk in Auckland
– Make a stop in Auckland on the
Tui pass
and walk high above the city at the Skywalk; there are no handrails here, so nothing can disrupt the 360-degree views of the city, the harbour and beyond.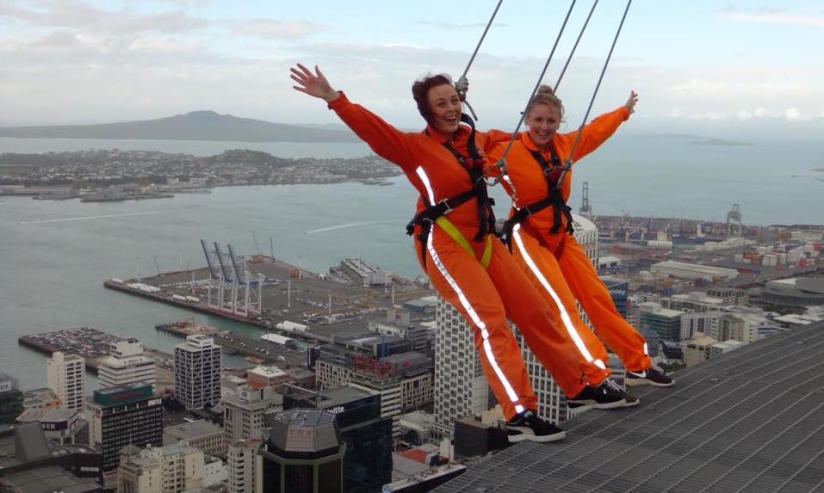 10. Do a Great Walk (or two!)
– Experience the astounding scenery of New Zealand with one of many spectacular walks. Get the
Whole Kit and Kaboodle
pass and explore the Tongariro Northern Circuit on the North Island, where you can walk around active volcanoes and past lava flows and craters for an exceptional experience. On the South Island, head to Fiordland National Park and travel across glacier carved valleys, to pristine lakes and cascading waterfalls along the Milford, Kepler, or Routeburn tracks.

New Zealand has a million and one ways to please any adrenaline junky. Stop hesitating. The adventure awaits!
For activity packages and more info about some of the amazing stuff you can get up while in New Zealand check out our activities page.