MY SOUTH ISLAND ADVENTURE CONTINUES...
(English translation below...)
Das Highlight meiner Tour über die Südinsel fand direkt schon am ersten Tag statt: Das Schwimmen mit wilden Delfinen in Kaikoura. Wenn ich es euch beschreibe und ihr Videos und Fotos seht, wollt ihr es mit Sicherheit auch sofort machen. Ich zumindest würde es jederzeit nochmal machen!
DIE REGELN IM WILDLIFE
Als wir beim Dolphin Encounter ankamen, haben wir zunächst unsere Ausrüstung bekommen und dann wurde uns ein kurzes Video gezeigt über Verhaltensregeln und Tipps wie Delfine anlocken kann. Es wurde oft wiederholt, dass wir uns bewusst werden müssen, dass es wilde Tiere sind. Sie sind nicht trainiert, sondern wir schwimmen mit ihnen in ihrem eigenen Lebensraum. Daher ist es nicht vorauschaubar, wie sie sich verhalten und niemand kann versprechen, dass sie an jedem Tag wirklich Lust haben mit uns zu schwimmen.
Dann ging es auch schon in den Bus, der uns zum Boot gefahren hat.
Ich habe mir eine GoPro geliehen, und kann sagen dass es sich auf jeden Fall gelohnt hat. Denn obwohl ich keine Unterwasserkamera habe, wollte ich den Moment trotzdem unbedingt festhalten.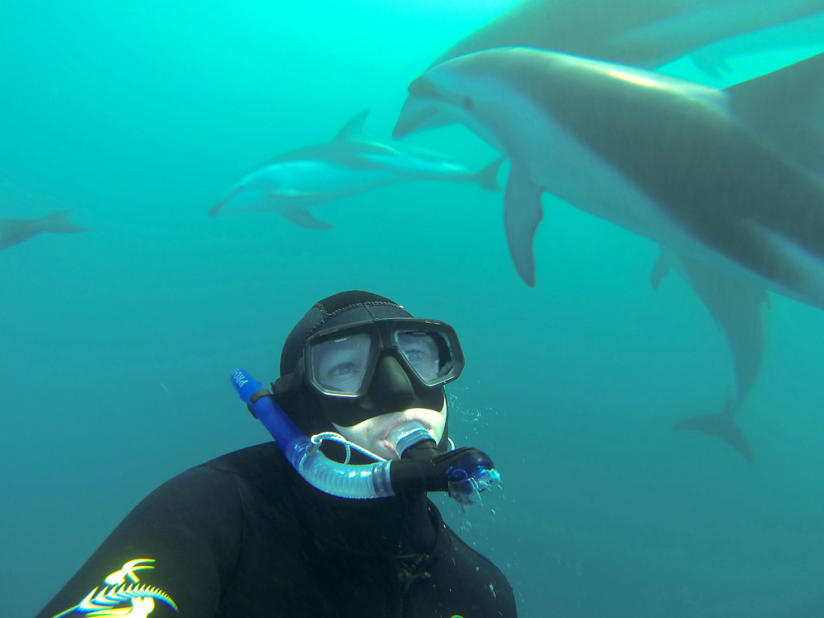 DELFINE – WO SEID IHR?
Auf dem Boot haben wir dann unsere Schnorchel angezogen und uns an die Bootkante gesetzt bis die Mitarbeiter Delfine erspäht haben und wir ins Wasser durften. Uns wurde am Anfang gesagt, dass wir maximal 5 Stopps machen können, da sie die Delfine nicht übermäßig reizen wollen. Bei dem ersten Stop haben wir leider nur einen Delfin ganz kurz entdecken können, und wurden dann zurück zum Boot gerufen. Beim zweiten Stop war es leider nicht anders, weshalb man bei manchen schon ein kleines bisschen Enttäuschung unter der Taucherbrille erkennen konnte.
Alle gaben sich die grösste Mühe Geräusche zu machen, die Delfine angeblich anlocken würden. Die Leute, die auf dem Boot geblieben sind hatten eindeutig ihren Spass dabei.
MITTEN IM SCHWARM
Beim dritten Stop jedoch befanden wir uns jedoch plötzlich mittendrin in einem richtigem Schwarm von Delfinen, die von allen Seiten um uns herum geschwommen sind. Es war ein fantastisches Gefühl, wenn man bedenkt dass es wirklich wildlebende Tiere sind, die gerade unmittelbar neben dir im Wasser schwimmen. Die Tipps und Tricks, die uns gegeben wurden, waren wirklich hilfreich: Sobald ich mich selbst ein paar Sekunden lang im Kreis gedreht hat, kamen auch Delfine hinzu und sind um mich herum geschwommen. Später konnte ich sogar auf den Videos feststellen, dass sie probiert haben mit mir zu kommunizieren.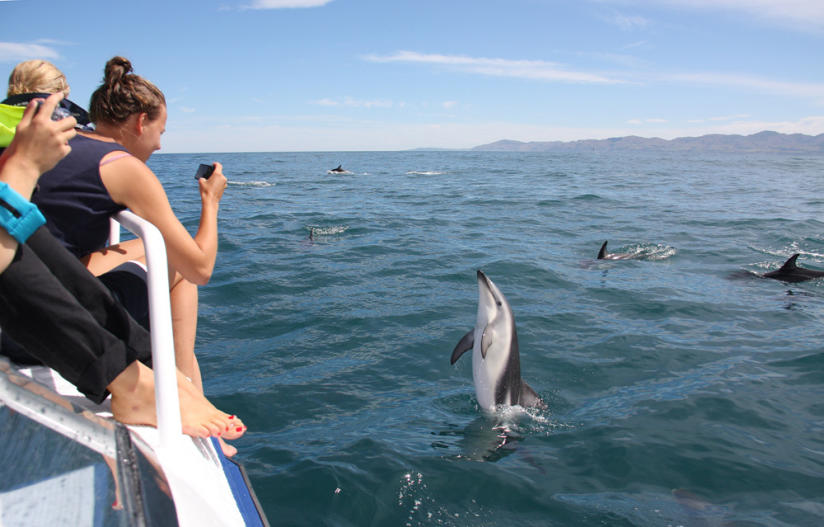 Der vierte Stop war ähnlich beeindruckend, und als wir wieder aufs Boot kamen war ich überglücklich und konnte gar nicht aufhören zu strahlen. Wir wurden dann mit Keksen und heißer Schokolade versorgt und haben vom Boot aus beobachtet, wie die Delfine neben uns her geschwommen sind und wie ein Seelöwe auch noch probiert hat, unsere Aufmerksamkeit auf sich zu lenken.
Es war wirklich eine der schönsten Dinge, die ich jemals gemacht habe, und wer die Möglichkeit bekommt sollte es auf jeden Fall ausprobieren! Das Beobachten der Wale und Delfine ist mit Sicherheit auch spannend, aber selber mit ihnen im Wasser zu sein kann einfach nichts übertreffen.
---
English version:

The highlight of my tour in the South Island took place on the first day: Swimming with wild dolphins in Kaikoura. When I describe it to you and you see the videos and photos, you will want to do it immediately – I promise! I would do it again in a heartbeat.
THE RULES IN WILDLIFE
When we arrived at Dolphin Encounter, we got dressed in our gear and equipment and then were showed a short video about rules on how to behave around the dolphins and tips on how to get their attention. It was repeated very often, that we must be aware of the fact, that these are wild animals. They are not trained and we swim with them in their own habitat. Therefore, how they behave can be unpredictable and no one could promise that they would definitely come and swim with us. After this it was time to get on bus which drove us to the dolphin boat.
I hired a GoPro and can say that it was definitely well worth it as I don't have an underwater camera, but knew I was going to want to capture these moments.
DOLPHINS - WHERE ARE YOU?
Once on the boat we put on our snorkels and sat down on the edge of the boat and waited until our guides spotted dolphins and we were allowed to go into the water. At the beginning we were told that we could have a maximum of five swims, as our guides didn't want to overexcite the dolphins. Unfortunately during our first swim, we only spotted one dolphin for a split second, before we were called back to the boat. The same thing happened during our second swim! You can see why there was starting to be a little bit of disappointment under the diving masks of some of us!
We all gave our best to make noises to try and attract them. The people who stayed on the boat definitely had fun watching us.
IN THE MIDDLE OF THE POD
However, at the third stop there was suddenly a large pod of dolphins who swam around us from all sides. It was a fantastic feeling when I realized that they were actually wild animals. The tips and tricks that were given to us were really helpful. As soon as I quickly spun around in circles for a few seconds, the dolphins became intrigued and swam towards and around me. Watching my videos later, I could even see that they were trying to communicate with me!
The fourth stop was similarly impressive and when we came back to the boat I was exuberantly happy! We were given cookies and a hot chocolate to warm up and were able to watch from the boat as the dolphins swam beside us. A seal also tried to get our attention!
It was truly one of the most amazing things I have ever done. If you get the opportunity you should try it for sure! Watching whales and dolphins is certainly exciting as well, but actually getting to swim with them beats everything!