HOW ED'S KIWI EX TRIP MADE HIM FALL IN LOVE WITH NZ...AND NEVER LEAVE
FROM BACKPACKING WITH KIWI EXPERIENCE TO SNOWBOARDING IN QUEENSTOWN​
In November 2014 I left the United Kingdom and my career in marketing to go on a global adventure, stopping in a selection of Asian countries as well as New Zealand and Australia. My plans for New Zealand were completely open (literally I didn't have a clue what I was doing!), but after hearing endless travellers raving about Kiwi Experience, I impulse purchased the Funky Chicken Pass. Almost a year on, I am back in New Zealand, working for a ski instructor course provider in Queenstown and it is all because Kiwi Experience lit a spark!
ARRIVING IN NEW ZEALAND AND THE KIWI BUS
I vividly remember getting on my Kiwi bus in Auckland, unsure of what I had signed up for and hugely sleep deprived from almost 36 hours of connecting flights... but 20 minutes out of Auckland, I could already tell it was going to be a trip of a lifetime and the bus started to mingle.
For almost a month our bus crew gallivanted around New Zealand, met by stunning sights at every corner and creating bonds with people that were destined to last. From the tops of Mount Doom in Taupo to taking photos of lakes which gave no concept of what was a reflection and what was a reality… every second was unbelievable.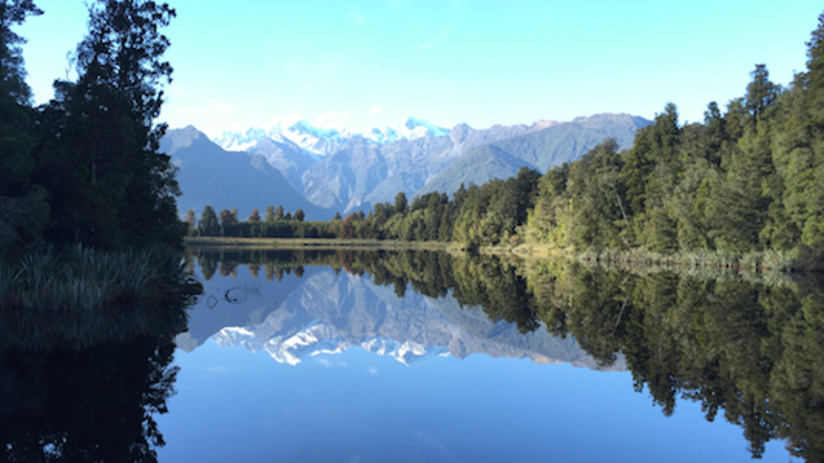 I had never considered living in New Zealand being part of my travel plans, let alone doing a ski instructor course in New Zealand. In fact, it was actually a conversation I overheard on the bus which originally put the idea into my head. I didn't even know that there were real ski fields here, but once we descended on Queenstown and I started to see snow sports shops, posters and merchandise I knew what I wanted to do…
POST NEW ZEALAND BLUES
As soon as I left New Zealand, I wanted to go back… My flight out of Auckland took me back north to Vietnam, where I was planning to meet some of my friends from home. While hugely excited about this, I felt I had not yet finished with New Zealand and had an urge to go back.
Through my second venture into Asia I saw some spectacular things, did some great activities and consumed some unknowns, but I was still craved to return to NZ. In fact, I spent several weeks of my Vietnam tour with some of my Kiwi Experience bunch, so everyday we were reminded how epic it was. At this stage I decided to just commit and book my flight back to Queenstown – with no plan, just a goal of doing a ski season.
GETTING BACK INTO REALITY (A BETTER VERSION)
I couldn't contain my excitement as I dropped through the snow-capped peaks into Queenstown airport – recently rated the world's most scenic airport landing. However, this time I knew the experience was going to be a bit different, as I was becoming more money conscious and wasn't doing things for the first time.
My original plan was just to grab any work I could that would enable to see me through a ski season. But finding work was far more difficult than anticipated. In the end, I decided to try and put my professional skills to use and weaved my way into a marketing role helping a ski instructor provider and school travel organiser with their digital marketing.
Once the snow arrived in mid-June I knew I had made the right choice. For the last few months I have been riding my snowboard pretty much every day. I carry out my marketing duties in between being a ski instructor. My ski students are a mixture of school ski trips, Aussie holidaymakers and Kiwis who are just getting away for short breaks.
When I am not working, I get to experience this sort of thing – not bad, aye?
THE MORAL OF THE STORY
The moral of the story is a simple, but an important one (and Nike sum it up well) – just do it. Stop thinking about the five year plan and focus on making the most of the current one.
I am now pretty settled in Queenstown, with no real plans to leave except a surprise visit to home for Christmas (also a chance to see some of my Kiwi crew). I get to wake up to this every morning, so I really see no reason to think about leaving!