MY HIGHLIGHTS ON THE NORTH ISLAND
(English translation below...)
Meine Reise über die Nordinsel war eine unglaublich schöne, spannende und ereignisreiche Woche! Rückblickend kann ich sagen, dass es wahrscheinlich die beste Woche war seitdem ich hier bin. Wir haben so viel unternommen, dass ich hier probiere die besten Erlebnisse nochmal zusammenzufassen.
Über einige Ereignisse habe ich ja schon ausführlicher geschrieben und ich muss sagen, dass diese auch die absoluten Highlights meiner Reise waren. Auf den Besuch in Hobbiton habe ich als Herr der Ringe Fan schon sehr lange hingefiebert. Beim Black Water Rafting habe ich nicht nur die Höhlen mit den wunderschönen Glühwürmchen bewundert, sondern hatte auch bei manchen Aufgaben die Möglichkeit über mich selbst hinausgewachsen. Am Tamaki cultural evening habe ich viel interessantes gelernt und auch selber ausprobieren können. Und der Skydive war einfach war einfach ein unbeschreiblich schönes Gefühl von Freiheit!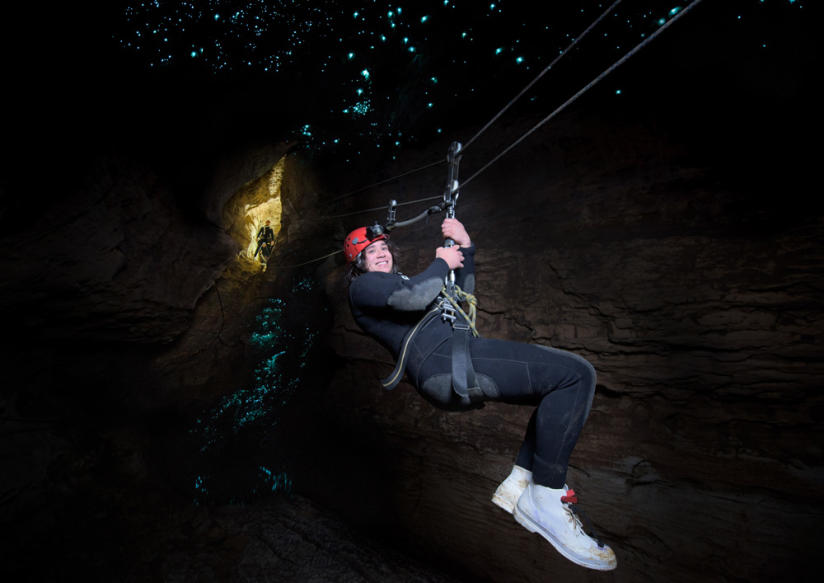 Aber neben diesen einzigartigen Erlebnissen gab es auch noch viele andere Aktivitäten die sehr interessant waren und mir wirklich Spaß gemacht haben!
BARBARY SAILING AUF DEM LAKE TAUPO
Das war zum Beispiel das Barbary Sailing auf dem Lake Taupo. Abends gegen 8 sind wir vom Hafen in Taupo losgefahren. Es war nur ein relativ kleines Boot mit ca 25 Leuten, deshalb war eine richtig gemütliche Stimmung! Wir haben an den Maoribildern gestoppt, die in Felsen gehauen wurden, haben uns gemeinsam den Sonnenuntergang angeschaut und danach den Sternenhimmel über dem See genossen. Das Boot war privat von Kiwi Experience gechartert, wir durften alle unsere eigenen Getränke mitbringen und für 5 $ konnte man auch am BBQ teilhaben. Das Gute war, dass kostenlos Ponchos für alle zur Verfügung gestellt wurden, die uns gut warm gehalten haben. Es war wirklich ein sehr schöner Trip: lang genug um es zu geniessen und mit vielen ins Gespräch zukommen aber nicht zu lang um sich zu langweilen oder seekrank zu werden.\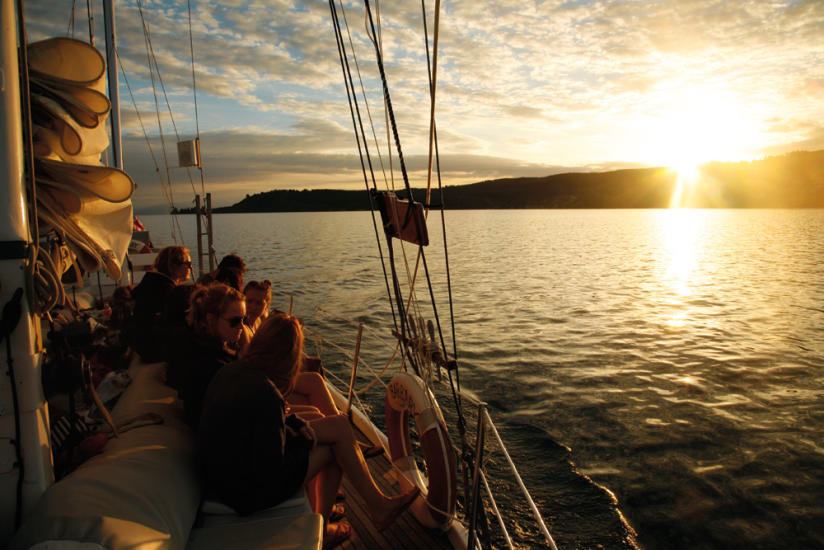 TONGARIRO CROSSING
Ein weiterer Ausflug der wirklich Eindruck hinterlassen hat, war das Crossing im Tongariro National Park. An unserem 2. Tag in Taupo wurden wir morgens um 5:30 von einem Shuttle Bus abgeholt und kamen gegen 7 im National Park an. Am Anfang war es noch ziemlich kalt, weil es sehr früh war, aber als wir erstmal losgelaufen waren wurde uns relativ schnell warm. Es ging zwischendurch ein ganz schön langes Stück steil bergauf, deshalb haben wir ziemlich viele Pausen einlegen müssen – kurz etwas trinken, durchatmen, ein paar Fotos machen und dann ging es weiter.
Aber als man dann erstmal oben war, hatte man so einen atemberaubenden Blick über die Berge und Vulkane, dass man die Anstrengungen mal kurz vergaß! Einer der Vulkane war der "Schicksalsberg" von Mordor in Herr der Ringe. Nach ein paar weiteren Kilometern hatten wir einen wunderschönen Ausblick auf drei Seen mit richtig türkisem Wasser. Auch da haben wir es uns kurz gemütlich gemacht, uns mit ein paar Sandwiches gestärkt und dann sind wir auch schon wieder los. Danach ging es aber leider trotzdem noch 10 km weiter und nach insgesamt über 8 Stunden kamen wir dann endlich unten an..
Da ich so gut wie nie wandern gehe, war das Crossing für mich eine echte Herausforderung aber am Ende war ich stolz es geschafft zu haben und die unglaublichen Ausblicke waren es mir auf alle Fälle wert!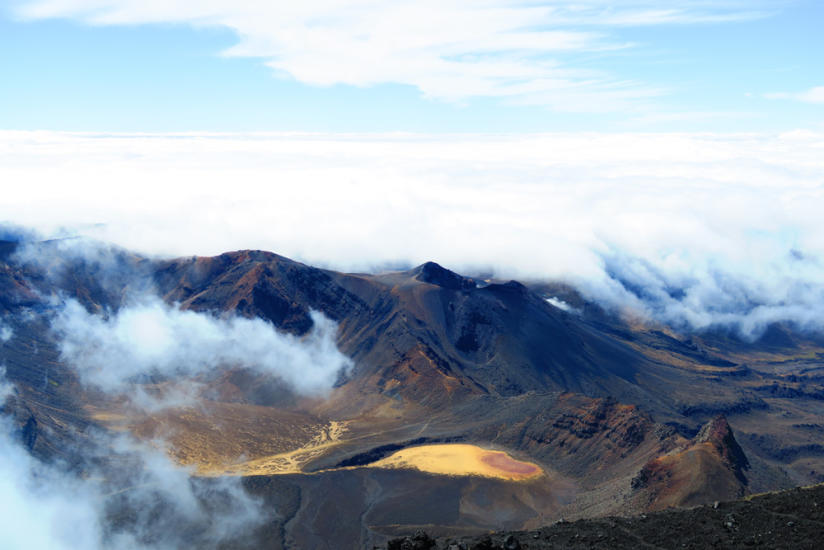 Ich habe in dieser einen Woche wirklich viele Erfahrungen gesammelt, sehr viel gesehen und ausprobiert und kann es nur jedem weiter empfehlen kann! Gerade wer nur begrenzte Zeit zum Reisen hat, trifft mit Kiwi Experience eine gute Entscheidung. Ich habe fast die ganze Nordinsel in nur 8 Tagen gemacht, habe viele unterschiedliche Aktivitäten mitgemacht und so wie ihr es in den andern Blogs auch schon lesen konntet diese Zeit sehr genossen!!
---
English version:
My trip across the North Island was an incredibly beautiful, exciting and eventful week! Looking back I can say that this was probably the best week since I've been in New Zealand.
I have already written a more detailed description about some activities and I have to say that these were the absolute highlights of my trip. I was really looking forward to going to Hobbiton for a long time, because I've always been a big fan. At the Black Water Rafting I did not only admire the caves with the beautiful glowworms, but I was also able to challenge myself and learn. In the Tamaki cultural evening I learned a lot of interesting things and could also try a lot of things out. And the Skydive was just an incredible feeling of freedom!
But in addition to these unique experiences, there were also many other activities which were fun and very interesting!
BARBARY SAILING ON LAKE TAUPO
An example of these unique experiences was the Barbary Sailing on Lake Taupo. In the evening around 8 we left the harbour in Taupo. It was only a small boat with about 25 people, so was a really cozy atmosphere! We stopped at the Maori Rock carving, watched the sun go down and enjoyed the starry sky above the lake. The boat was privately chartered by Kiwi Experience and we could bring all our own drinks and for $5 you could take part in the BBQ. The good thing was that free ponchos were provided for everyone, which kept us warm during the trip. It was a very nice trip: long enough to enjoy it and get into a conversation with many people but not too long to get bored or seasick.


TONGARIRO CROSSING
Another trip that appealed to me was the crossing in Tongariro National Park. On our second day in Taupo we were picked up at 5:30am in the morning by a shuttle bus and arrived at 7am in the National Park. At first it was pretty cold, because it was very early, but as we started walking we felt warm very quickly. In between there was a long steep uphill, so we had to take quite a few breaks - have a drink, breathe deeply, take a few pictures and then head on.
But as we came up to the top, we had such a breath-taking view over the mountains and volcanoes that we forgot the struggle for a moment! One of the volcanoes was the "Mount Doom" from Mordor in Lord of the Rings. After a few more kilometres we had a beautiful view over three beautiful lakes with turquoise water. We sat down there again, took a break and ate our sandwiches to get energy for the rest of the walk. Because after that we had to continue unfortunately for another 10 km and after eight hours in total, we finally arrived.
The Crossing was a real challenge for me, because I don't go for walks very often, but in the end I was proud that I did it and the incredible views were worth all the effort!
A GREAT TRAVEL-OPTION
In this one week I've collected a lot of experiences, I've seen and tried a lot and I can recommend it to everyone! Whoever wants to see the beautiful parts of the country, pick up many experiences and have a great trip, makes a good decision with Kiwi Experience. Even for those who have limited time to travel a trip with a hop-on, hop-off company is a good option. I saw almost the whole North Island in just 8 days, experienced many different activities and as you can see in my previous blogs, I enjoyed this time very much!