BLACK WATER RAFTING IN WAITOMO
(English translation below...)
Den 2. Tag meines Northern Round Up – Trips haben wir in Waitomo verbracht. Dort gibt es die berühmten und einzigartigen Glowworm caves: riesige Höhlen, die nur durch tausende kleine Glühwürmchen erhellt werden. Wirklich beeindruckend! Man kann verschiedene Abenteür-Touren des Black Water Raftings durch die Höhlen buchen, die sich vom Schwierigkeitsgrad unterscheiden. Es ist mit Sicherheit für jeden was dabei!
BLACK ABYSS – DIE BESTE WAHL​
Von den 3 möglichen Touren habe ich die Black Abyss Tour gemacht. Wir waren nur eine kleine Gruppe von 5 Leuten aus dem Kiwi Bus, was die perfekte Grösse war. Nachdem wir um 14 Uhr direkt von unserer Unterkunft abgeholt wurden, haben wir erstmal unsere Ausrüstung bekommen (die wirklich hilfreich war, denn wir haben trotz des ziemlich kalten Wassers nicht gefroren). Danach sind wir zu einem kleinen Übungsplatz gefahren, wo wir das Abseilen an einem kleinen Abhang erstmal üben konnten, bevor es in die Höhlen ging. Das war sehr sinnvoll, weil ich persönlich zum Beispiel noch nie klettern war und deshalb auch noch überhaupt keine Übung im Abseilen hatte.
​ADRENALIN PUR!
Nach der kurzen Einführung ging es dann auch schon in die Höhle. Ich war die erste die sich die 35 Meter ins Dunkle abseilen gelassen hat und ziemlich aufgeregt! Aber zum Glück hat sowohl ein Guide oben geholfen, dass wir richtig starten und ein anderer Guide hat unten auf uns gewartet. Sie haben uns alles ganz in Ruhe erklärt, was man machen kann wenn man mal kurz etwas Panik bekommen hat.
Als wir dann unten angekommen waren, sind wir einen sogenannten Flying fox runtergefahren. Das ist eine Art Seilbahn im Dunklen, auf der man sich fühlt als würde man fliegen, umgeben von tausend Glühwürmchen. Wirklich ein unbeschreibliches Gefühl, und dazu eine ordentliche Portion Adrenalin!
​ABER AUCH ENTSPANNUNG ZWISCHENDURCH...
Zwischendurch haben wir auch kleine Pausen zum Erholen gemacht, sind in unseren Gummireifen durchs Wasser getrieben und konnten die Glühwürmchen über uns wie einen Sternenhimmel unter der Erde geniessen. Die Guides hatten warmen Tee und Kakao für uns, sowie Kekse und Schokolade als Stärkung.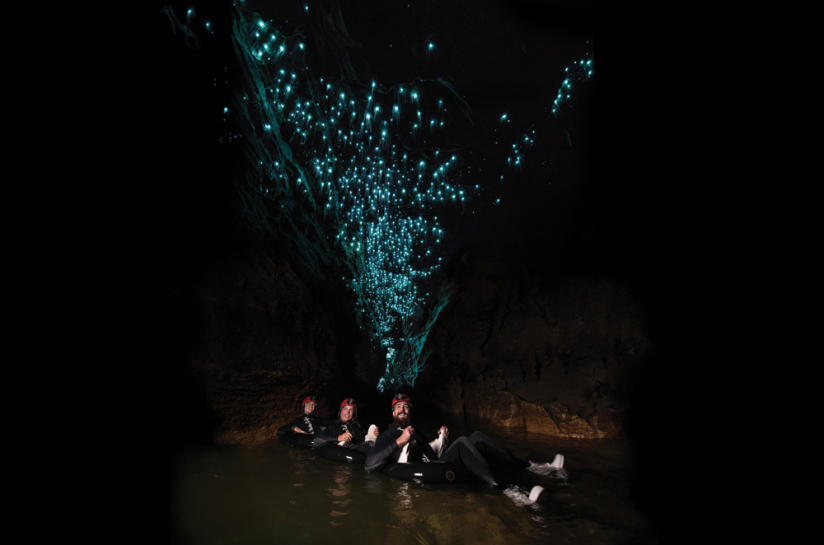 Nach der Verschnaufpause ging es dann weiter, wir sind durchs Wasser geschwommen, durch enge Felsspalten geklettert, durch Tunnel gekrabbelt, Wasserfälle hochgeklettert und wieder runtergesprungen und noch vieles mehr.
​EIN UNVERGESSLICHES ERLEBNIS
Rückblickend kann ich sagen, dass es wirklich eine der besten Aktivitäten ist, die man auf der Nordinsel machen kann! Die riesigen Höhlen an sich mit den vielen Glühwürmchen sind einzigartig, und auf jeden Fall ein must-see in Neuseeland. Aber besonders die Black Abyss Tour bietet unglaubliche Erfahrungen und ein unvergessliches Erlebnis! Ich hatte am Anfang etwas Respekt vor den einzelnen Stationen, aber ich habe eine richtige Euphorie während der Tour entwickelt, war richtig stolz dass ich mich alles getraut habe und hatte unglaublich viel Spass! Auch die Stimmung in der Gruppe und mit den Guides war total entspannt und witzig. Ich kann es allen nur weiterempfehlen!
---
BLACK WATER RAFTING IN WAITOMO
The second day of my Northern Round Up – trip we spent in Waitomo. There you can find the famous and unique Glowworm caves: big caves that are only lit by small glowworms. Really impressive! You can book various adventure tours of the Black Water Rafting through the caves that differ from their level of difficulty.
BLACK ABYSS – THE BEST CHOICE
Of the three possible tours, I did the Black Abyss tour. We were only a small group of 5 people from the Kiwi bus, which was the perfect size. After we were picked up at 2 from our accommodation, we got our equipment at first (which was really helpful, because we didn't freeze, although the water was quite cold).
Then we drove to a small drill ground where we could practise the abseiling on a gentle slope first, before we went into the caves. This was very useful because I personally never did something similar before and definitely needed some practise before.
PURE ADRENALINE!
After the brief introduction we entered the cave. I was the first who did the abseiling 35 m down into the darkness and I was quite excited! But fortunately there was a guide helping us to start right as well as a guide waiting for us down in the end of the abseiling. They explained us calmly what you can do if you get some panic.
As all of us reached the bottom of the cave, we did the Flying Fox. We felt like we were flying, surrounded by thousands of glowworms. Really an indescribable feeling, plus a good dose of adrenaline!
BUT ALSO RELAXING IN BETWEEN…
In the meantime we made breaks to relax, floated in the water in our tubes and could enjoy the glowworms above us as a starry sky under the earth. The guides offered hot tea and hot chocolate for us, as well as biscuits and chocolate as a boosting.
After the breather, we swam through the water, climbed through narrow crevices, crawling through tunnels, climbing up waterfalls and jumped down again and much more.
AN UNFORGETTABLE EXPERIENCE
Looking back, I can say that it is truly one of the best activities that you can do on the North Island! The big caves with the thousands of glowworms are unique and definitely a must-see in New Zealand. And especially the Black Abyss Tour offers amazing experiences and an unforgettable adventure! I actually was a bit afraid in the beginning, but I developed a real euphoria during the tour, and I was really proud of myself that I did everything and I definitely had a lof of fun! The atmosphere in the group and with the Guides was totally relaxed and funny. I can definitely recommend it to everyone!