HOBBITON MOVIE SET TOUR
(English translation below...)
EINE LANG ERWARTETE REISE!​
Hobbiton Movie Set: wahrscheinlich mein langersehntestes Reiseziel in Neuseeland! Seitdem ich ca. 9 Jahre alt bin gucke ich mit meiner Familie zusammen regelmäßig die Herr der Ringe Filme und habe natürlich auch schon die beiden Hobbit Filme im Kino gesehen. Ich kenne so gut wie jede Szene, kann es mir aber trotzdem immer und immer wieder anschauen, denn man entdeckt immer wieder was Neues. Ich kriege jedes mal Gänsehaut wenn ich die Titelmusik höre, oder die Stimme, die den Film einleitet.
​"I'M GOING ON AN ADVENTURE"
Am 3. Tag des Northern Round Up – Trips war es dann soweit: Auf nach Hobbiton! Ich finde an sich ähnelt ja ganz Neuseeland schon der Kulisse der Filme, aber je näher wir dem Hobbiton Movie Set kamen, desto mehr fühlte ich mich wie mitten in Mittelerde.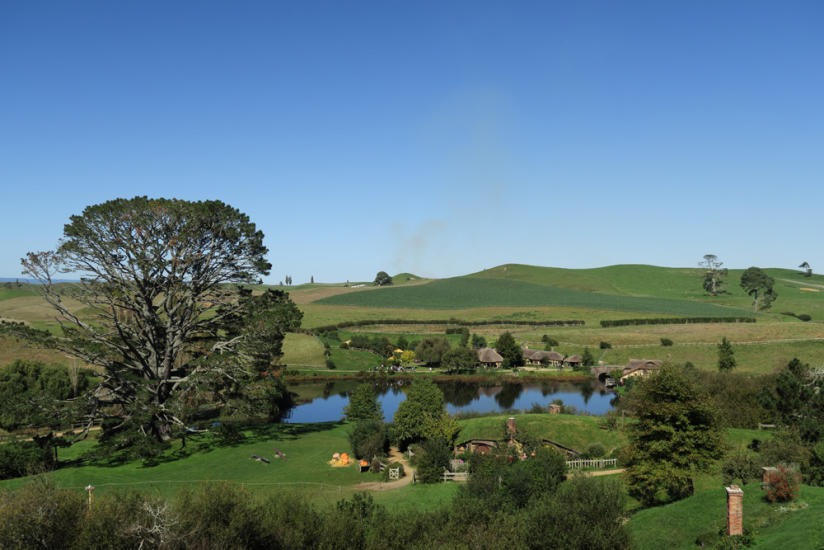 Wir waren eine überschaubare Gruppe von ca. 16 Leuten und wurden von einem Busfahrer von dem Ticket Center abgeholt. Dann sind wir erstmal ein Stück über die riesige Alexander Farm gefahren, die übrigens wirklich noch in Betrieb ist. Am Eingang zu Hobbiton wurden wir dann rausgelassen und haben von da an das Auenland mit einem Guide zu Fuß erkundet.
​HOBBITON HAUTNAH
Man konnte an viele der Häuser ziemlich nah heran gehen, Fotos direkt davor machen, und in manche sogar hineingehen. Nichts war richtig abgesperrt, deshalb kam man sich vor wie in einem wirklichen Dorf, in dem dir jeder Zeit ein Hobbit entgegen kommen kann und nicht wie bloß an einem Filmset.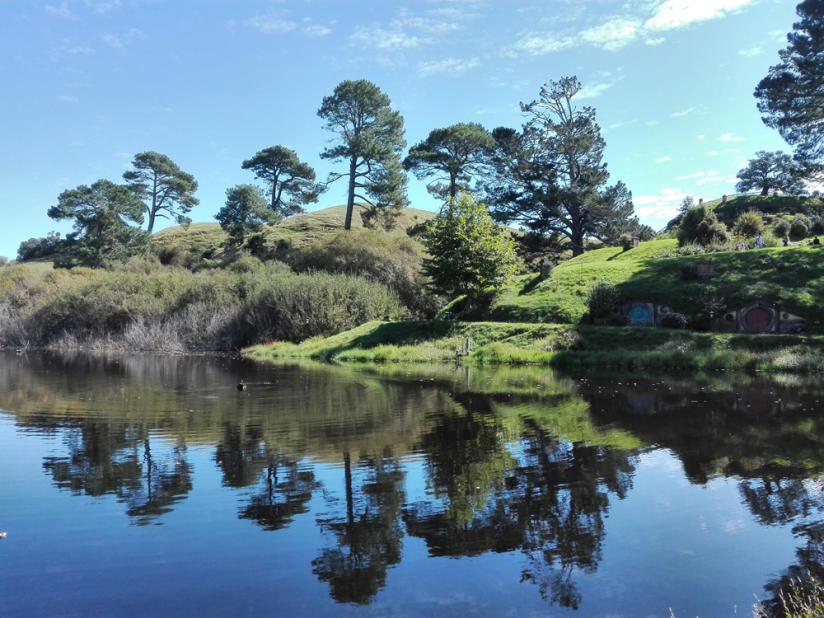 Unsere Tour beinhaltete auch einen Stop im "The Green Dragon" – Gasthof, der eine exakte Nachbildung des Gasthofes in Herr der Ringe und der Hobbit ist. Dort hat jeder von uns ein freies Getränk seiner Wahl bekommen, entweder ein Bier oder ein Cider und die alkoholfreie Variante war ein Gingerbeer. In dem Gasthaus war eine super gemütliche Stimmung und man konnte sein Getränk vor dem echten Kamin genießen.
Ich konnte es kaum glauben als ich auf der Brücke stand, die Gandalf mit seiner Kutsche am Anfang des 1. Herr der Ringe Films überquert, um Bilbo und Frodo im Auenland zu besuchen. Genau so unfassbar war, dass ich den Ort gesehen habe, wo Bilbo und Gandalf gemeinsam Pfeife geraucht haben und Gandalf mit dem Qualm seiner Pfeife ein Schiff formt. Oder dass ich auf dem Platz stand, auf dem Bilbo seinen 111. Geburtstag gefeiert hat.
EIN MUSS FÜR HERR DER RINGE FANS
Wenn man als Herr der Ringe Fan in Neuseeland ist, dann ist das Hobbiton Movie Set auf jeden Fall ein Muss. In der River Valles Lodge hab ich mir mit den anderen Backpackern nochmal den 1. Teil der Herr der Ringe Trilogie angeschaut und es war ein unbeschreibliches Gefühl bei seinem Lieblingsfilm sagen zu können, dass man an vielen der Drehorte selber vorbei gelaufen ist. Aber auch für die nicht allzu großen Fans ist es mit Sicherheit ein schöner Nachmittag, da die Farm einfach wunderschön ist und man Peter Jacksons Gründe für die Auswahl des Drehortes absolut nachvollziehen kann!
HOBBITON MOVIE SET TOUR
AN EAGERLY EXPECTED JOURNEY
Hobbiton Movie Set: this was probably my most awaited destination in New Zealand! Since I was 9 years old I have watched the Lord of the Rings movies regularly with my family, and of course I've also seen the two Hobbit movies at the cinema. I know almost every scene, but even so I can still watch the movies again and again, because you always discover something new. Every time I hear the theme music or the voices from the film it touches my heart!
I'M GOING ON AN ADVENTURE!
On the 3rd day of my Northern Round up Trip it was time to head to Hobbiton!! I think all of New Zealand is quite similar to the scenery of the movies, but the closer we got to the Hobbiton Movie Set, the more I felt like I was in the middle of Middle-earth. We were a group of about 16 people and a driver picked us up from the Ticket Centre.
Then we drove over the huge Alexander farm, which is still in use. At the entrance to Hobbiton, we were dropped off and explored the Shire with a guide on foot from that point.
DISCOVER THE SHIRE
You were able to walk right up to the hobbit houses, take pictures in front of them, and even go inside in some of them. Nothing was shut off properly, so you felt like you were walking through a real village where it was possible to come across a real hobbit at every corner.
Our tour also included a stop at "The Green Dragon" Inn, which is an exact replica of the Inn in Lord of the Rings and the Hobbit. We all got a free drink of our choice there, either a beer, cider or the non-alcoholic option was a Ginger beer. It was a very comfortable and had a homelike atmosphere enjoying your drink in front of a fireplace.
I couldn't believe it when I stood on the bridge that Gandalf crossed with his coach at the beginning of the first Lord of the Rings film to visit Bilbo and Frodo in the Shire. It was also just incredible that I have seen the place where Bilbo and Gandalf smoked a pipe and that I was at the location where Bilbo celebrated his 111th Birthday.
A MUST-DO FOR LORD OF THE RINGS FANS
If you are a Lord of the Rings fan visiting New Zealand, then the Hobbiton Movie Set is definitely a must-see. In the River Valley Lodge I watched the first part of the Lord of the Rings trilogy together with the other backpackers again and it was a great feeling to watch your favourite movie and be able to say you went to many of the locations yourself.
But even for the non-movie fans, it's certainly a nice afternoon as the farm is beautiful and you can definitely understand Peter Jackson`s reasons for his choice of the film location!