THE KEY(WI) TO A GOOD TIME IN ROTORUA!
You get off the plane following a long and incredibly intense, exciting Kiwi Experience, and your parents greet you at the airport. After a long embrace, they ask if you had a good time, and before taking a breath they throw in the question every New Zealand visitor is asked - did you see any kiwis?

You can pick from the following responses:

a) It cost 30 bucks, it was too much (you paid how much for the flights and wouldn't fork out thirty dollars!? What's your name? Ty Tarse.
b) I didn't get the opportunity, there were too many other things, they're nocturnal animals and I didn't bring my night vision goggles, etc.
c) No, but I saw some seagulls - big woop.
Fear not - Kiwi Experience has your back on this one, providing option
d) - a sweet as behind the scenes encounter with New Zealand's native flightless friend.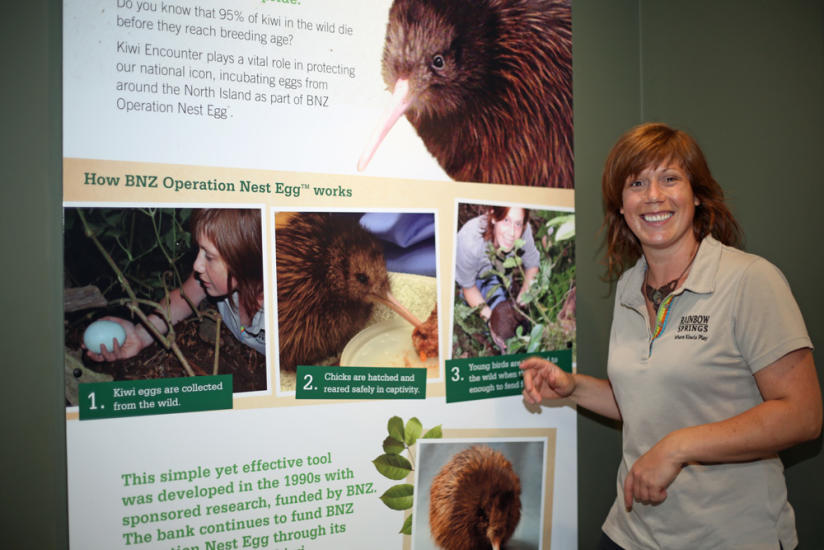 Cheaper than anywhere else, and with a FREE coffee AND muffin (which to those of us with limited funds constitutes lunch, myself included!) this is a huge opportunity for a ki-wee price (I couldn't resist, and the jokes don't get better, that's a promise)!
For just fifteen NZD - that's right, fifteen...one more time, one, five - you can get a behind the scenes tour of the facilities which keeps the population of these birds from declining. With a bunch of dangers out there, including possums, ferrets and stoats (that's-toatally not cool), kiwis were becoming less frequent in the wild, but rehabilitation programmes like this kiwi encounter are stalling the falling numbers.
Plus they're super cute. And your mates will be jealous, because the closest they came to a kiwi was in the fruit aisles.

THE TOUR ITSELF
You kick off the tour in the egg-ceptional hatchery, where you learn about the breeding rituals of the kiwi bird, and get to see some real eggs in incubation
The room that follows is your first chance to see real kiwis - and the smallest kind. Babies. The small chicks in here are very young, and it is explained that they are nursed to ensure they are absorbing the appropriate nutrition - for all those interested in the care of the animals, this is your room. For all those wanting to say "awww" or something similar, this is also your place!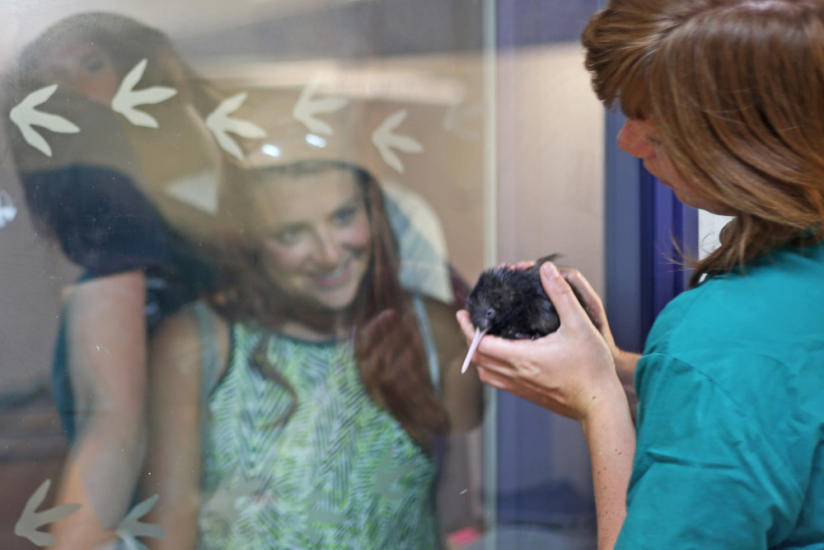 A brief wander through the museum and you enter the final room - the adult kiwi sanctuary. Here you get an idea of the size of them, and they are certainly larger than I'd imagined. Many assume they are small, pigeon sized, when they are actually more the stature of a chicken. Which could be pigeon sized, depending on how much of your fish and chips you fed them when you grabbed your first portion of the New Zealand delicacy!
You finish the encounter in the cafe, and then reboard the bus to venture on to your next destination, secure in the knowledge that your ability to eat a muffin, drink a coffee and listen to a guided tour has helped support the conservation programme surrounding these birds.
KIWI ENCOUNTER NOT FOR YOU?
There are plenty more activities for you to undertake, after you have recovered from the bemused looks of your mates for rejecting the chance to see real kiwis.
Rotorua is home to my favourite lugeing experience in New Zealand, and having done Queenstown and Rotorua's tracks a few too many times, I should know. But damn, it is fun to fly down the hill on a go-kart style machine. You're in total control of your speed, so if the scenic drive is your style then pull out the camera half way down - the views on the hill are stunning. That being said, if you whizz down as fast as you can, there are one or two places to grab some airtime!! Speed demon or Sunday driver, the luge is great fun.
Alternatively, within two clicks of Gandalf's magical stick, you can be in this small place called Hobbiton, as it is best accessed from Rotorua. The fully constructed set of some movie I forget the name of, Hobbiton is a peaceful adventure around the village seen on the big screen. Not a LOTR fan? Don't worry - I had a great time there and (hides from the glaring looks from all my friends who are about to judge/delete me on Facebook) I'm not overly keen on the whole Lord Of The Rings/Hobbit thing. I still had an amazing time, and you get a free pint at the end. Boom. Look, I'm even smiling!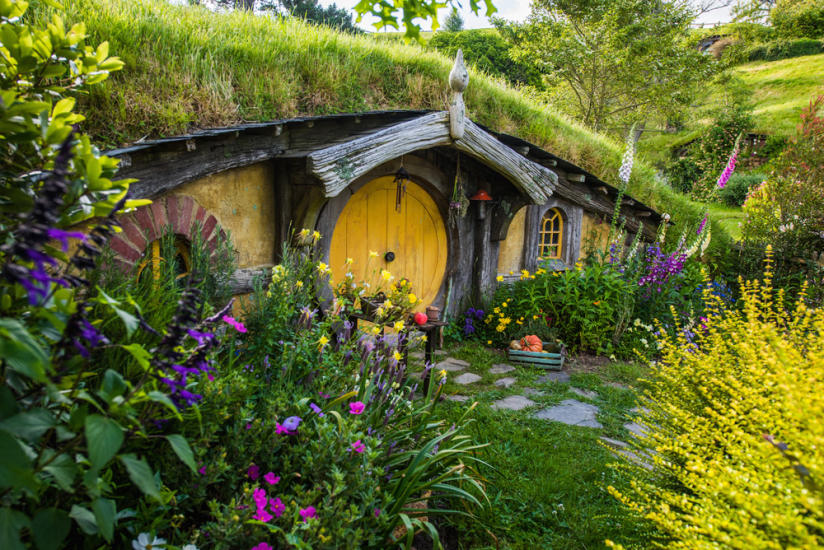 Next on the list is the Tamaki Maori village, an invitation into the Maori way of life. This evening experience allows you to learn traditional Maori games, dances (including the Haka) and gives the best insight into Maori culture I found in New Zealand. If it wasn't the best, Kiwi Experience wouldn't run it, though, so you're guaranteed a good evening of traditional entertainment. Oh, forgot to mention, free food!! Unlimited...free...food...which is an offer you don't need to extend to me twice!! Challenge yourself to my record of five plates full of meat, potatoes and veg, one dessert, then more main course because I hadn't had enough!
Other activities include zorbing, which for those with puzzled looks on their faces, involves throwing yourself down a hill in the middle of a giant bouncy ball. Way more fun than it should be, and you'll not want to stop doing this!!
Finally, you can wander around the Te Puia geothermal area for some cool snaps of hot things. Can't talk this up too much as I didn't experience it, but I heard great things from those who did, so check it out.I'd strongly recommend you spend a few days in this wondrous place, as there is just so much on offer here! Just be warned, because of the geothermal stuff, it smells. On the positive side, backpackers can save those morsels of body wash for your next destinations, nobody will notice!!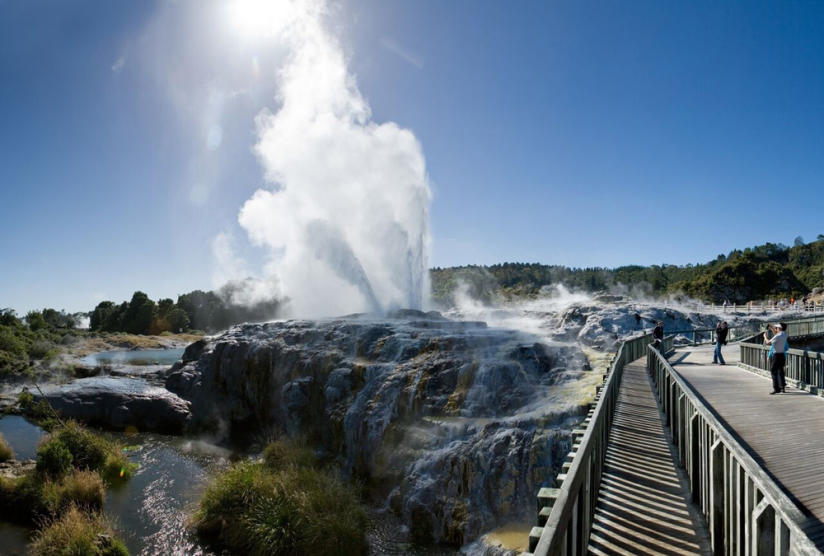 So if witnessing the cutest birds you'll see in New Zealand attracts you, or a drink at the Green Dragon following a tour that doesn't Drag-On (sorry, these jokes are a force of Hobbit now), you are spoiled for choice at one of the best stops along the Kiwi Experience route.