INTRODUCING HELENA - KIWI EXPERIENCE GERMAN INTERN
MEIN KIWI EXPERIENCE - HELENA SCHMIDT (DEUTSCH)
(English translation below...)
Mein Name ist Helena Schmidt, ich bin 18 Jahre alt und komme aus Deutschland. Anfang Januar 2014 habe ich mein Praktikum bei Kiwi Experience hier in Neuseeland begonnen.
Ich habe in Deutschland im März 2013 mein Abitur gemacht, und plötzlich stand ich vor der schwierigen Aufgabe eine Entscheidung zu treffen, wie mein Leben von nun an verlaufen soll.
Meine Interessen gingen schon immer in die Welt der Medien und besonders in den Bereich des Marketings. Aber andererseits wollte ich auch erst reisen, die Welt entdecken und eine richtige Pause in meinem Leben haben, anstatt von der Schule direkt weiter auf die Uni zu gehen.
​AUSZEIT IM AUSLAND
Da kam mir die Idee eines Praktikums im Ausland. Dafür wollte ich am Liebsten in ein Land, welches neben großen und aufregenden Städten auch eine wunderschöne und abwechslungsreiche Landschaft bietet. Ausserdem dachte ich mir, wenn ich schon mal eine grosse Reise antrete, dann soll es weit weg von zu Hause sein, etwas anderes als die Länder in Europa die ich bisher bereist habe. Was ist da spannender als das andere Ende der Welt? Ich informierte mich über die verschiedensten Länder und besonders reizte mich Neuseeland. Ich war begeistert davon, dass es die verschiedensten Vegetationsformen bietet, denn neben wunderschönen Stränden kann man hier sowohl Regenwald als auch Gletscher finden.
PRAKTIKUM IM KIWI EXPERIENCE BÜRO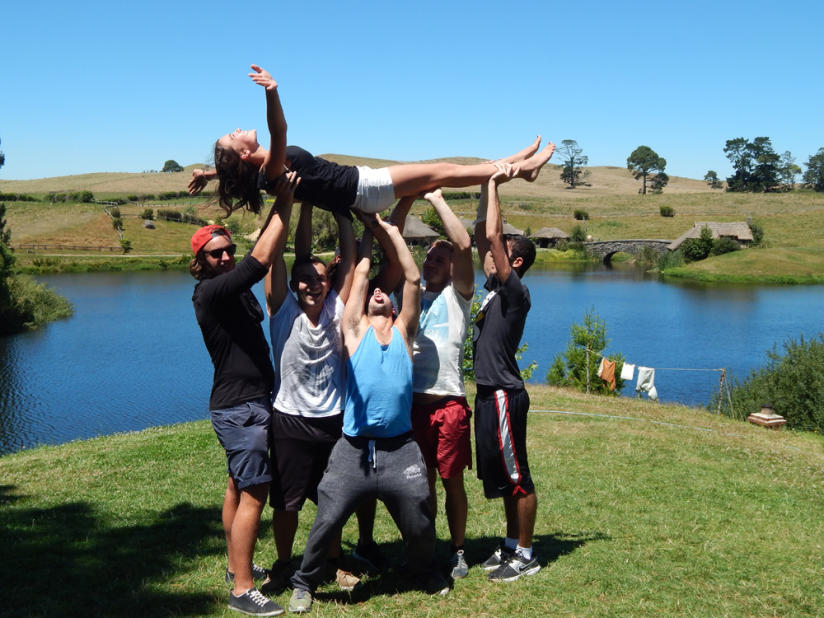 Von einer deutschen Organisation, die mir bei der Planung meiner Reise geholfen hat, wurde mir das Praktikumsangebot von Kiwi Experience zugeschickt und ich war schon von der kurzen Beschreibung in der E-mail begeistert! Nach einem Bewerbungsgespräch per Skype war mir schnell klar, dass ich so schnell wie möglich anfangen möchte.
Das Praktikum vereint für mich die zwei Dinge, von denen ich dachte sie seien nicht kombinierbar: Reisen und erste Versuche in die Arbeitswelt. Denn obwohl ich in die weite Welt hinaus und viel neues entdecken wollte, war es mir wichtig vor meinem Studium etwas in die Richtung ausprobiert zu haben, um meine Entscheidung sicherer treffen zu können. Die Mitarbeiter von Kiwi Experience ermöglichen mir Einblicke in viele verschiedene Bereiche wie Marketing, Sales, Social Media und Grafikdesign. Gemeinsam haben wir einen Wochenplan erarbeitet, der meine Aufgaben während des Praktikums umfasst, sodass ich selbstständig auf ein Ziel hin arbeiten kann, und am Ende auch sehen kann was ich geschafft habe. Er beinhaltet Recherche auf deutschen Websites, wie Kiwi Experience von Bloggern und Reisenden bewertet wird. Darüber hinaus beschäftige ich mich damit herauszufinden was für deutsche Backpacker bei ihrer Reise wichtig ist, und wie man die Angebote besser an ihre Wünsche anpassen kann.
Während meines Praktikums ermöglichen sie mir zusätzlich an zwei Bustouren teilzunehmen, sowohl über die Nordinsel als auch über die Südinsel. Im Gegenzug habe ich die Aufgabe bekommen, meine Erlebnisse und Erfahrungen während der Trips hier und bei Facebook auf deutsch zu bloggen, um es auch für deutsche Reisende zugänglich zu machen. Reiseblogs sind für das Unternehmen sehr hilfreich, denn es ist anders als kommerzielle Werbung. Es ermöglicht Interessenten tatsächliche Erfahrungen von Reisenden nachzulesen, sich in ihre Lage hineinzuversetzen und dann die Entscheidung bezüglich der Reiseziele und Aktivitäten auf der Grundlage ihrer Eindrücke und Tipps zu treffen.
Alles in allem fühle ich mich sehr wohl hier, die Mitarbeiter sind alle sehr nett und aufgeschlossen und freue mich schon sehr auf meine beiden Trips durch Neuseeland!
---
ENGLISH TRANSLATION: MY KIWI EXPERIENCE - HELENA SCHMIDT
My name is Helena Schmidt, I'm 18 years old and I come from Recklinghausen in Germany. On the 6th of January I started my internship at Kiwi Experience.
I graduated high school in March 2013 in Germany and suddenly I was faced with the decision around what will I do with my life.
My interests were always focussed on the world of media and especially on marketing. But I wanted to travel first, discover the world and have a proper break in my life, instead of a direct transition from school to university.
GAP YEAR ABOARD
From that time I had the idea of an internship abroad. I'd love to do this in a country, which offers great and exciting cities as well as beautiful and varied landscape. Moreover, I thought to myself, if I'd ever go on a big journey, it should be far away from home and something different to the countries in Europe which I have travelled so far. So what is more exciting than the other side of the world? I read up on diverse countries and the one that piqued up my interest the most was New Zealand. I was inspired of the fact that it offers various forms of vegetation, because in addition to beautiful beaches, you can find both rainforest and glacier and much more.
A German travel-organisation sent me the internship-offer to work with Kiwi Experience and I was excited as soon as I read the email. After a few emails and an interview via Skype I was sure that I wanted to get there as soon as possible. It sounded very interesting, the interviewers were really friendly and it was exactly what I wanted to do.
The internship combines two things for me that I thought originally were not compatible: travelling and making my first steps in the world of work. Although I wanted to go out into the world and discover new things, it was also important for me to get some practical experience before I started my studies, to help me to make the right decisions.
INTERNSHIP AT KIWI EXPERIENCE OFFICE
The staff at Kiwi Experience have given me some insights in different departments, such as marketing, sales, graphic design and dealing with social networks. Together we worked out a brief that includes my tasks during the internship, so I can work independent and see the results of my work. It contains a research on German websites, to find out what is important for German travellers and how Kiwi Experience can improve their offers and adapt them to their wishes.
They have also offered for me to take part in two tours during my internship, one through the North Island and one through the South Island. In return for that I will share my experiences and impressions in their blog and Facebook page to make it accessible for German travellers. Travel blogs are very helpful for the company, because it is different from commercial advertising. It affords travellers to read actual experiences from others, put themselves in their position and then make the decision concerning destinations, activities etc. on the basis of their impressions and tips.
All in all I am very happy in my internship, have nice colleagues and I am really looking forward going on the bus trips!