MY SOUTH ISLAND ADVENTURE CONTINUES...
(English translation below...)
Von Queenstown aus haben wir an unserem 3. Tag einen Tagesausflug zum Milford Sound gemacht und wurden dafür schon früh von unserem Hostel abgeholt
DER SCHÖNSTE LANDSCHAFTLICHE ROADTRIP DER WELT
Wir haben an dem Tag ziemlich viel Zeit im Bus verbracht, weil wir eine ganz schön lange Strecke zurücklegen mussten. Aber zum Glück haben wir vorallem auf dem Hinweg viele Stops gemacht, bei denen wir uns immer wieder unterschiedliche Sachen angeguckt haben. Wie zum Beispiel den Mirror Lake, der so still war dass er seine Umgebung klar reflektiert hat oder mehrere sehr hohe Wasserfälle. Da der Milford Sound eines der regenreichsten Gebiete der Erde ist, bilden sich viele kleine vorübergehende Wasserfälle. Das Wasser aus manchen Quellen war so frisch, dass wir alle davon probiert und uns Wasser abgefüllt haben. Spektakulär war die Aussicht, als wir aus dem Homer Tunnel heraus gekommen sind, der Milford Sound mit Te Anau und Queenstown verbindet. Man hatte die Sicht auf ein riesiges Tal, das zwischen mehreren Bergen überall grün bewachsen war. Unser Busfahrer hat gesagt, ihn erinnert dieses Bild an Jurassic Park und das war absolut zutreffend!
In unserem Bus herrschte die ganze Zeit eine gute Stimmung, weil unser Fahrer ziemlich gute Laune verbreitet hat, sehr lustig war und uns allen die lange Fahrt somit eindeutig angenehmer gemacht hat.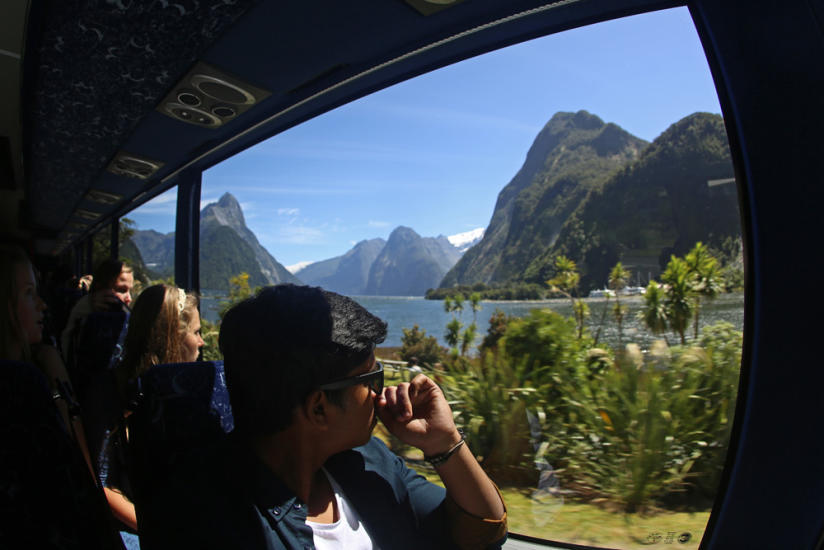 MILFORD CRUISE
Nach ca. 4 Stunden Fahrt kamen wir dann an dem kleinen Hafen an, von dem unser Boot abgelegt hat. Von da aus haben wir Milford Sound vom Wasser aus erkundet. Um uns herum war eine wunderschöne Kulisse und wir haben sie von dem Schiffsdeck bei frischer Seeluft geniessen können. Der See ist umgeben von mehreren riesigen Bergen, die sich auf der Wasseroberfläche spiegeln, was die ganze Umgebung malerisch aussehen lässt. Zwischendurch haben wir neben einen Felsen angehalten und konnten wilde Seehunde beobachten.
Auf dem Boot wurde uns kostenlos Lunch zur Verfügung gestellt, den wir bei schöner Aussicht genießen konnten. Am Ende des Boottrips sind wir an einem Wasserfall vorbei gekommen, über den gesagt wird, sein Wasser würde das Aussehen um 10 Jahre verjüngen. Wie man sich vorstellen kann war das freie Deck innerhalb von Minuten voll, und alle die draussen standen, sind dabei ordentlich nass geworden. Wirklich jünger hat danach aber keiner von uns ausgesehen...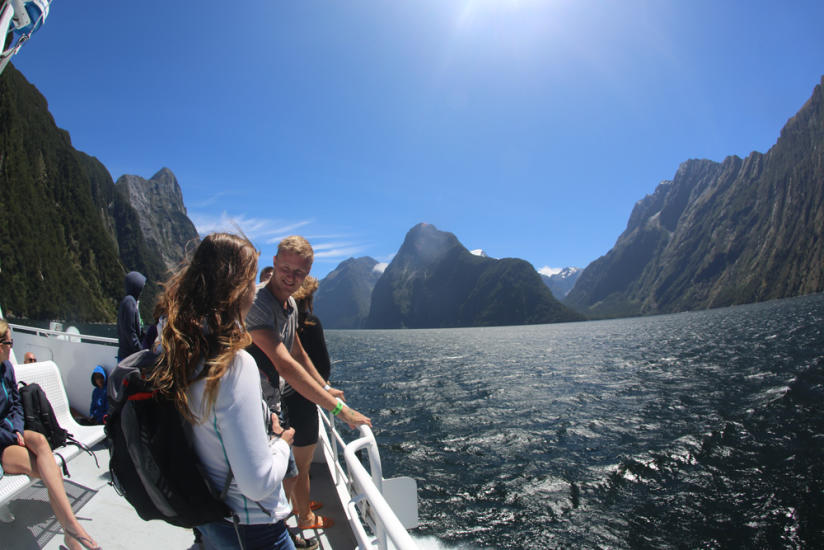 Nach ca. 2 Stunden Bootsfahrt kamen wir dann wieder am Hafen an und sind zurück in unseren Bus. Auf der Rückfahrt haben wir noch ein zwei Stops gemacht, und dann als es Abend wurde einen Film reingelegt und die restliche Fahrt lang entspannt.
Obwohl es ein wirklich langer Tag war, war es ein sehr beeindruckender Ausflug mit viel Natur und wunderschöner Landschaft!
---
English version:
THE MOST SCENIC ROAD TRIP IN THE WORLD
On our third day in Queenstown we were picked up very early to go on our day trip to Milford Sound. We spent quite a lot of time in the bus that day, because we had to cover a pretty long distance. However, we did many stops, especially in the first three hours, where we got to see many scenic attractions. Such as the Mirror Lake, which is so calm that it perfectly reflects its surroundings. We also saw many beautiful waterfalls. As the Milford Sound is one of the most rain-laden areas in the world, many small temporary waterfalls are formed. The water from some springs is so fresh that we used it to fill our water bottles! When we came out of the Homer tunnel, which connects the Milford Sound with Te Anau and Queenstown, everyone was fascinated. You had a panoramic view of a huge valley between several mountains, all covered in green. Our driver said that it reminded him of Jurassic Park, and this was definitely true!
We had a great atmosphere on our bus, because our bus driver Mangee had a great sense of humour, was really funny and made the long trip more enjoyable for all of us.


MILFORD CRUISES
After about four hours of driving we arrived at the small port where our boat cruise left from. From that point we explored Milford Sound from the water. All around us was wonderful, beautiful scenery which we enjoyed from the ship's deck in the fresh sea air. Milford Sound is surrounded by several huge mountains which are reflected on the water's surface, this makes it incredibly stunning and picturesque. During the cruise we stopped close to rocks where we could see seals lying down and relaxing in the sun.
On the boat, free lunch was provided and we enjoyed it with the beautiful scenery in the background. We passed a waterfall at the end of our boat trip, and local legend says that its water can reduce your appearance by ten years! As you can imagine, the deck was full of people within minutes and all of us became extremely wet. Unfortunately no one actually looked younger afterwards...
After spending around two hours on the boat, we arrived back at the harbour and went back to our bus. On the way back to Queenstown we made some more stops, and watched a film as it got later.
Although it was a long day, the tour was very impressive and included lots of nature and a beautiful scenery!