Explore our beautiful National Parks with Kiwi Experience
Here at Kiwi Experience we reckon that us Kiwis are pretty lucky to be blessed with some of the most spectacular landscapes on Earth!
One of the best ways to really explore New Zealand is to get out and get amongst our beautiful outdoors on one of the many fantastic full or multi-day hikes throughout any of our 14 National Parks.
On Kiwi Experience, you will get the opportunity to visit many of these amazing places, including:
Tongariro National Park
A great option for your free day in Taupo.
Challenge yourself and experience one of the best one day walks in the world!
Home to the magnificent Mt Ngauruhoe (aka Mt Doom in Lord of The Rings) this 17 km hike will take you over varied and spectacular volcanic terrain.
Past emerald coloured crater lakes, hot springs and an active crater! Our driver guides can arrange return transport from Taupo if you wish to experience this once in a lifetime adventure.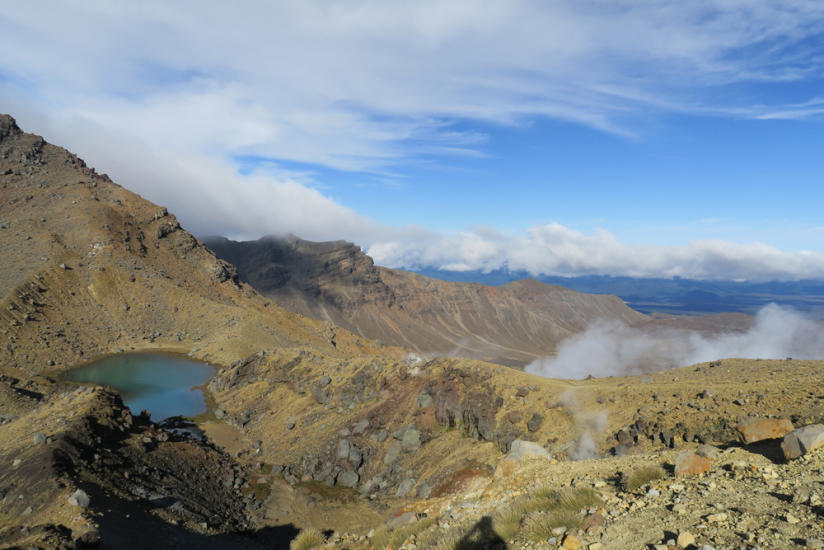 Abel Tasman National Park
We stay overnight in Kaiteriteri on the doorstep of the Abel Tasman National Park.
This place has many walks from 40 minutes through to 3-5 days. It is full of beautiful golden beaches, waterfalls, tranquil inlets and dramatic views, as well as some stunning wildlife.
Launch a Kayak strait off the beach and get out on the water to take in the spectacular views of the coastline with the chance to get up close to seals and dolphins if you're lucky!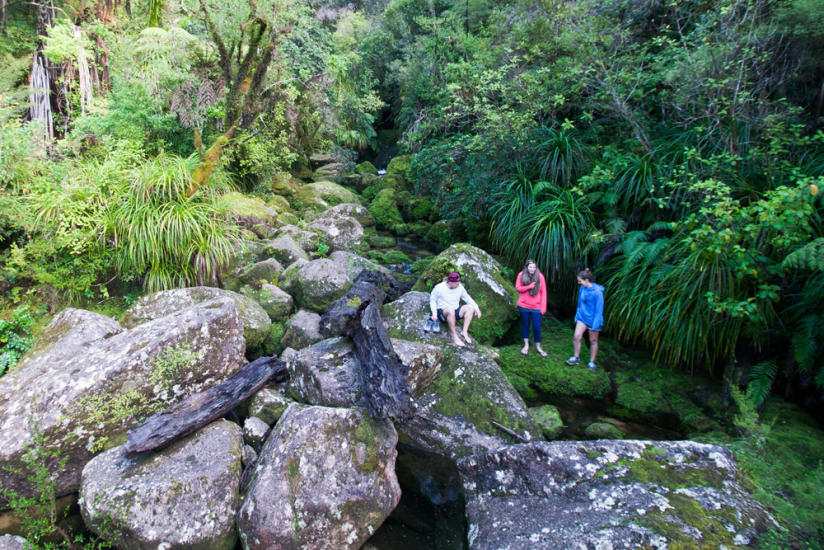 Nelson Lakes National Park
We stop off here on our way through to Westport and you will have the chance to get your own snap on the iconic wharf (perhaps jumping off into the crystal clear waters of Lake Rotoiti!) The network of tracks within Nelson Lakes National Park offers both multi-day tramps and short walks, hop off here if you wish to explore more of the tranquil forest, clear streams and native birdlife.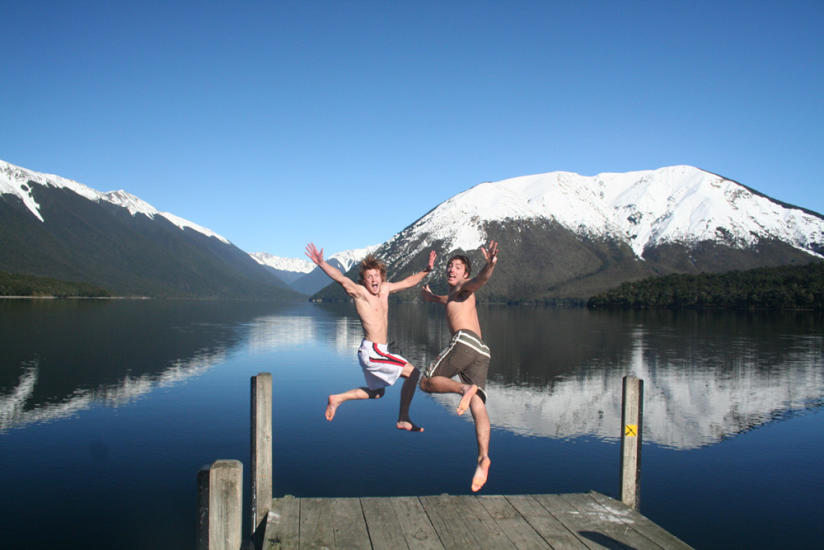 Westland Tai Poutini National Park
Home to the breath-taking Franz Josef Glacier!
The Kiwi bus stays here, in the heart of the rainforest, where you can take a scenic helicopter ride onto the glacier itself! Or, take the time to hop off the bus and spend a few extra days here to explore more of the rainforest walks on offer. For the keen hiker, there is also the Alex Knob track; an 8 hour hike that leaves from Franz Josef into the Westland National Park. Giving you superb views of the glacier, mountains and sea along the way!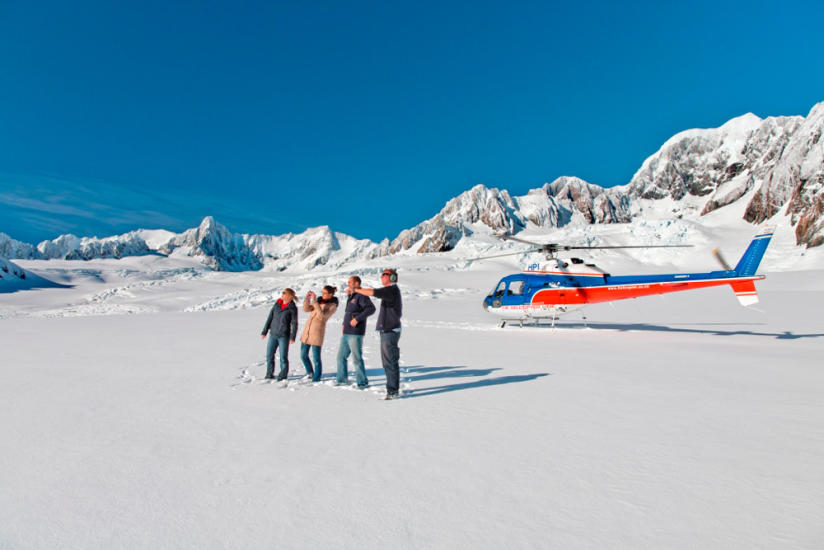 Mount Aspiring National Park:
Our third largest national park with a mixture of beautiful river valleys, remote wilderness and high mountains. Hop off the bus here to walk the Routeburn track, which takes you through beech forest, past an abundance of mountain lakes and numerous waterfalls. The climax of this track is the ascent of the Harris Saddle!
Fiordland National Park:
Perhaps one of our most beautiful, vast and wild places! Take in the breath-taking alpine scenery on the Milford Track as it weaves its way through this incredible landscape and past the world's fifth highest waterfall, Sutherland Falls. This National Park is also home to the Milford Sound, recently ranked as one of the world's most beautiful places. Jump on the Milford Explorer (day trip from Queenstown), which includes an unforgettable two hour boat cruise through the sound exploring soaring peaks, towering waterfalls and New Zealand nature at its best.
As you can see, our crew love getting out and exploring this amazing country of ours! Check out this awesome video of them mountain biking their way through the rugged and varied landscapes on Heaphy Track at Kahurangi National Park. Sweet as!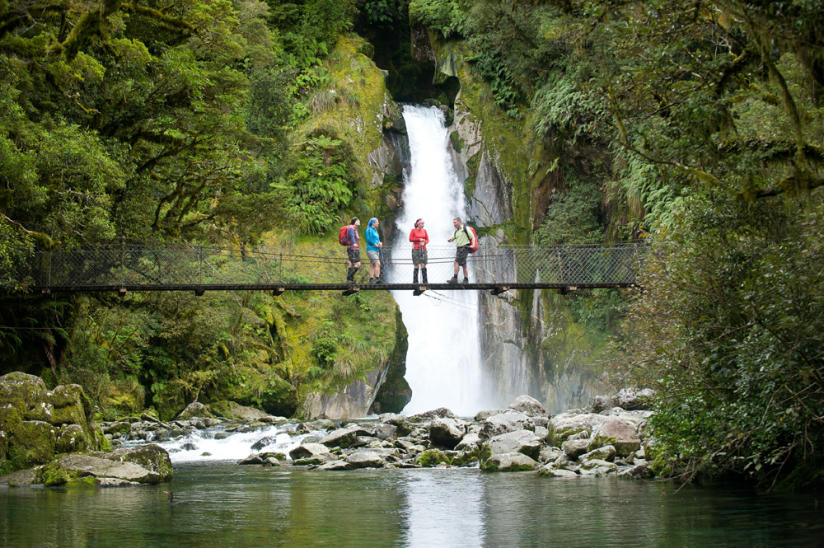 Mountain Bikining, Heaphy Track, Kahurangi National Park
If you are interested in hiking in New Zealand in any of these National Parks, it is important to note that you may need to book in advance. Check out this website for further information: www.doc.govt.nz