We had an early start to our day because we were beginning our adventure with Kiwi Experience! They picked us up in Auckland and we headed north to Paihia! On our way, our awesome bus driver told us some fun facts and history as we drove. We even stopped in Whangarei to see the beautiful waterfall there. As we drove, we saw lots of forests and farms with plenty of sheep and cows. We also learned that the farmers are the sugar daddy's of New Zealand because the price of dairy is skyrocketing.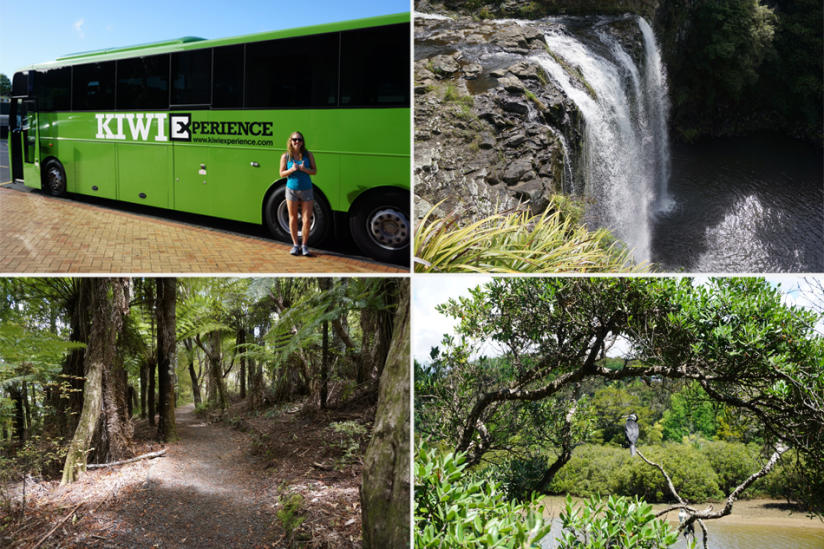 Before we arrived in the small town of Paihia (about 4,000 "peeps" live there) in the bay of islands, our bus driver had given us tips on what to do, how long to stay, booked our hostel for 3 nights, booked a cruise we wanted to do, booked a bus to our next stop, and gave us guidance about the rest of our trip. It was awesome and we were super excited that all of our bus drivers along the way will do this for us.
Once we arrived, checked into our hostel and ate lunch, we decided to go on a hike to Haruru Falls which ended up being about 11 miles total but it was completely worth it. We got to walk through town, along the ocean, and then into the forest. The forest is so beautiful and we saw lots of native birds and trees that we have never seen before. The hike also went through a mangrove forest which was amazing. By the time we reached the falls, we were hot and sweaty because of the 90% humidity, but it was beautiful! We even had a few wild chickens greet us.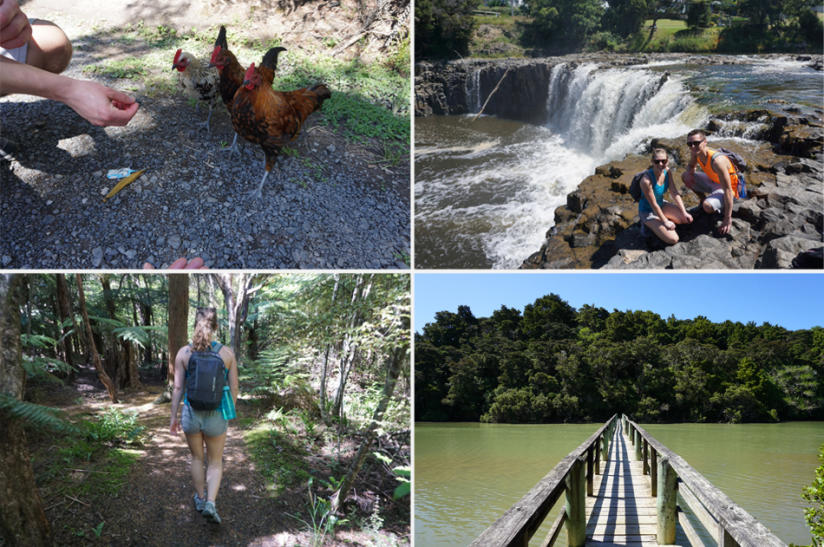 After spending some time at the falls, we made the trek back to town. We had a bit of time to walk along the ocean and run to the supermarket before the hostel BBQ. We had lots of great food and chatted with a few people we had met that day. Lots of amazing people from all over the world were on the bus with us and stayed at the hostel with us. After dinner we sat by the ocean for a bit before hitting the sack.
- MARY NELSON
KIWI EXPERIENCE TRAVELLER
TO FIND OUT MORE ABOUT VISITING PAIHIA VISIT THE DISCOVER NEW ZEALAND SECTION OF OUR WEBSITE, AND TO SEARCH FOR BUS PASSES INCLUDING PAIHIA THEN CHECK OUT SOME OF OUR INCREDIBLE NEW ZEALAND BUS PASSES HERE.