MY FAVOURITE STOP ON KIWI EXPERIENCE
​Click here for French translation
Hi everyone! I'm Laurie, a beautiful blond French girl (just kidding!) currently travelling around New Zealand. I came here at the start of 2015 for a 6 month internship and to travel the country as well of course. It was a big step for me, to come so far away from home and travel by myself. But I did it and I couldn't be happier with my decision!
I travelled the South Island with Kiwi experience for two weeks during March this year and it was an amazing experience. You get to visit lots of places and can really enjoy a lot of different experiences while on the bus. My favourite part of the trip was the day we spent in Westport. Why? Maybe because it was a true local experience and for that one day you really feel like you become a real Kiwi.
We arrived in Westport in the early afternoon, tired after the long drive but very happy to be there. The hostel we stayed at was called Bazils and it was such an awesome place to spend the night. The people who work here are so friendly and with Lisa, the best driver/DJ /quiz master ever, we organised a huge group BBQ in the garden. Everyone on the bus helped to cut the vegetables, cook the meat, prepare the bread and make lots of jokes too. The dinner was so delicious and a really good way to get to know my fellow passengers as you could talk easily with all the people on the bus. I was travelling by myself so for me Kiwi Experience was perfect as I was able to make many new friends.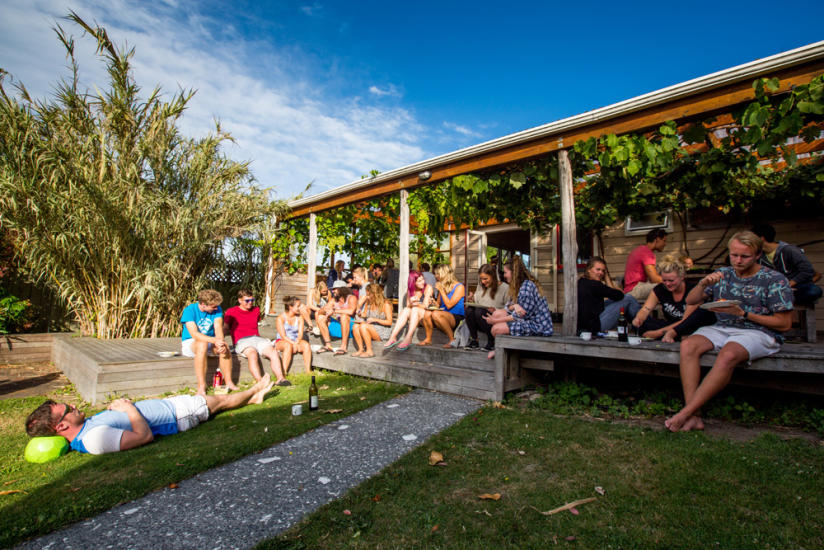 We were all feeling so full after our delicious dinner, however this was not to be the end of the night! Lisa, our driver, drove us to the beach nearby where we made a bonfire. We spent the night singing and laughing around the fire and when I went to sleep I even dreamt about how much of a perfect night it had been.
The following day I woke up at 6 am and was so tired. However this early start was for a good reason, time to enjoy a local attraction: surfing with the sunrise! Being very tired and not at all an expert at surfing made it rather tricky at first, but finally I managed to stand up on the board! I was so proud of myself. Thankfully the water was warm and no doubt the wetsuits provided helped.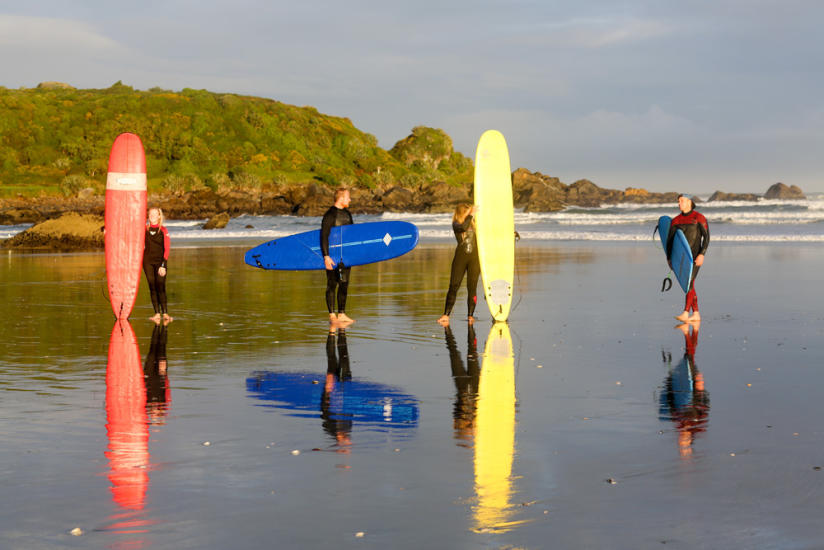 After a last ride on the waves, it was time to dry ourselves off and hop back on the bus for some more amazing discoveries. I always remember this day and night in Westport. Where being young and free were the main concerns and where I met people from all over the world who I got to talk with about my New Zealand experience. Thanks to Kiwi Experience for giving me that.
I found Kiwi Experience to be a really wonderful way to enjoy New Zealand. Getting to see local attractions and meet new friends. When is my next trip with Kiwi Experience? Soon I hope, and perhaps we will meet on the bus one day ;)
Good luck with your adventures.
Laurie
French version
Bonjour tout le monde, Je m'apelle Laurie, top modele blonde francaise ( je rigole hein). Je suis en Nouvelle zelande pour en stage de 6 mois et tant qu a faire, j en profite pour visiter ce magnifique pays. C etait un defi enorme pour moi de partir si loin de France et de voyager par moi meme, mais je l ai fait!
J'ai voyagé avec Kiwi experience durant deux semaines dans l'île du sud en mars et ce fut une experience incroyable. Il ya énormément de choses différentes à vivre et découvrir mais celles qui m'ont sans doute le plus marqué ce sont passé durant ma journée à Westport. Pourquoi ? Peut être parceque j'ai pu l'espace d'une journée me sentir dans la peau d'un kiwi.
Nous sommes arrivées à Westport dans l'après-midi, fatigués après une longue route et heureux d'être là. L'auberge de jeunesse Bazil est l'une de mes préférées parceque l'endroit à vraiment été décorées avec goût, les chambres de quatres agréables et le personnel adorable. Lisa, la meilleure conductrice/ DJ/ animatrice de quizz dans le bus, nous avait plannifié un BBQ dans la partie exterieure de l'auberge. On s'est donc tous mis à l'aider pour préparer tous le nécessaire et apprécier un BBQ hors pair, vraiment super bon !! C'était aussi la possibilité de mieux connaitre les autres personnes voyageant dans le bus et de se faire de nouveaux amis.
On avait trop mangé alors Lisa à proposer de nous conduire sur la plage pour faire un feu de camp et digérer au sons des rires des chants et des vagues. Tu sais ces scènes que l'on voit souvent dans les films sans penser qu'un jour ça nous arriverait. C'était une sensation incroyable de se sentir libre et de refaire le monde avec des jeunes de tout pays. Croyez moi, on fait de beaux rêves après ça.
Mais c'est pas fini ! Je me suis réveillée à 6h du mat avec quelques autres pour profiter d'une attraction vraiment kiwi : allez surfez avec le lever du soleil. Je suis loin d'être une experte et j'étais franchement fatiguée mais après un certain temps j'ai fini par comprendre comment rester sur la planche et même tenir debout, j'étais tropfière de moi ahah. Et heureusement l'eau était plutôt chaude, même si de toute façon on avait des combinaisons. Après un dernier bord, il était temps de se sécher, prendre son petit dej rapidement et remonter dans le bus vers de nouvelles experiences. Mais je n'oublierais jamais ce moment passé à Westport où le maitre mot était liberté. Merci à Kiwi experience pour ça.
Cette compagnie est vraiment le meilleur moyen d'apprécier son voyage en nouvelle zélande lorsqu'on voyage seul. Je n'aurais sans doute jamais fait de feu de camp ou oser aller surfer au petit matin si j'étais rester à voyager par moi-même. Prochain voyage avec Kiwi experience ? J'espere bientôt , et peut être qui sait, qu'on se croisera dans le bus ;)
A bientôt pour de nouvelles aventures.
Laurie