RIVER VALLEY
One of New Zealand's best kept secrets, River Valley is a North Island destination you want to put on your bucket list. Surrounded by towering cliffs and bush-clad hills, packed with epic scenery, adrenaline pumping activities and tranquil trails, the family-own ranch, situated on the wild Rangitikei River, no mobile reception, it truly is a hidden gem well off the beaten track.
If you're coming from Taupo, the best way to reach River Valley is through New Zealand's oldest national park: Tongariro National Park. The ancient landscape is home to many sacred Maori sites, including the volcanic summits of Mount Tongariro and Mount Ruapehu.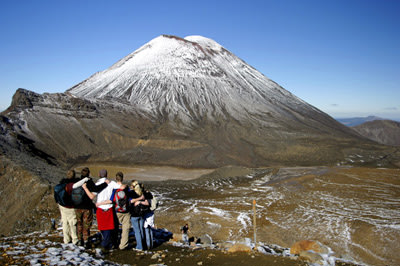 Tongariro National Park was also used in many location shots for the Lord of the Rings film trilogy. Mount Tongariro in particular took the important role as Tolkien's Mount Doom, the mythical volcano where Frodo destroyed the Ring. Some of the national park highlights include the Tawhai Falls walk and the trail to Silica Rapids.In 2012, Mount Tongariro erupted for the first time in nearly one hundred years; while Mount Ruapehu spectacularly blew its top in 1995, spewing ash and earth 12 kilometres into the atmosphere. Pending the right conditions, you can climb to the top of these volcanic mountains and look down on the spectacular scenery below.
Travel another two hours south on a Kiwi Experience bus through the groovy village of Ohakune until reaching the River Valley Adventure Lodge. It is here that the fun really begins.
RIVER VALLEY ACTIVITIES: THINGS TO DO IN RIVER VALLEY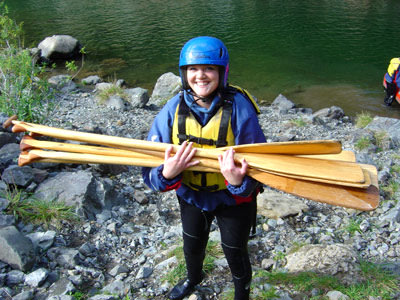 The owners of River Valley at the time, Brian and Robyn Sage, wanted to share the location with other people and founded the River Valley Adventure Lodge. Today, the remote destination is popular with travellers eager to get off the tourist trail and discover the real New Zealand. A multi-award winner, including 2014 TripAdvisor Certificate of Excellence award, the Lodge offers a range of adventure activities from horse trekking to white water rafting, guided walks and a spa complex.Nestled within the green hills of Taihape, the family-owned River Valley Adventure Lodge began to attract travelers in the mid-1980's. These travelers were seeking to take on New Zealand's best Grade 5 river rapids on the Rangitikei River.
For those up for an adventure, strap on a life-jacket and helmet and spend a few days riding the rapids down the Rangiteki River. The Lodge offers full and half-day white water rafting experiences for all skill levels. The half-day Grade 5 trip down the Rangiteki is a highlight and requires a moderate level of fitness. The trip will set you back $175NZD and includes a number of steep waterfall-esque drops, chutes and wild rapids. There is a good chance you'll end up in the water!
Kiwi Experience passengers are guaranteed the best price on rafting and horse riding treks when you book through your Driver Guide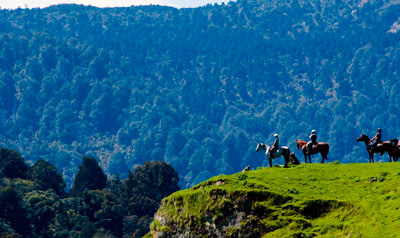 No trip to River Valley would be complete without a ride on horseback through the wild Rangitikei Hill Country. The tours range from two-hour trails to multi-day treks and cater for all experience levels. If you are travelling during the warmer months, the 3 hour Sundown ride at sunset is an experience likely to stick with you for a long time. All gear and training is provided and tours start from $109NZD per person.If you are seeking a slower pace, then pamper yourself at the River Valley Spa. It is the perfect place to relax (and perhaps nurse a few sore muscles) after a day on the rapids. The spa's facilities include both a wood-fired Finnish sauna, hottub and yoga. Holistic massage therapies begin from $55NZD per session.
RIVER VALLEY ACCOMMODATION
River Vally Adventure Lodge has a range of accommodation options for all budgets.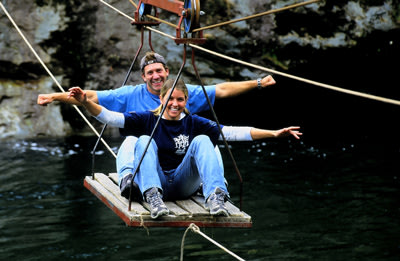 Bunk house accommodation starts from $31 per person per night with each dorm sleeping up to 6 people. Linen is supplied as well as the stunning views over the River. Prepare a meal at the self-serve kitchen.Camping begins from $18NZD per person per night and is available all year round. There are no powered sites and facilities include WiFi, a self-serve kitchen and laundry.
For those with a bit of cash can splash out on one of the Deluxe Guest Rooms from $169 per night. The rooms are fully-furnished with underfloor heating and have private bathrooms.
Remember that with Kiwi Experience, your first nights accommodation is guaranteed in River Valley.
KIWI EXPERIENCES BUS PASSES TO RIVER VALLEY
*All prices quoted as of October 2014