ROTORUA: ABOUT & HISTORY
​​The ancestral​ home of the Te Arawa people and literally meaning 'Second Lake' in Maori, 'Rotorua' (Maori: Te Rotorua-nui-a-Kahumatamomoe) was first discovered around 1350AD by the great explorer, Chief Ihenga, who had been hunting in the region. The first European settlers to arrive in Rotorua were flax merchants and missionaries around 1830.
Known for its geothermal activity and natural beauty, Rotorua has been voted New Zealand's most beautiful city six times in the 11-year history of the Keep New Zealand Beautiful competition. With an emphasis on sustainability and green culture, Rotorua is a city that harmoniously lives within the wild nature around it.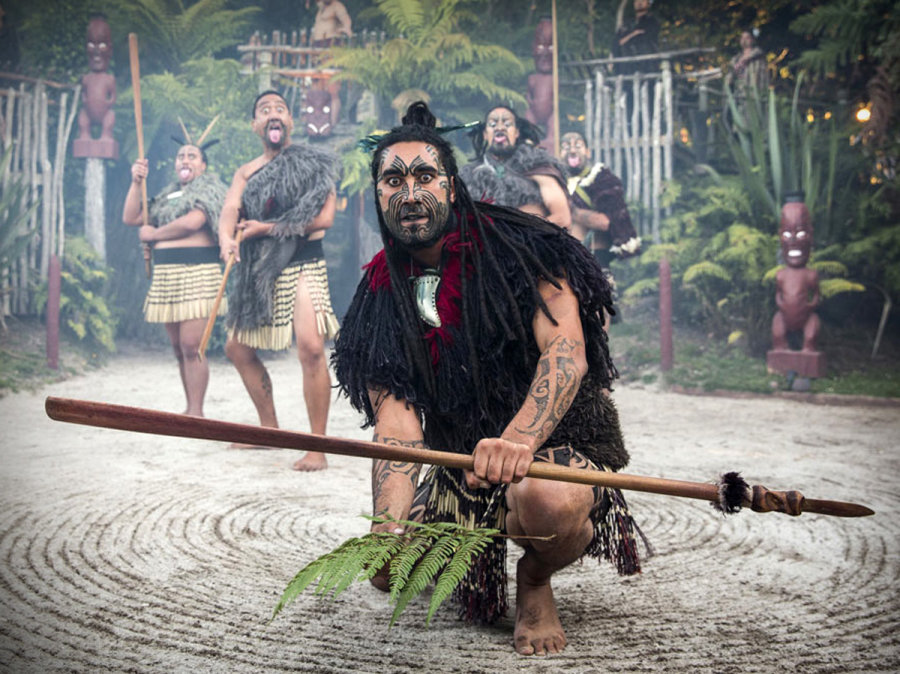 That said, nature has its dark side and on June 10 1886, 24 kilometres south of Rotorua, the active volcano, Mount Tarawera, exploded in one of the largest eruptions ever recorded in New Zealand. The noise of the eruption was heard as far south as Blenheim in the South Island and earthquakes were felt throughout the North Island. In addition, a devastating pyroclastic flow completely wiped out several local Maori villages, including Te Wairoa, which today is known as 'The Buried Village'.
Moreover, the catastrophic event, which caused the deaths of around 120 people, completely obliterated the world famous Pink and White (silicon) Terraces and created the Waimangu Geyser – reportedly the largest geyser in the world.
Indeed, with the entire town of Rotorua lying on top of the Pacific's Rim of Fire, the region is considered to be one the most volcanically active regions in all of New Zealand - making it a spectacular place to see wild geysers, geothermal hot springs and boiling mud pools.
Some other names for Rotorua include Whangapipiro (evil smelling place), 'Crater Lake', 'Sulphur City' and 'Roto-Vegas'.
ROTORUA ACTIVITIES: THINGS TO DO IN ROTORUA
By this time, you may have notice a distinctive odor in the air around Rotorua. Many visitors have suggested that it smells like rotten eggs when in fact, the smell is sulphur dioxide gas created by all the geothermal activity beneath your feet. To comprehend the power of this geothermal activity, head on over to Te Puia to see the world famous Pohutu geyser shoot boiling water 30 metres into the air, as well as the boiling mud pools of Whakarewarewa Valley. Experience the spirit of Manaakitanga (hospitality) of traditional Māori culture at New Zealand's most awarded tourist attraction - Tamaki Maori Village.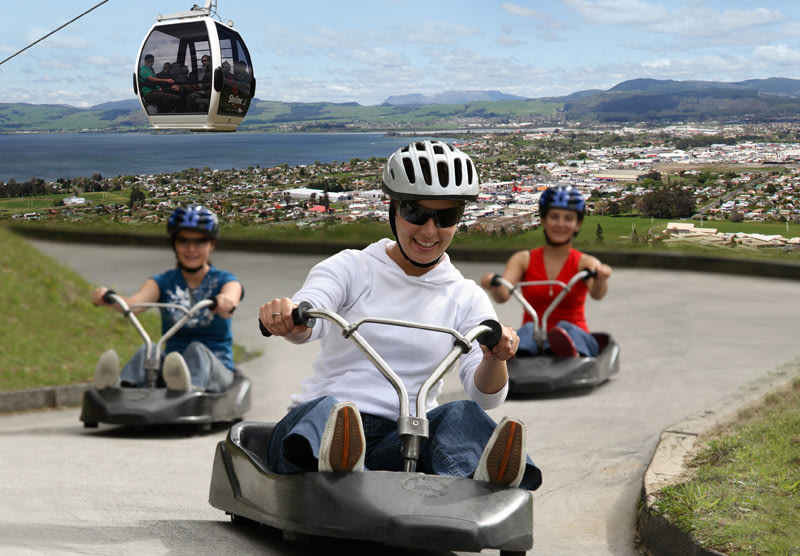 If you are feeling a bit peckish, we recommend you take Rotorua's Skyline Gondola ($25NZD) to the summit of Mount Ngongotaha, where you will find the award winning restaurant - the Skyline Rotorua Buffet and Grill. Not only will you feast on some mouth-watering dishes that recently won the New Zealand Beef and Lamb Excellence Award for 2014, you will also be able to gorge yourself on the spectacular panoramic views of Lake Rotorua, the city and Mount Tarawera.
No stop in Rotorua is complete without an invigorating soak in a thermally heated pool and our suggestion is to refresh yourself in the volcanically warmed mineral waters at Polynesian Spa. Voted a World Top 10 Spa almost every year since 2004, this acclaimed resort has 26 thermal pools with bathing prices starting from just $15​NZD (depending on which pool you want).
Lord of the Rings fans will also not ​be disappointed in Rotorua. Your Kiwi Experience Driver Guide will be able to book afternoon tours to the movie set of 'Hobbiton', where you can experience the lush green hills of the Shire, as well as the Hobbit holes, Green Dragon Inn and the Mill.​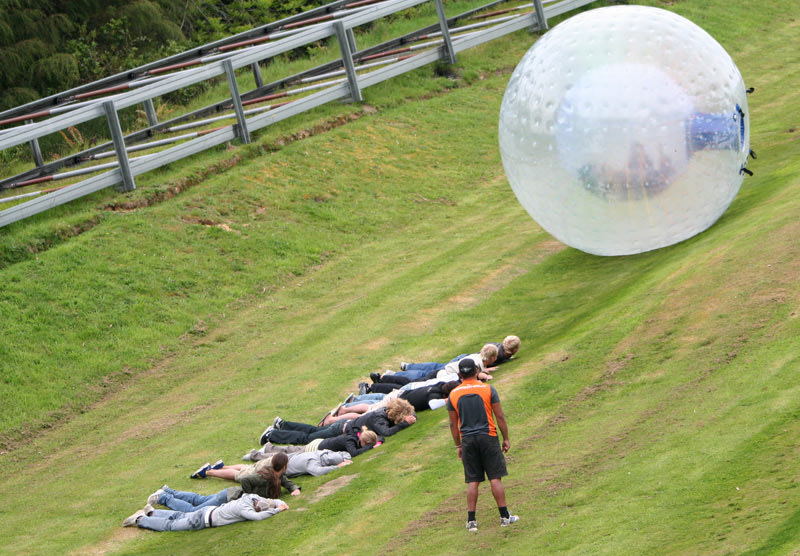 Your Kiwi Experience driver can make a booking on your behalf, however, if all this rest and relaxation is sending you to sleep then speak to your Kiwi Experience Driver Guide about a trip to Agroventures. At this mini adventure park, you will have the opportunity to try out the Swoop, Agrojet, Free fall Xtreme or the Shweeb. Or why not try 'zorbing' – a crazy kiwi invention where you get pushed off a hill inside a large beach ball.​
ROTORUA ACCOMMODATION
After a hardcore day of bubbling volcanos, ancient Maori culture and zorbing, you will want a comfortable place to rest your head. Luckily, Rotorua has some fantastic places to stay and here are some of our top picks.
REMEMBER THAT WITH KIWI EXPERIENCE, YOUR FIRST NIGHTS ACCOMMODATION IS GUARANTEED IN ROTORUA.
Base Backpackers Rotorua (Hot Rocks) holds an enviable position overlooking the historic Kuirau geothermal park. At Hot Rocks you will find a variety of clean dorm rooms from just $25NZD a night in a 12 bed suite.* With a large outdoor heated swimming pool, girls only wing and The Lava Bar, this hostel has something for everybody.
If you are wanting something a little different you could try out and authentic overnight marae stay experience which is right in the heart of the Tamaki Maori Village tribal Marketplace. This will offer the opportunity to get up close and personal with our people inclu​ding a traditional dinner and concert as well as the overnight in the newly carved sleeping houses. Features include an open air cinema, spa pools, bar, fire pit (for sharing stories and marshmallows), and a purpose built area for taking part in some new cultural activities. ​
​*Prices quotes as of March 2014