THE LEGEND OF KIWI EXPERIENCE — OUR STORY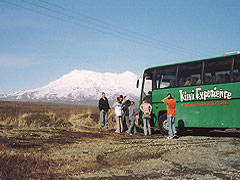 When three Kiwi guys returned home one day they started seeing their own country a little differently. They had been travelling the world for years and like all Kiwi's, proudly and passionately told anyone that would listen about their beloved home country New Zealand.
Upon returning home they knew there was a better way of showing New Zealand to the world and began dreaming up a new way of providing truly flexible New Zealand bus travel for independent travellers. Not tours, but unique trips linking New Zealand's scenic and adventure attractions, taking time to stop and take it all in, sharing the best-kept secrets, and giving travellers a chance to experience the very best of New Zealand.
In December 1988 they started to make it happen.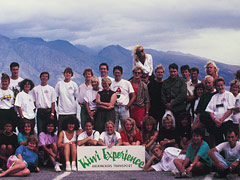 A famous dog was there too named "Gyro" who shouldn't be forgotten, especially as many suspect he was the brains behind the operation. Then, on 28th October 1989 the very first Kiwi Experience trip departed with a full bus to travel New Zealand they best way they knew how.
The legend had begun, word of mouth quickly spread, and the accolades rolled in. Hop-on, hop-off bus travel had been invented and travellers from all over the world loved it. This would cement Kiwi Experience's place as a New Zealand tourism icon for all the years to come.
The rest, as they say, is history. Today, Kiwi Experience continues to be made up of a bunch of proud and passionate Kiwis providing New Zealand bus tour travel to the world – over 500,000 passengers at last count. The team has grown significantly to keep up with demand and we have grown in our 30 years to offer multiple travels styles to our customers which include: Hop-on hop-off flexible travel, Small Group Tours, Private Tours and Snow packages.
Despite growing and growing up, we have retained the original vision of showing each and every traveller a mind-blowing experience while here – the must-see iconic spots, the unique hidden experiences off the tourist trail, and immersing travellers in New Zealand culture.
Kiwi Experience is New Zealand's original and BEST tour network. We're damn proud to be different, and damn proud to show you our New Zealand, your way. Whether it's jumping out of an aeroplane, experiencing a pōwhiri, or simply lying on a beach reading your favourite book, we'll make it happen, we'll make it fun, and most of all we'll make it unforgettable.
This is our Kiwi Experience story. We can't wait to hear yours.