New Zealand is a small country with a big heart. Drastic in beauty and humble in charm, Aotearoa redefines the notion of 'mind-blowing'.
There are so many reasons to visit New Zealand and the country provides you with unique and unexpected experiences each and every day. We've put together 10 fun facts and reasons why you need to get New Zealand to the top of your Bucket List ASAP.
1. Passionate Locals
Kiwis are incredible people, and immensely proud of their own backyard. They are some of the most welcoming and friendly people in the world with a great sense of humour. Bursting with equal amounts of local insight and infectious enthusiasm for all things Kiwi, locals go above and beyond, pointing visitors in the direction of all that's awesome about New Zealand.
You know that friend who's travelled everywhere and has a nose for what's good? New Zealand is an island nation full of excited locals who cannot wait to show you their beloved country. You can expect only good times and generous hospitality when you travel across this unique and vibrant country.
We have a saying here in New Zealand - "He Tangata, He Tangata, He Tangata" which translates to "It is the people, the people, the people".
2. Play as you go
New Zealand is a playground that ensures no two days are the same, brimming with unexpected moments you're yet to discover. Everyone has different ideas about the experiences they want to have when exploring a new country and New Zealand's diverse landscapes and innovative people can provide you with an unforgettable holiday.
The country is a dream for adrenaline junkies; from bungy jumping and skydiving to jet boats and helicopter flights there is plenty on offer to get your heart racing. New Zealand is well known for its adventure activities and is a leading innovator, meaning many experiences are only available here. It really is a once in a lifetime experience.
If you prefer a more relaxed holiday, there are still incredible opportunities to explore this beautiful country. Take a kayak trip through National Parks, stargaze from a hot pool or get a gram worthy shot on one of the many great hikes. For movie lovers, you have to check out the Lord of the Rings film set in Matamata and various other film locations throughout the country.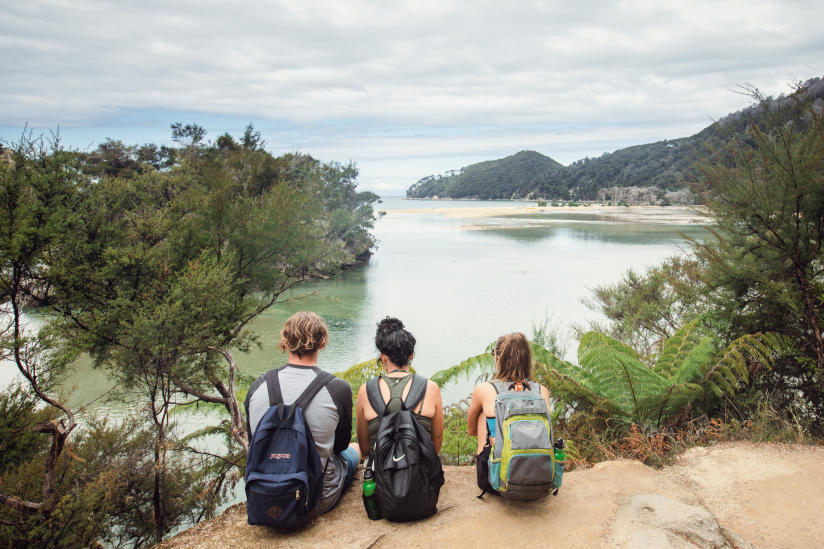 3. Our animals won't try to kill you
New Zealand is home to many species of native wildlife, in fact, this country is home to more than 21 unique birds and animals. Being a small Island nation, there are no major threats to these animals (except us pesky humans) meaning they are harmless and often quite friendly.
Honourable mention, of course, has to go to our national icon, the Kiwi. These nocturnal birds mostly live in forested areas and are incredibly rare. Local organisations are working hard to repopulate this cute flightless bird. Another bird worth mentioning is the worlds only Alpine Parrot, the cheeky Kea Bird. Most commonly found in Arthur's Pass and Fiordland National Parks, keen an eye out for these guys who are super friendly and have been known to steal things.
There are 6 species native species of penguin found in New Zealand. Yellow-Eyed Penguins are found on the southeastern coast of New Zealand and Stewart Island. The Little Blue Penguin is not completely unique to New Zealand, however, the largest groups of them can be found waddling around the coastlines.
Being a small island nation, New Zealand is home to much native marine life. Kaikoura is the only place on earth you can see giant sperm Whales on a tour, year round. Fur seals were once hunted for their meat but are now a protected species. Found around the coastlines of Kaikoura, the Caitlins and Fiordland, and even as far north as the Bay of Island's in the winter. Hectors dolphins are the world's smallest and frequent the waters around Christchurch while you are able to swim with dusky dolphins all year round up the road in Kaikoura.
4. the food and drink
When asked about what food New Zealand is famous for, it is hard to pick just one thing. Our diverse backgrounds bring together a local twist of food from cultures throughout the world, the perfect excuse to eat your way around the country!
Fergburger is on anyone's must-do list when visiting Queenstown. The lines are out the door constantly to the point that they have had to employ someone full time to manage this! A mince pie (mince - minced meat) is a staple amongst locals and are found in bakeries throughout the country.
New Zealand has some of the best wines in the world. Our climate and flat and fertile soil make for awesome grape growing. There are many wineries throughout New Zealand, and most of our supermarkets have local wines for pretty reasonable prices. We also know how to brew some pretty quality beer. With a massive rise in craft beers recently, there are so many different breweries opening up throughout the country for you to try.
The island lifestyle means that you are never more than 120km (75mi) from the Ocean. Seafood is plenty. Fish and chips in New Zealand are the best in the world, it is the freshest. Tuatua are a unique species of shellfish found only in New Zealand and are a Maori delicacy. Often found in fritters from the local fush and chups shop.
Another Maori delicacy, the Hangi is a traditional Maori feast normally served at family gatherings. It consists of meat and plenty of root vegetables such as potatoes and pumpkin. A pit is dug in the ground and hot stones are placed in the bottom, fresh off the fire. Baskets of food are placed on top of the hot stones and buried with the earth for a couple of hours, giving the food a delicious smoky flavour. You can enjoy a Hangi when visiting the Tamaki Maori Village in Rotorua.
5. Local Cultural Experiences
Maori are the tangata whenua, the indigenous people of New Zealand who arrived more than 1,000 years ago from their mythical Polynesian homeland of Hawaiki. Today, they make up about 15% of the population and their history, language and traditions are central to New Zealand's identity.
Voted a top 10 experience in the world by Trip Advisor at the Tamaki Maori Village you can immerse yourself in the culture, customs and traditions of the Maori people. Journey back to a time of proud warriors and ancient traditions by experiencing life in a traditional Maori village in Rotorua. After an epic Hangi Feast and learning to do the Haka, spend the night in a traditional Whare Moa (sleeping house), deep within the heart of the forest.
6. let's talk about the weather
New Zealand is located at 40degrees south of the equator in the southwestern part of the Pacific Ocean. It consists of 2 small main islands in a long narrow formation. While the far north has subtropical weather during summer, the inland alpine areas of the South Island can be as cold as -10 in winter.
In general, the North Island is warmer year round. Summer (December - March) is the best time to visit, but also the most popular time and this small island nation is full of visitors. Temperatures average between 20-30 degrees Celsius and locals spend their free time at one of the many beaches.
The South Island, on the other hand, is a true winter wonderland. Throughout winter (June - September) the mountain ranges are covered in snow and the average temperature sits somewhere around 10 degrees Celsius. The further south you go, the colder it tends to get.
7. the safety and ease of travel
New Zealand's serene shores rank second in the Global Peace Index's list of the world's safest countries, just behind Iceland. It's no coincidence that they're both stunning countries whose sheep population significantly outnumbers the human population. New Zealand might be a long plane ride from… well anywhere, but you won't find too many other destinations as safe as this fun island nation.
A peaceful, multicultural society, Kiwi's a diverse and tolerant bunch. Whether you're travelling solo or with others, you shouldn't face any hassles. Locals want you to love our country as much as we do, so ask away if you need any tips or advice. Also if you're wondering about traveller scams and the security situation in New Zealand - credit card fraud is a rarity and gun ownership laws are very strict so incidents are few and far between.
Kiwi Experience driver guides go above and beyond, making things hassle-free by supporting travellers with accommodation and activity bookings along the way and generally pointing you in the direction of all that's awesome about New Zealand. Travel alone, jump on our bus, jump out of planes and off bridges with likeminded peeps from across the globe, then lap up some of the lushest nature around.
8. unbelievable landscapes
Most travellers are drawn to New Zealand for the epic experiences that only its natural playground can offer - rolling valleys, dusted mountain peaks, crazy clear blue lakes and pristine beaches, all make a mockery of Instagram filters. And because it's a small place, you can experience all of these in just one day!
New Zealand is a diverse landscape waiting to be explored. From volcanoes and rainforests to native bush and glaciers, the great outdoors is simply that, great! No part of the country is more than 120km from the ocean, and the coastline is rugged and wild. Many landscapes from Milford Sound to the Tongariro Crossing will make you feel like you've set foot on another planet, it will blow your mind.
It is hard to imagine so many dramatic landscapes in such a small island nation, but tramping even one of the great walks will give you a real sense of achievement and tranquillity - taking you back to being one with nature.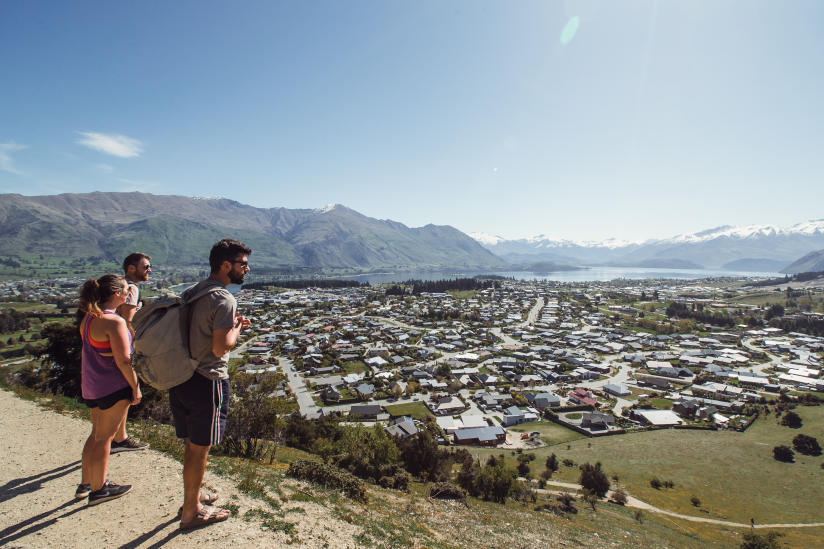 9. Travelling is easy
New Zealand is a pretty small island nation, a little bit bigger than the United Kingdom, and a wee bit smaller than Japan. Because it's a small place, it's easy to experience a lot in a short amount of time; imagine climbing on a glacier in the morning and hiking through a rainforest the same afternoon. There are not many other places in the world that you can do this.
Despite its size, New Zealand has so much to see and do that you should allow plenty of time to explore. As a general rule, 2 weeks on each island will allow you to really explore those hidden gems. You won't need long to cover distances but the locations themselves have so much to be discovered.
The country is popular for those on working holiday visas and as part of a round the world trip. Locals are excited to show off their beautiful country and more than happy to point you in the direction of all that is awesome. You don't need to plan your trip too much, you never know who you might meet along the way. Towns are prepared for visitors and often contain a variety of accommodation options to suit all budgets.
10. #Embracetheunexpected
It's easy to get swept up in travel - that's the point after all. When you're in the travel moment you don't want to sweat the small stuff: how you'll get there, who you'll go with or where you'll stay.
Whatever you want to get out of New Zealand, Kiwi Experience gives you what you need and delivers you the freedom to #EmbraceTheUnexpected moments that happen each and every day while you travel across New Zealand with us on the ultimate guided bus adventure.
Be that through meeting your new best friend, screaming your way back to earth during a skydive, conquering that MASSIVE mountain (which the locals call a hill…) or being challenged by a new cultural perspective.
These moments define us.
So what are you waiting for? It's your time to #embracetheunexpected in this mind-boggling wonderland called Aotearoa.