Queenstown, Kaitaki rafting & River Valley
Experience the awesome adrenaline rush that is white water rafting. This activity is open to all levels to enjoy whether you've got no experience at all and are just looking for a new thrill, or you're a seasoned veteran in the art of rafting, we cater to all. The perfect choice for thrill seekers is the Queenstown rafting for some serious whitewater action. For more info, check out the link. Queenstown Rafting
Skydive, bungy or both!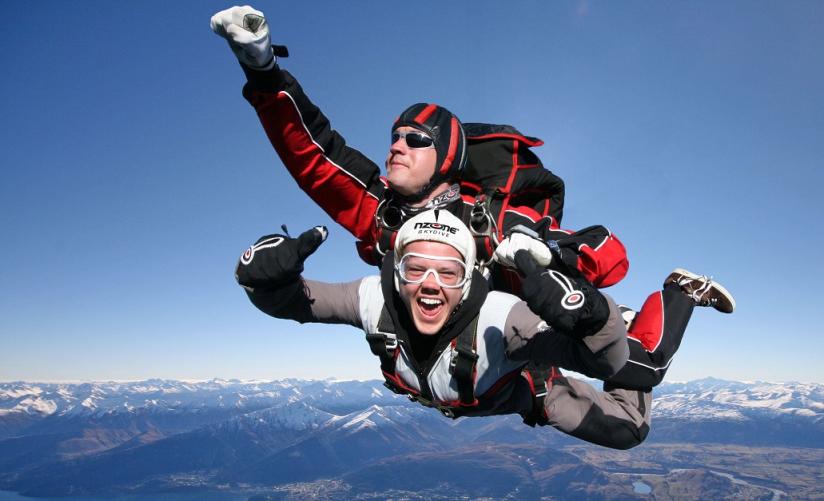 Skydive and bungy in over 10 different locations. Attracting thousands of thrill-seekers every year to the world's 1st commercial bungy jump at the historic Kawarau Bridge. The 43 meter Bungy is the most popular bungy site. Experience the rush with a mate, go solo or take it to the next level with a water touch or get fully dunked! AJ Hackett
With several locations to kickstart your epic decent, with most offering 2-3 choices for how high you want to go. Maxing out your thrill meter will get you up to 16,500ft reaching up to free fall speeds of 200mph for over 60 seconds! From this height, you can feast your eyes on both islands including beautiful national parks, golden beaches, turquoise oceans and snow-capped mountains. Sky Dive
Luge
Located in both Queenstown and Rotorua, Skyline provides a scenic gondola ride seeing the best views of Queenstown and Mt Nagongotoha. Once you've reached the top and you're ready for that adrenaline rush, enjoy a thrilling gravity fuelled ride that will have you hurtling down the bends, bumps, turns, and tunnels. Luge
Jungle Paintball
Round up your fellow Kiwi Experiencers and head out the west coast rainforest for 2 hours of stalking, aiming and shooting. In the heart of Franz Josef Jungle. Paintball is a unique blast of adrenaline that will satisfy those wanting an exhilarating, fun adventure situated on one hector (22 acres) of land just 5 minutes' walk from the village center. Jungle Paintball
Go Extreme: Cardrona
For those taking their first steps into the wonderful world of skiing and boarding, Cardrona is an ideal place to start. One of the best beginner areas around that has a dedicated space with wide, gentle slopes will get you going in no time.
If you're already at the intermediate stage then the wide, open slopes will get you cruising along nicely. You'll also be able to find some fantastic longer runs and a large number of pistes (marked ski runs) that are ideal for the intermediate level.
Pow-seeking boarder or skier and more interested in exploring the back-country? Though Cardrona may not be as well known for its advanced level terrain or deep powder you'll still find a whole lot of fun off-piste to explore. Top picks for expert level riders looking for some decent off-piste: Arcadia Chutes, you'll find steep lines and terrain littered with large rocks. Tulip Chutes and the off-piste from the Captain's Express chairlift are great if you're looking for varied slopes and can have some nice pockets of powder if you hit them at the right time. Go Extreme: Cardrona