Ahhh the Bay of Islands. A beautiful region of New Zealand made up of over 140 islands, located a mere 3-hour drive from the city of Auckland. This relatively small region is packed to the brim with fun activities, with something to please almost every traveller.
Whether you enjoy getting amongst the wildlife, taking leisurely boat cruises, learning about local history or getting your adrenaline pumping (skydiving anyone?), the Bay of Islands needs to feature on your New Zealand itinerary. Kiwi Experience makes getting there a breeze, so you're free to pack in as many epic activities while you visit. To get you started we've compiled a list of must-do activities for your trip to the Bay of Islands.
CRUISE TO THE FAMOUS HOLE IN THE ROCK
If you like island hopping, dolphins and possibly the odd whale sighting, then a cruise around the Bay of Islands is a must. Jump on board a first-class catamaran and venture out to the end of the Cape Brett Peninsula where you'll find the famous 'Hole in the Rock' on Motukokako Island. If the tides are right, your skipper will expertly steer you through this tight gap - the local legend is that if you get dripped on you should consider yourself lucky!
The cruise is run by a friendly local crew and is a half-day experience you don't want to miss. Half-day trips depart from Paihia at 9 am or 1 pm and take 3-4 hours to complete depending on the time of year. If you're travelling with Kiwi Experience then it's your lucky day, as cruise experiences can be booked onboard with your friendly Driver Guide who'll guarantee you the best price for a ticket.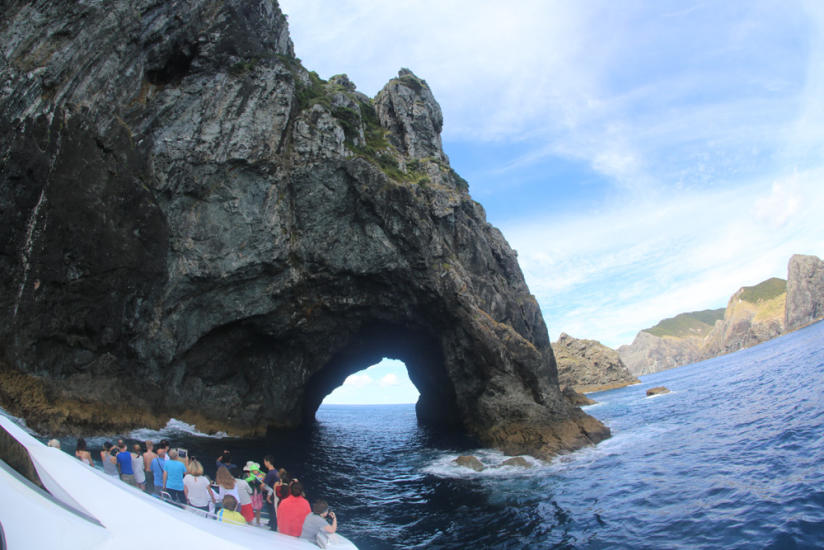 DO GO CHASING WATERFALLS
The Bay of Islands is known to be home to some of the most beautiful waterfalls in New Zealand, and we think you should definitely go chasing a few while you're in the area.
Rainbow Falls
Find the gorgeous Rainbow Falls on the Kerikeri river, only a short and easy walk through lush native bush from the falls carpark. These 27-meter falls are impressive all year round, but if the weather gods are on your side, make sure to pack a towel and togs (swimwear) if you fancy a dip! Sturdy footwear and a light rain-proof layer are recommended if you want to remain dry as you view the majestic falls from one of 3 viewing platforms.
Haruru Falls
The stunning Haruru Falls can be found a short 10-minute drive from Paihia, in Waitangi. Grab a friend, hire some kayaks and paddle up the river to see the falls from a fresh perspective. If you're heading to the falls on foot you'll want to walk the 90-minute track from the Waitangi Treaty Grounds and through a spectacular mangrove forest via a boardwalk. Sure you can take a car and walk a few minutes to get there, but we promise the walk (like most great walks in the Bay of Islands) is worth it. Pack some light layers along with a sun hat, swimwear, towel and sunscreen for the short walk, plus a picnic lunch for a scenic stop, perfection!
Whangarei Falls
These majestic 26-metre falls are found in a lush scenic reserve and are arguably one of the most famous waterfalls in New Zealand. It is hard to believe that they are only a few minutes drive from Whangarei city centre. Enjoy a 30-minute loop walk that takes you through native bush and over a footbridge at the base of the waterfall, then up to viewing platforms where you can take in the powerful scene.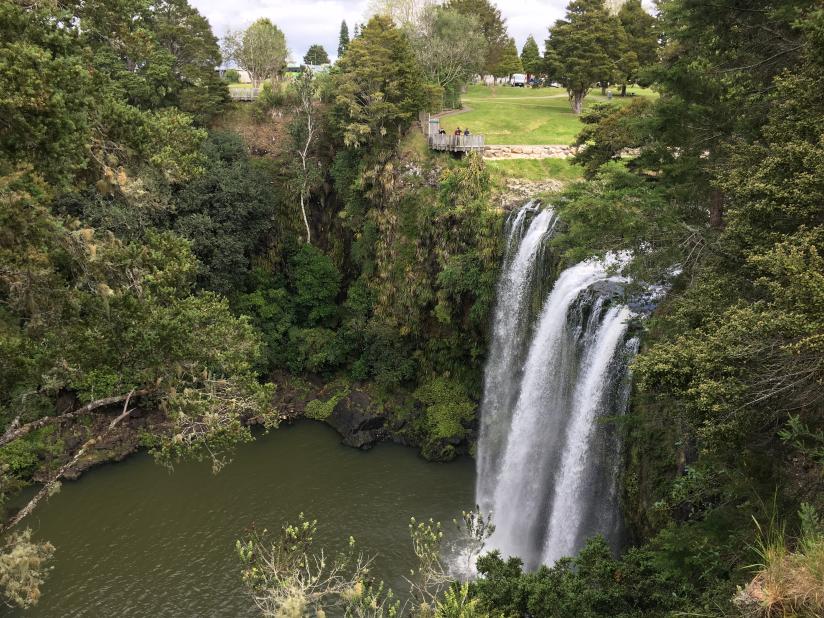 SKYDIVE OVER THE BAY OF ISLANDS
While the Bay of Islands is idyllic, it's not all chill beach cruises and waterfalls! There's plenty to do if you're looking to get your adrenaline pumping. Arguably, the best way to really see the Bay of Islands is by jumping out of a plane over them. Your adventure begins with a sunny scenic flight over the 144 islands in the Bay where you can admire the pristine coloured waters and unique beauty of the region. Leap out of the plane at 16000ft and freefall at speeds of approximately 200km/hr - breathtaking is an understatement. Your parachute will release, allowing you to float down safely back to the grassy bliss of the bay.
Skydiving in the Bay of Islands is a must-do if you are a frequent jumper, or if it's something you've always wanted to try, we guarantee you won't regret it. Allow yourself about 2-3 hours in total from safety chat to jump. This is a popular activity with our Kiwi Experience passengers for a good reason, talk yourself into it and come and throw yourself out a plane with your tour mates.
PARASAIL OVER THE BAY OF ISLANDS AT 1200FT
Want to experience the Bay of Islands from a different perspective, but not fall out of the sky? We highly recommend getting harnessed up and going parasailing instead! You will be given the perfect aerial view of crystal clear waters, as a boat pulls you and a friend 1200ft through the sky. This activity will give you a rush as you swing up to the sky, before you sit back, relax and enjoy the never-ending views below. The activity lasts about an hour, with approximately 12 perfect minutes up in the air with your travel bestie and the wind in your hair! Incredible.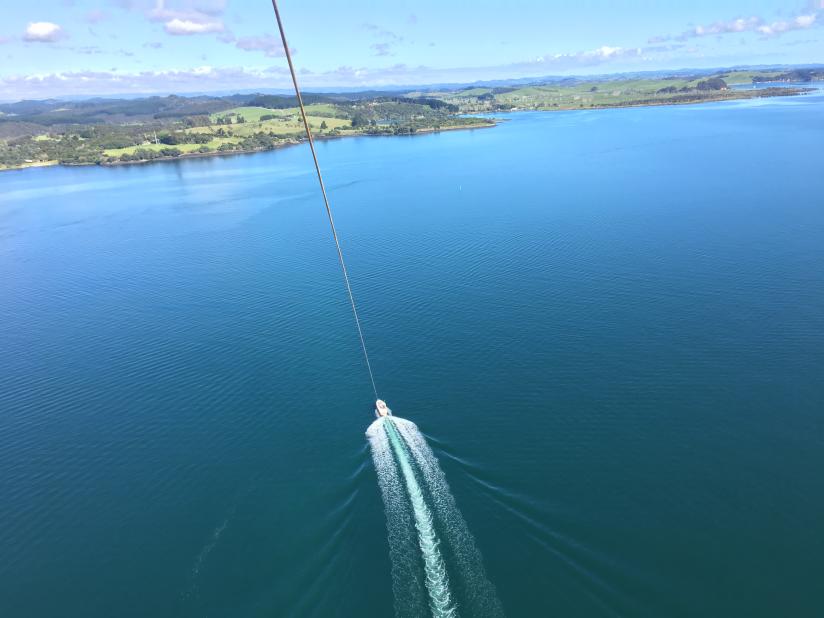 CATCH YOUR KAI (FOOD) ON A FISHING CHARTER
There really isn't anything better than catching your own dinner. Even better when it's on board a charter boat. Have a go of catching some of the fresh fish that the Bay of Islands has to offer (snapper, kahawai, or shark even)! Choose from a morning or an afternoon trip with the Spot X Fishing crew and chow down on delicious fresh fish for lunch or dinner, sorted! You'll be on the water for about four hours so make sure you pack some extra clothing, sunscreen and a sunhat for all conditions. When you book with Kiwi Experience, you'll be guaranteed to get the best price for this charter. We will meet you at the Paihia wharf, 10 minutes before departure.
GO SCUBA DIVING AROUND THE ISLANDS
Have you always wanted to experience the deep blue sea, and be one with the fishes? Then scuba-diving in Paihia is a must do in the beautiful Bay of Islands. Immerse yourself in the great unknown of the deep ocean that lies before you and enjoy every moment of your experience. You will see sea life that you've probably never seen before, and if you're lucky, witness the shipwreck beyond the reef that lies there still. Whether you're a novice or an expert diver, there are a number of different packages to choose from with Kiwi Experience.
TAKE A FULL DAY CRUISE AROUND THE BAYS
You can't visit the Bay of Islands without going on a cruise in the pristine waters. It's a must-do because you will be immersed in the ocean and all that lives there. You might see some playful dolphins and spot some of our native seabirds along the way. The Cream Trip cruise is a full day excursion that sets off at 9 am and returns you safe and sound at 4:15 pm. Because you will be out all day exploring, make sure you've packed all of the necessities like a hat, towel, togs, sunblock, wind-proof jacket and warm clothes. Keep an eye out for the Cape Brett lighthouse too and if you get a chance, stop off and relax on the warm sandy beach.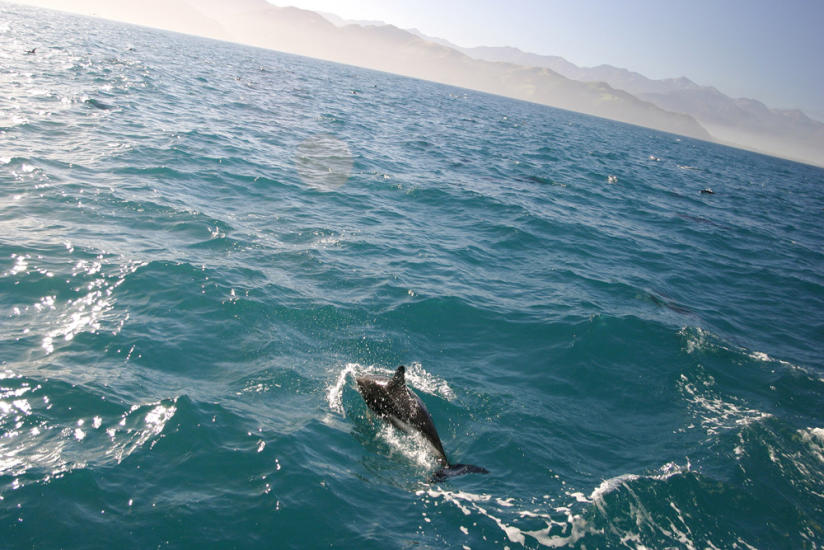 VISIT THE WAITANGI TREATY GROUNDS
The Bay of Islands is home to a handful of significant historical Kiwi landmarks. One of which is the Waitangi Treaty Grounds, known as the 'birthplace of modern New Zealand' where you can immerse yourself in the history of this important site. Learn about the coming together of the indigenous Maori people and the European settlers where the Treaty was signed. When you arrive at Waitangi you will instantly feel a sense of spiritual and cultural significance. Enjoy Maori cultural performances, visit the treaty house and the carved meeting house, or check out the stunning carved ceremonial war canoe (also known as a Waka) and so much more. A great way to make the most of your time at Waitangi is to explore with a guided tour who can answer all your questions.
If you are travelling with us at Kiwi Experience, ask your driver whilst you're in Paihia if you can make the time to visit as it is only a short drive away, and definitely worth it.
WALK TO THE TOP OF FLAGSTAFF HILL
Another part of our rich history is Flagstaff Hill. This is where the Union Jack Flag first flew here in 1840 by British colonists, before being chopped down multiple times in protest by local Maori tribes. The walk is approximately a 2.5km loop so it will take you about 30 minutes to complete, and you may even spot a cheeky Weka bird on the track. Native to New Zealand, these little birds are harmless and tend to just do their own thing but are also very curious. Flagstaff Hill is one of the many great walks to do in the Bay of Islands and one of our favourites.
ENJOY THE FRESH LOCAL CUISINE
Some say you haven't experienced New Zealand properly if you haven't tried some of our amazing food and wine. One of the top places in the Bay of Islands is Darryl's Dinner Cruise. You will get to enjoy cruising along the river to the incredible Haruru Falls whilst having some delectable food and wine. This is a luxury experience that runs for approximately 2.5 hours. Sit back and enjoy a glass of wine whilst learning about the area's history by the friendly staff on board.
Make sure you have your camera ready too as you casually glide through the river's water to the exotic looking Haruru Falls. All of the food provided to you is cooked freshly on board and you will be spoilt for choice, with seafood, beef, New Zealand lamb and more. Mouth-watering! This is definitely an experience that you don't want to miss so make sure you bump it up near the top of your must-do list and treat yourself whilst in the stunning Bay of Islands.
Another stand out spot to get your 'nom' on, is none other than Hone's Garden. This incredible joint is based in Russell, only a short ferry-ride from Paihia. It is the perfect spot for lunch or dinner. Soak up the sun and the chill vibe that this quaint place has to offer. You can choose from their famous wood-fired pizzas, crisp garden salads or the exquisite tacos. Hungry for more? Check out our blog on the best eats in the Bay of Islands.
VISIT THE BAY OF ISLANDS
The Bay of Islands is a definite must-do on your list whilst you travel around New Zealand and getting there is so easy with Kiwi Experience. Jump on one of our Hop-On Hop-Off Bus Passes to get there from Auckland, or if you're on one of our North Island Small Group Tours, why not add on our Bay of Islands trips before or after your tour? With the plethora of things to see and do in this little slice of paradise, make sure you score the best prices and don't miss out on activities with a pre-paid Kiwi Experience Activity Pack. Ready for your Bay of Islands adventure? Jump on board now!