The saying goes; "The best things in life are free," need convincing? Well, you've come to the right place! Some of our most beautiful- and in all senses of the word "free"- attractions can be found when exploring New Zealand's scenic landscapes through a simple walk.
From hidden gems in the form of bush tracks to some of New Zealand's most famous walks, our driver guides make it easy. No tricky map reading or walking miles in the wrong direction (we've all been there!). With Kiwi Experience, you're able to delve into paradise, practically straight from your bus.
MOST FAMOUS WALK: TONGARIRO CROSSING
Willing to work up a sweat, and really get your heart pumping? The Tongariro Crossing is the perfect place to do it! Give your body a taste of hard-work, and reward yourself with views across the central plateau; over volcanic landscapes; and of surreal turquoise lakes. According to the hundreds of thousands of travellers who've done Kiwi Experience tours before, the Tongariro Crossing is their Number #1 on the list of must-do places and activities in New Zealand. A full day's walk, it's often named as New Zealand's top one-day hike because of the stunning scenery and amazingly varied landscape you won't find anywhere else. To bring the Tongariro Crossing hike into your Kiwi Experience, organise to spend two nights in Taupo, as you'll need one full day in order to complete the hike.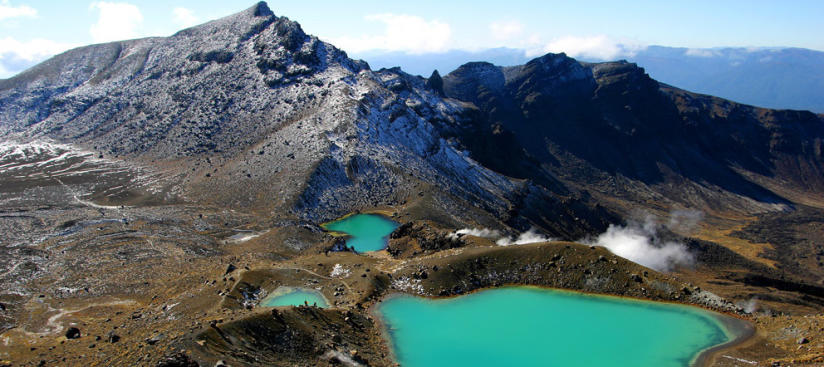 BEST SEAL-SPOTTING WALK: KAIKOURA PENINSULA WALKWAY
While Kaikoura 's best known for whale-watching and dusky dolphins, the coastal town is also home to another curious creature- the humble seal. Playful, adventurous, and not to mention a little bit smelly, seals make for an entertaining (and very cute) experience. At Point Kean, you'll find that the cheeky male seals tend to frequent the carpark area, while the females and adorable pups can be found lazing on the rock platform and playing in the shallows. Head up the hill just behind for spectacular views of the coastline and steep mountain ranges that meet the coast.

BEST NIGHT-TIME WALK: RUAKURI BUSH WALK
A night walk is made even better with natural fairy lights- otherwise known as glowworms. If this sounds like a bit of you, then head to the 45-minute-long Ruakuri Bush Walk after dark during your overnight stay in Waitomo. Navigate the main bridge with a torch, then let the glow worms guide you along the banks- it's truly a sight to see! The track continues onto the cavernous Ruakuri Natural Tunnel, which you will visit during daylight on your way from Waitomo to Rotorua.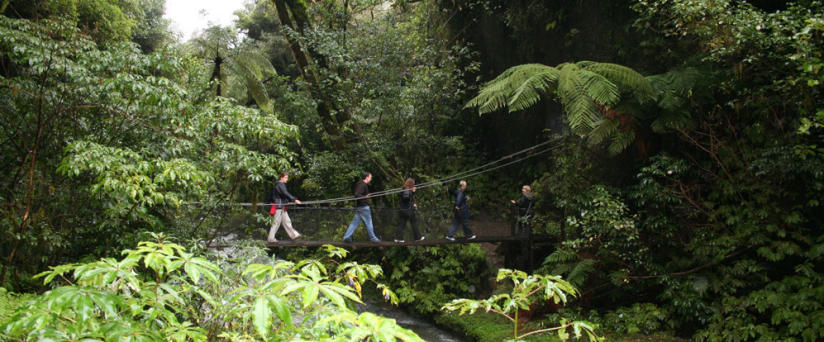 BEST SCENIC PHOTO OPPORTUNITY: LAKE MATHESON WALK
Who needs a selfie mirror when you have an entire lake to do the trick for you! Surrounded by snow-capped mountains, Lake Matheson makes for a breathtaking view for you, and for your Instagram followers if you do so, please. With Aoraki/ Mount Cook reflected in her glassy waters, Lake Matheson is an iconic image, and well worth the easy scenic track. After leaving Franz Josef, you'll get a glimpse of this beauty in the stunning morning light.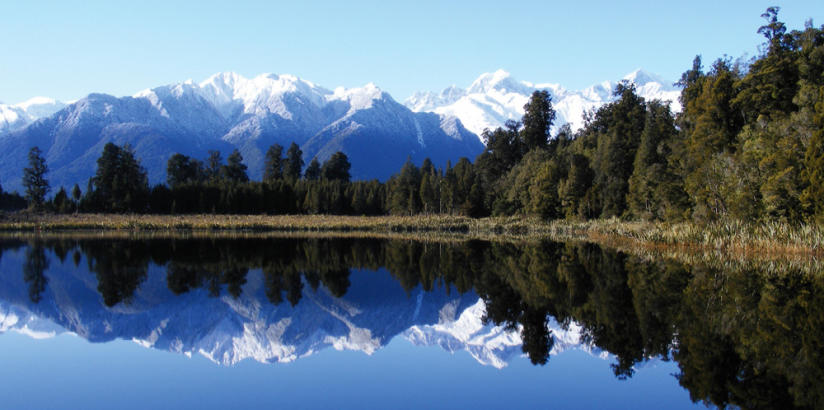 BEST WATERFALL WALK: THUNDER CREEK FALLS
There's something almost magical about a picturesque waterfall, and as we're sure you'll find with Kiwi Experience, you're never too far from the surreal in New Zealand. Mount Aspiring Park is no exception, boasting its very own magical spots, including Thunder Creek Falls- a favourite waterfall of ours amongst a spectacular bunch. A short track leads to this towering- and true to its name -thunderous 28-metre high waterfall. Be sure to get a pic of yourself 'drinking' the waterfall – think the tilted head and clever camera angle.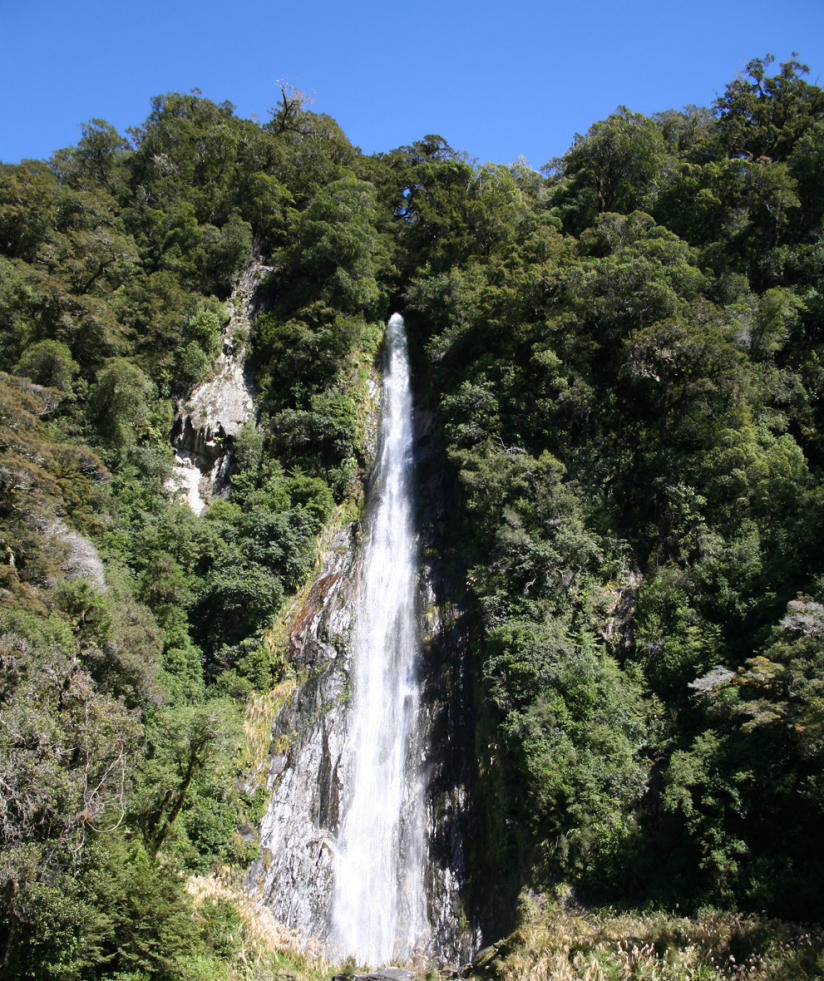 BEST GOLDEN SAND WALK: ABEL TASMAN NATIONAL PARK
Here at Kiwi Experience, we enjoy mimosas, boat rides, and long walks on the beach- all year around. Just a quick water taxi or easy kayak away, sweeping white-sand beaches, crystal clear inlets and expansive coastal views await you. Take a half-day breezy walk along the coast, or stay a night, and attempt a more challenging hike, and you'll notice it's easy to see why Abel Tasman is the country's most popular national park. Cool off at the end of the day at Bark Bay or Torrent Bay for a swim in the turquoise waters if it's summer- or if you're game otherwise!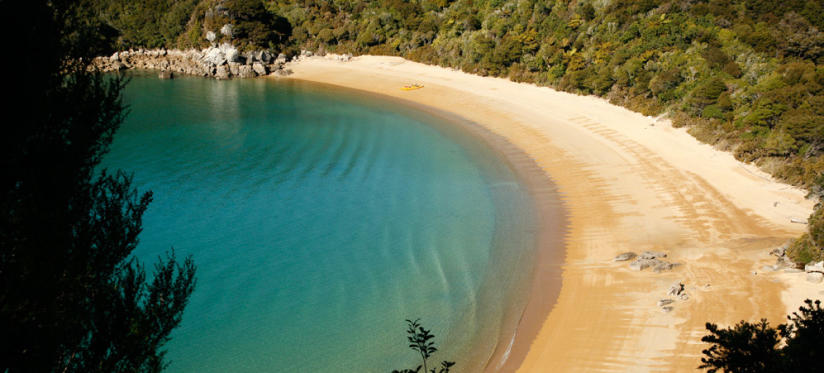 BEST URBAN WALK: WELLINGTON WATERFRONT
Sometimes urban life can be overwhelming, and nothing's a better cure for stress than a stroll. The walk along Wellington Waterfront lets the locals forget city troubles, with views of uninhabited, rugged coastal ranges. Sitting next to the CBD, it's a perfect place to visit while you explore Wellington during your Kiwi Experience Journey. This is also a great place to get a taste of New Zealand culture and history, as you pass by Te Papa- New Zealand's national museum. Take a stop along the way to admire interesting sculptures, and visit a local cafe (they do say that New Zealanders make the best coffee… or maybe that's just us!). In the weekend there's even a waterfront market. Choice, mate.

BEST MULTI-DAY WALK: MILFORD TRACK
You don't need to be a wilderness expert to attempt a multi-day hike; just a few solid mates; some trail mix; and some Kiwi ingenuity (ask your driver). Once you've gathered your supplies, Fiordland is the perfect starting point. The Milford Track is of New Zealand's most famous walks, running through vast valleys, rushing rivers and past New Zealand's tallest waterfall. Kiwi Experience can even pick-up and drop you off on the way! Part of the attraction is that you'll either start or finish in the spectacular Milford Sound another NZ must-do. Contact the Kiwi Experience team in advance to secure a dry place to stay along the four-day hike- huts do book up fast!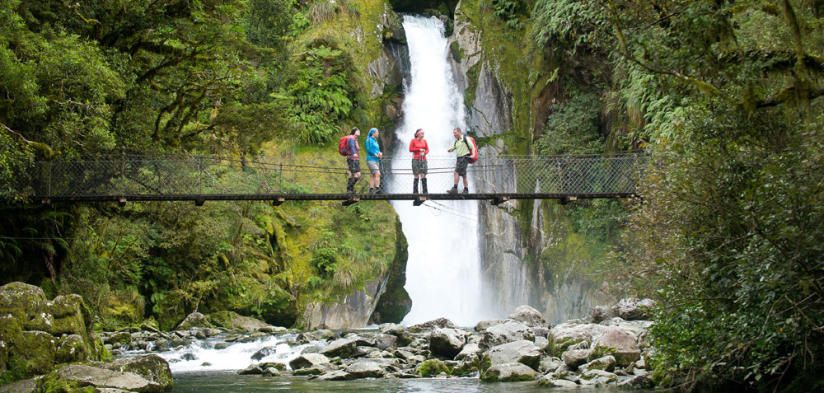 To find out more about how Kiwi Experience can be a part of your adventure and to plan your trip with us, check out our seriously cool Travel Guides and Bus Passes which give you access to all of these amazing walks.