Lake Tekapo offers the perfect chance to switch off and recharge your batteries without needing to root around in your bag for that elusive adaptor!
Having partied your life away in the high-octane adventure that is Queenstown, you desperately need a relaxing time. Not to mention a cheap alternative, as approximately 100% of people will have been drawn to spend more money than originally budgeted by this stage of the tour. The journey to Tekapo kicks off reasonably early, so make sure the night before isn't TOO big. Note: not too big for Queenstown standards is much different to the rest of New Zealand standards! Ordinarily, you could sleep on the bus but this isn't recommended, as the scenery is amazing. Endless views of snow-covered mountains and sights from every corner of the bus are worth staying up for. Most notable is the terrific photo opportunity of Mount Cook you're presented with.
The Spas and Sauna
The spa is the perfect option for anyone who wants to truly relax for the first time since they landed in New Zealand. With heated pools, sauna and steam room, set aside a good couple of hours to take full advantage of the extensive facilities this place offers. Discounts come with your Kiwi Experience ticket, too. It really is spa-tacular, spa-mazing, whatever word you wish to use. Sauna-f-a-bitch this is a good way to relax!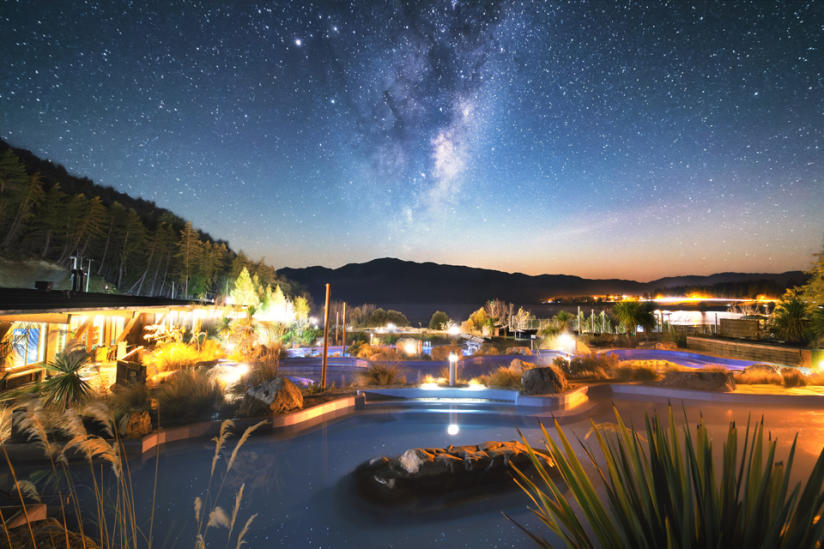 The Stars
As the sun sets behind the hill, the darkness reveals one of Tekapo's biggest kept secrets. Glance up and you'll see the remarkable night sky which has recently become a UNESCO World Heritage Site! Don't miss the sights of satellites and shooting stars flying above. Planets are ripe, amongst the glittering sky, and if you know what to look for, many constellations are available for viewing. Failing that, Kiwi Experience has a tour on offer which allows you to view the night sky with the assistance of professionals (and soak in the spa at the same time!).