Adrenaline capital of the world, Queenstown delivers all the goods you could ever want from one town.
For many travellers, if they had to choose just one place to visit in New Zealand, Queenstown would be it. Sitting on the edge of Lake Whakatipu, surrounded by incredible mountain ranges, it's small enough to get around easily, but with enough daytime and after-dark activities to occupy you for months.
Get the best out of this adventure charged spot with our Queenstown travel guide. Take the time you plan to spend in here and double it, you'll thank us later.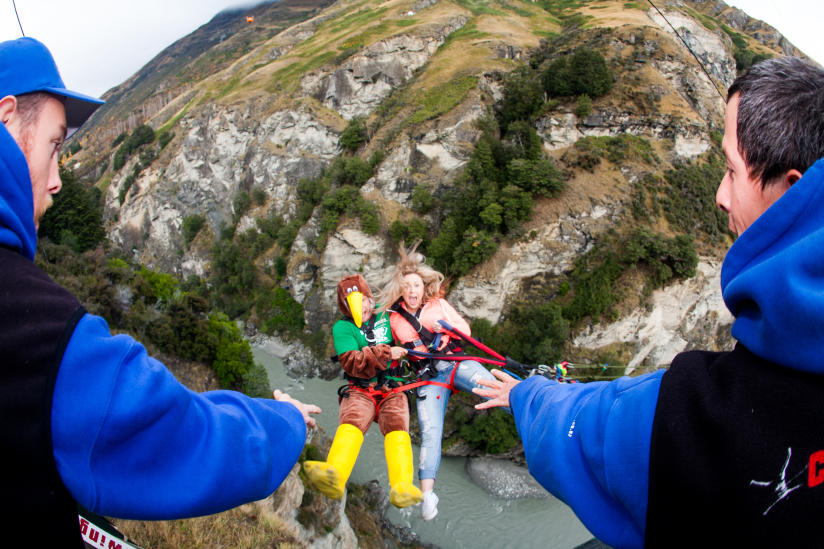 The Adventure Capital of New Zealand
You will soon see why Queenstown is known as the adventure capital of New Zealand. With more adrenaline filled activities than you can imagine, there is plenty of ways to test your nerves and conquer your biggest fears.
Scream your lungs out for all 134m of the mighty Nevis Bungy, New Zealand's highest bungy and one of the most spectacular. If you're looking for something slightly less knee-tremblingly high, the Kawarau Bungy is the original bungy jump - where modern bungy jumping was literally invented. Bringing the laughs and best photo-ops to the adrenaline-seeker's game, the Shotover Canyon Swing team have dreamed up a whole lot of crazy ways to throw yourself into their 60m freefall.
If you've made it this far in New Zealand without jumping out the side of a plane, now's the time to do it. NZONE are a slick operation, the views of the flight up are worth every dollar and free-falling surrounded by jagged mountain ranges is a rush like no other. Fast, furious and so much fun, Shotover jet is Queenstown's iconic jet-boat ride. Charge around incredibly narrow bends, skim over some very shallow waters and take in a much of this stunning canyon as you can.
If you're looking to hit the slopes while in New Zealand, Queenstown will be your happy place. There's three main ski areas near Queenstown; Coronet Peak and The Remarkables are the closest. Head a little further towards Wanaka and you'll get to Cardrona - a park lover's favourite. The ski season is at it's best from June - September, so get your timing right if you're keen to shred some pow.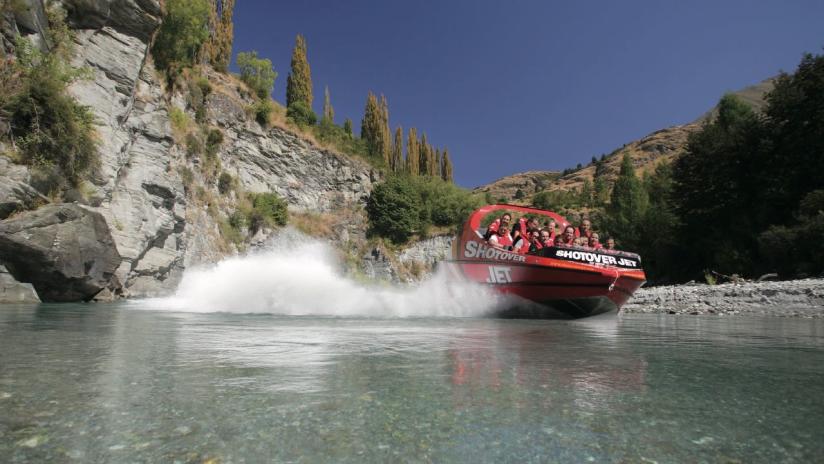 Getting those sweet views
The Ben Lomond Track is one of the most popular hikes in the area. The 1,748m summit track goes through spectacular backcountry terrain and is easy to access, starting from the centre of Queenstown. This isn't a walk for the faint-hearted, but 360 degree views at the top are the ultimate reward. Take a packed lunch and allow about 6-8 hours return. If you're short on time a 3-4 hour walk will get you to the Ben Lomond Saddle.
If an eight hour walk is about six hours too long for your liking, the Queenstown Hill Time Walk is a gentler way to get your sweat on. It's a steep but manageable walk and coming out from the pine forest at the top is the perfect place to catch your breath and gaze out over Lake Wakatipu.
If climbing hills aren't your thing, check out the lakeside Frankton Arm walkway. It will take you right around to the other side of the lake from Queenstown's centre, all on a nice wide track with very minimal gradient. If you're keen to hire a bike, this is a great track to cycle without having to face any car traffic.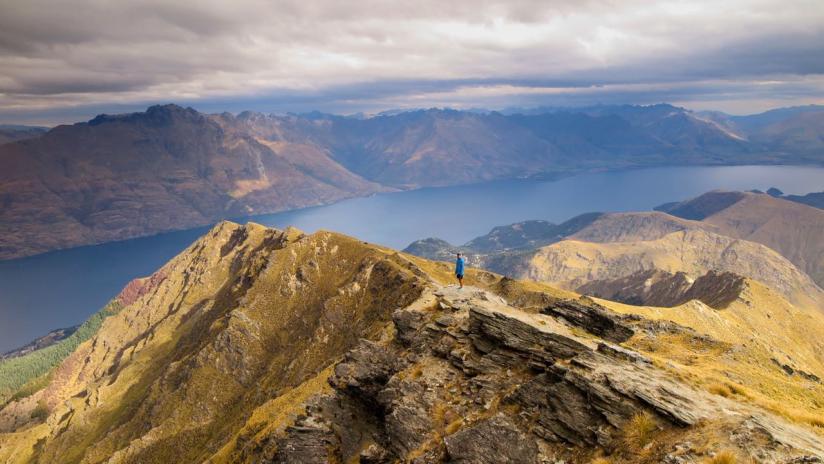 Celebrating life with your new mates
Probably one of the best ways to spend a relaxed afternoon in Queenstown, the Disc (frisbee) Golf Course is set lakeside in Queenstown Gardens, minutes from the town centre. Just like real golf there's 18 holes and it's all about sinking the disc in the 'holes'. Unlike real golf, perfect coordination isn't necessary and it'll only set up back the few dollars needed to hire a frisbee (from any sports shop in town).
Queenstown's nightlife has a reputation that precedes it. With a strong line-up of food options and enough bars to keep the hardcore going til the wee hours every night, Queenstown will keep you very well fed and watered.
The one and only, Fergburger you'll be well rewarded for the time spent waiting in line. Juicy meat (or vege) patties sit inside dinner-plate sized buns slathered in garlic aioli. Best devoured lake-side, for epic views to match the meal. Winnies is renowned for their giant pizzas, but their burgers are just oversized and delicious. Also a great spot to kick off your night, as it gets raucous once dinner time is over.
Come for the gooey cheese loaded nachos, Loco Cantina and stay on for the cheap drinks, solid DJ line-up and generally rowdy nights. Tuesday is ladies' nights and Wednesdays mean drink and meal specials, can't go wrong with a combo of tacos and tequila! If you're missing Thailand's buckets, The World Bar's teapot cocktails are definitely the next best thing. Aside from being great place to slurp up teapots, there's regular gigs and the kitchen serves up tasty locally-sourced dishes to soak teapot excess.
If you love a good bar crawl and a free drink or five, don't miss the welcome to Queenstown party! Hitting 5 of the best party spots for a night that will get you well amongst the after-dark happenings.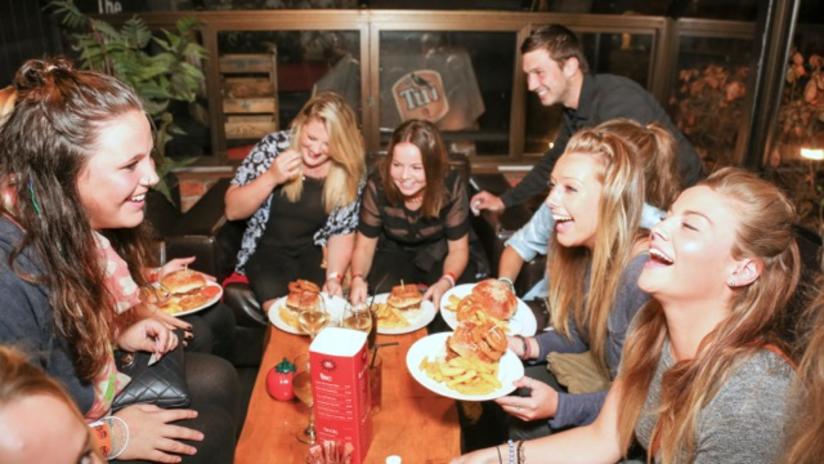 Venturing further afield
Milford Sound is one of the most popular day trips from Queenstown - and also one of NZ's most visited tourist spots despite it's remote location. The eighth wonder of the world is a stunning fjord, where waterfalls tumble down sheer cliffs, sharply cut mountains jut into the sky and dolphins frolick the turquoise waters. Warm-up with magnificent views on the bus ride from Queenstown to Milford Sound, only to be outdone once you jump on a boat to get right into the heart of the sound.
Best known for its intense autumn colours, Arrowtown is a quaint settlement, perfect for a relaxed day trip. Established during the mid-1800's gold rush it still has its historic Chinese miners' settlement, which is free to walk through. The main street is lined with cute shops, great cafes and restaurants (try the sticky buns at Provisions). The famous autumn tree colours are at their peak in April and May transforming the town in vivid shades of red, yellow and orange.
Follow Lake Whakatipu along to the north west and you will stumble upon Glenorchy. Set amongst the mountains, this scenic town is paradise for nature lovers. Take a ride into Mt Aspiring National Park with the Dart River crew where you will discover Maori legends and backdrops from the Lord of the Rings universe. While you are here, don't miss your photo op with the iconic red shed.
On the other side of the Crown Ranges lies Queenstown's equally beautiful and slightly more chilled-out neighbour, Wanaka. Another town with an amazing lake-front, mountain-backed location, must do's in Wanaka include, strolling the lakefront to gram NZ's most photographed tree #thatwanakatree, climbing up Roy's Peak Track, and getting yourself dizzy at Puzzling World.