New Zealand is world-renowned for its stunning mountains, breath-taking lakes and adventure sports. Now let's add some extra love from the Powder Gods on top of all that. The result? An excellent ski destination with some of the best terrain in the world for all levels and a strong ski culture. Lucky us, eh?
In saying this, we have organized this simple guide to help you make the most of the snow season in New Zealand this year. When we say "you", we mean everyone. If you are living and working in New Zealand or backpacking around the country. If you are a "Half Pipe Pro" or have never snowboarded or skied before. If you're travelling on a budget or you're a world snow seeker. Everyone can (and should) try the Kiwi (ski) Experience.
A looong (and exciting) season
The first thing you need to know is that New Zealand has the opposite seasons to the Northern Hemisphere. The snow time usually kicks off in June and goes all the way through October; the longest in Australasia!
Less is more
There are two types of ski fields across the country. Large commercial ski areas, such as The Remarkables (Queenstown, South Island) and Whakapapa (Ruapehu, North Island) with restaurants, ski lessons and equipment hire. New Zealand also has club fields which are normally family-owned, like the Roundhill run by Tekapo locals, with more basic facilities and fewer riders. Don't be fooled though, they have the biggest vertical drop (783 meters) in Australasia.
Kiwi (ski) Experience
Most of the South Island's ski fields are situated on the Southern Alps. What does that mean? Loads of snow (Wanaka gets over 500 cm's on average per year) and a hell of a view! Treble Cone is the largest Kiwi ski field with a highly qualified ski school and plenty of off-piste terrain for the more adventurous. The Remarkables has wide runs perfect for beginners and one of the best terrain parks in the area. You should also add to your list Cardrona and Coronet Peak as places to go. The best thing is that they are all around 40 minutes from Queenstown or Wanaka - so you don't have to just choose one resort.
King in the North
We won't let the South Island get all the credit. Located about 5 hours from Auckland, Mount Ruapehu, an active volcano, has the two largest ski fields in New Zealand: Whakapapa (you pronounce "wh" as an "f") and his brother Turoa. Yes, you can ski down an active volcano. Whakapapa is famous for Happy Valley, "the" place to learn how to ski, with wide and treeless runs. When you feel you're not an "out of control train" (sorry, but it is true), you can explore the more advanced tracks and groomed jumps.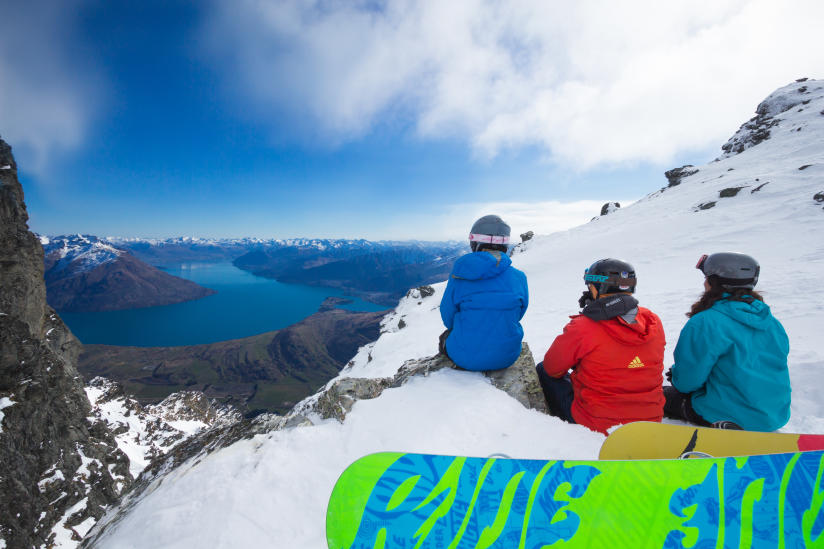 Coming in hot
Talking about volcanos, apart from stunning views (triple that when they are covered on snow) they also offer natural hot pools. Cheers to geothermal activity! These simple words sound even better when talking about relaxing muscles after an intense (and fun) day on the mountain. The Hanmer Springs, in the South Island, has a huge pool complex with dozens of outdoor pools and spas of all temperatures. I'm in, are you?
How much?
Breath-taking landscapes, epic runs, hot pools… These all sounds good to me, but I know exactly what you're thinking: how much? Kiwi Experience has teamed up with our mates in Cadrona to provide a sweet as deal to save you money. Once you're sliding down a mountain surrounded by fresh snow and good mates it will be worth it, I promise. Want to save even more money? Bring your own lunch to the mountain and avoid the extra costs.
Suit up
Don't know if snow sports is your "thing" yet? Are you in New Zealand for a short holiday? Sweet as. You can hire a clothing bundle (jacket, pants, goggles and helmet) for NZD $50 and equipment (ski, boots & poles or snowboard & boots) for about NZD$ 30 a day. Don't forget to have loads of sunscreen for those bluebird days, a pair of gloves and wrist guards – you will understand why sooner rather than later.
Let the show begin
In 2017, 25 of the Olympic medallists competed at the annual Winter Games NZ at the ski fields around Queenstown and Wanaka. The good news is: the event will take place again between August and September 2018. It's your chance to be board to board with a pro, like the Kiwi Nico Porteous – the youngest skier to ever land a Triple Cork 1440 (there are so many twists on this trick that I almost fell off my chair – no joke). The best part is that you don't need to pay a cent to watch these legends (you're welcome!).