Auckland is New Zealand's largest city and often mistaken as our capital city (Wellington is actually the Capital of New Zealand). If you are aboard our big green bus there is a 99.9% chance you will be visiting Auckland for at least one night.
Called the "City of Sails" because of the many yachts and sailboats anchored in its waterways, Auckland is a natural playground located between two harbours. It's filled with beautiful parks, nice restaurants, amazing black-sand beaches less than an hour from the CBD and has about 48 volcanos chilling out around with some of the best views of the ocean.
If this hasn't convinced you to make Auckland a destination, rather than a stopover, here is a list of our top picks we think you should do here. You can organize any of the awesome stuff below either through your Driver Guide or our friendly Reservations Team.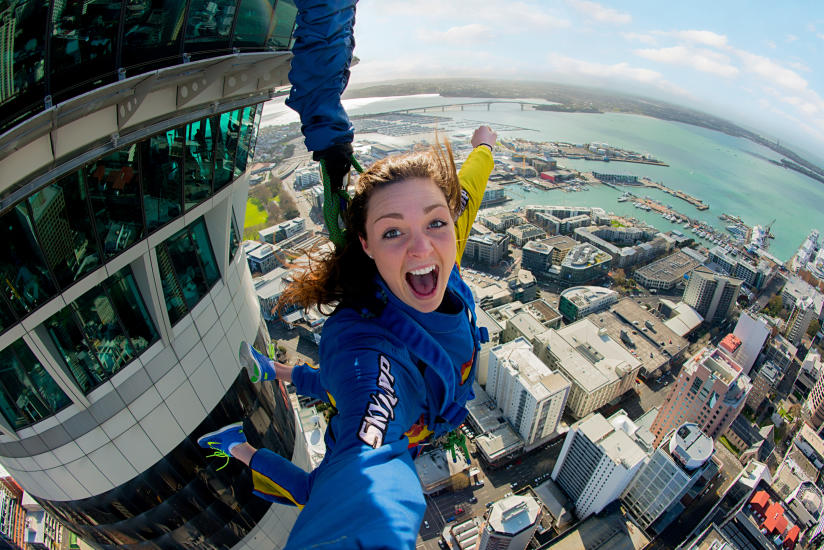 1. Wine on Waiheke
Catch a 35-minute ferry ride from the Auckland CBD for some wine tasting on Waiheke Island. With more than 20 vineyards and wineries, there is something to suit every taste.
2. Climb a Volcano
Wanting to get out on the water but wine is not really your drink of choice? Instead, take a boat ride and walk the summit of Rangitoto Island, a dormant volcano. Known for some of the best views across the harbour and city.
3. Go Rugby Mad
New Zealanders love Rugby. It is our national sport and we are home to the World Champion All Blacks. They play throughout the country, but the atmosphere at Eden Park in Auckland is not to be missed.
4. Get Up High
What visit to Auckland would be complete without heading to the highest point? The Sky Tower dominates the skyline and is a unique way to stand above the city (literally, on the glass floor). Go wild and jump off the tower (192 meters straight down) or walk around an open platform (1.2 meters wide).
5. Really High
If you are feeling adventurous, the team at Auckland Skydive offers the highest jump in New Zealand's North Island (16500ft). Believe us: you won't just be having a 'city view', you can see both the east and west coasts of the country. Another 'extreme' option is to climb the Auckland Harbour Bridge (ever better jump from it).
6. Head to the Coast
From Auckland CBD you are less than an hour away from the black-sand beaches on the West Coast. Muriwai Beach is home to one of New Zealand's largest gannet colonies and Piha has some rad surfing spots.
7. Cool Off
Go surfing! Where? Well, with New Zealand coastlines so close, you can take a dip at one of Auckland's East beaches in the morning then head West in the arvo for another session. How cool is that?
8. Hit the Pavement
Ride a bike along Tamaki Drive, a coastal road heading out of the CBD along to Mission Bay. Famous for water sports and Fish & Chips on the beach where you can watch the sunset behind the city.
9. Get Cultured
Watch a movie at Silo Park– a free open-air cinema. Actually, check out what's happening in Auckland – from sports events to international concerts. There is always something going on!
10. Get Up Close to a Volcano
Very close to the city centre, Mt Eden is a site not to be missed. Climb to the top for a spectacular 360-degree view of the city and check out the creator in the middle of the mountain from when the volcano erupted about 15,000 years ago.
11. Learn Some History
Auckland Domain is home to the dormant Pukekawa volcano and to the Auckland War Memorial. Just a short walk from the city, it is a pretty place to chill out, play sports and has beautiful winter gardens too.
12. Explore Our History
Hop back on the water and jump across the harbour to Devonport. This is a great adventure exploring an old World War Two military site. Pack a picnic and after checking out the tunnels, enjoy the scenic shots of the CBD and bridge across the water.
13. Night Markets
Who doesn't love a night market? Auckland is home to many different ones, all operating on different nights of the week. Friday nights the CBD has a turn in a carpark on Fort Street. Grab a bite to eat and browse the various souvenirs for sale.
14. Go where the locals go
What list would be complete without a list of the best places to eat and drink? Ponsonby is a great place to go on a food and beverage adventure and the nightlife is super popular amongst the locals.
15. Finish the day right
Alternatively, enjoy the bars and eateries at the Viaduct Harbour and Wynyard Quarter. It's a foodies paradise with plenty of options to suit all types of people and a great place to sit back and watch the sunset after a busy day of exploring.