New Zealand truly is one of the best countries in the world. And we aren't just saying that because we live here! New Zealand is the first place that gets to see the sunrise each day, is blessed with amazing natural wonders and home to some of the friendliest people you'll ever meet. New Zealand was the last large and habitable place in the world to be discovered, and avid travellers have been venturing here to discover this magical place ever since. It might not be the first place you think of to venture to, but New Zealand is the perfect place to end your travels, and worth every air mile to get here. Not convinced yet? Here are our top 5 reasons why New Zealand is the perfect place to end your overseas experience (but be warned, you might not want to leave)!
1. YOU'RE SAVING THE BEST FOR LAST
As the saying goes, you will always want to save the best till last, and we know that NZ is one of the best! There is so much to see and do in this beautiful country that you will be spoilt for choice. Whether you're a backpacker in NZ or an avid traveller who has been here numerous times, you will never be disappointed with what this amazing country has to offer. With our spectacular views around every corner, lush forests and hidden walks, white sand beaches (and some black sand ones too), the best geothermal wonderland you will ever see and more, New Zealand has something for everyone. With an unbeatable laid-back culture, delicious local wine and cuisine, and adrenaline junkie activities to please all thrill-seekers, it's sort of impossible not to have a great time here. We can't guarantee that New Zealand will spoil all other bucket list destinations for you, but… why risk it, right?
2. YOU CAN REST AND RELAX
If you're after a bit of relaxation after your worldly adventures, NZ is definitely the spot for you. From lazing around on gorgeous beaches to leisurely boat cruises around the islands and soaking in hot pools under the stars, you will feel at ease before heading back to reality. New Zealand is home to more sheep than actual people, so even though it's a small country you'll have plenty of space to get away from the hustle and bustle, especially if you're heading here by way of South East Asia or Australia.
Ready to chill? What's more relaxing than a day at the beach! You've got plenty to choose from in New Zealand, but one that's worth venturing to is Hot Water Beach in the Coromandel. Dig yourself your very own pool either side of low tide and be rewarded with a spa bath in the sand. Chill out while immersed in the warm water that bubbles up from the underground river and enjoy this pristine beach. Hot Water Beach is a truly unique experience you won't want to miss, and easy to get there when travelling with us on a Kiwi Experience Hop-On Hop-Off bus. We'll provide you with a spade, so you can get stuck in and dig yourself a makeshift bath to relax in. Best feeling ever!
If lounging on a boat and spotting dolphins is more your style, then we've got a range of cruises to suit. You can spend your day relaxing, searching for marine life and island hopping around the beautiful Bay of Islands.
We all know how important self-care can be and what better time (and place) to do it than during your endeavours around New Zealand. You can't go past the Polynesian Spa in Rotorua. With water bubbling up from two natural springs, these volcanically warmed pools are the perfect temperature to relieve any aches and pains. Sore muscles from carrying a backpack half way around the world? Relax and enjoy one of the best geothermal experience that New Zealand has to offer.
If your travels take you to the South Island, another epic hot pool experience that we can highly recommend is found in Lake Tekapo. Soak in hot pools as you gaze out on the stunning lake that surrounds you, or head to the Tekapo Springs after an epic day of adventuring and finish your day in one of the best spots for stargazing in New Zealand. Enjoy a guided tour in the heart of the Aoraki MacKenzie International Dark Sky Reserve, which is one of the greatest in the world! On clear nights there are tours available where you can peer through telescopes into space and learn everything about the night sky above. The tour ends in the most relaxing way, as you are guided into the warm pools and the lights are dimmed as you soak in the sky, watching the stars whilst you float your worries away. We are getting warm fuzzies even thinking about it. Ahhhhh.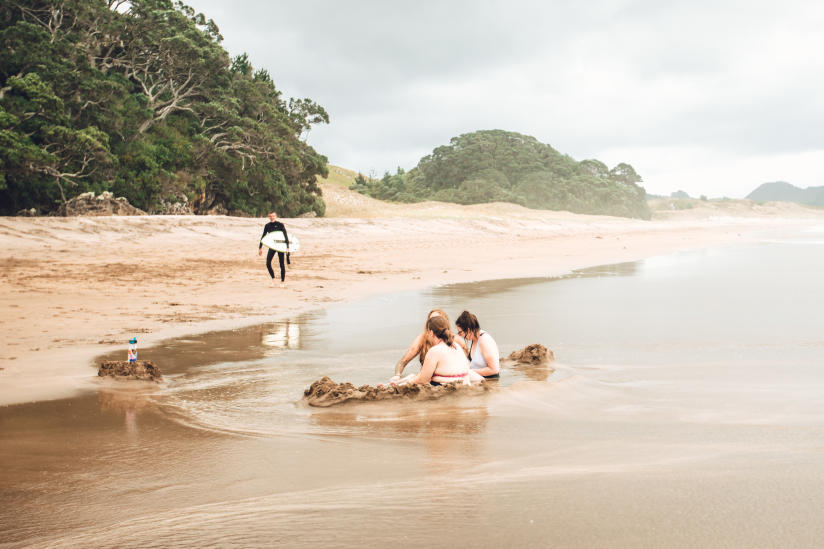 3. ….OR FINISH YOUR TRIP WITH A BANG!
If you are looking for a more exciting way to finish your travels, never fear – New Zealand is the perfect place to have an adventure too! We are packed to the brim with adrenaline-pumping activities to get your heart racing just that bit faster. To list a few of many, we have the world-famous AJ Hackett Bungy, Shotover Jet, skydiving, parasailing, white water rafting, caving and black water rafting, skiing and even helicopter excursions … yup, if you're a thrill-seeker then you've found your mecca here at the bottom of the world.
If nature is your gig, make sure you check out some of our famous waterfalls, swim with dolphins, go whale watching or have an epic kayaking adventure! With all of these amazing activities we have to offer, Kiwi Experience tours give you the best deals on most adventure activities when you buy an activity pack. Opt for a Small Group Tour with Kiwi Experience and many of the activities and your accommodation are included. Win!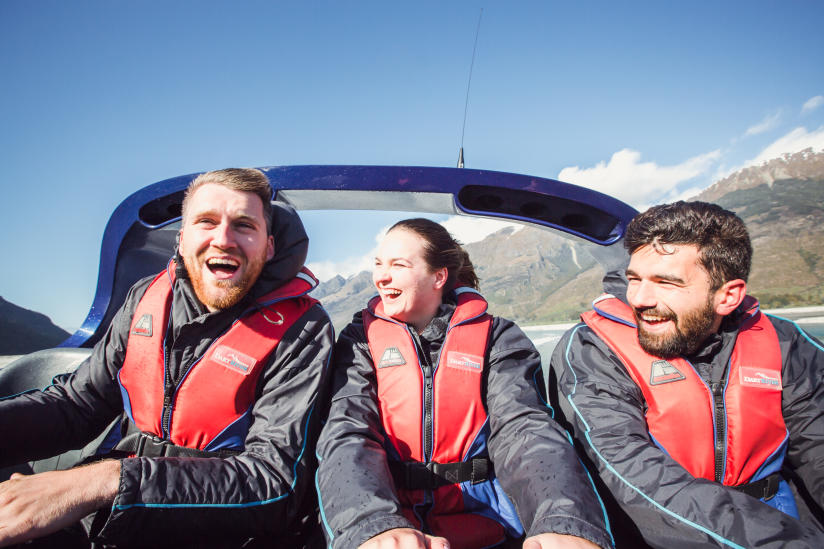 4. DISCOVER A RICH CULTURE
No matter where you go in your travels around the world, learning about a new culture and a nation's history and way of life is always going to be an enriching experience.
New Zealand has a beautiful indigenous culture that you'll love learning about on your travels here. Stay in a Whare Moe or Maori sleeping house at the Tamaki Maori Village, based in Rotorua. It will take you back in time, set amongst the native forest, where you will be able to take part in some activities to immerse yourself further in this unique culture. Participate in warrior training or learn the Haka (Maori war dance), and make sure you sit down for their incredible Hangi (all you can eat Maori BBQ feast). This is an incredibly popular activity with our passengers and they are always wanting to go back for more (and not just for the food).
New Zealand may have a fairly short history compared to other parts of the world, but it's no less rich or interesting. Visit important historic sites as you tour the country like the birthplace of NZ; the Waitangi Treaty Grounds or Abel Tasman, where colonists first landed in New Zealand. If you venture down to the South Island (and you should) seek out the opportunity to master an ancient craft and carve your own Greenstone pendant or Pounami at Laka Mahinapua. It's the perfect gift to take home with you to remember your travels in NZ.
5. MAKE FRIENDS FOR LIFE
Let's be honest. Wherever you travel in the world, it's typically the people you meet along the way that make your trip memorable. You can't always take souvenirs home, but the friendships and memories that are formed while conquering your fears or discovering a new place? Those will stay with you long after your trip has ended.
At Kiwi Experience, our mission is to share our beloved little country with like-minded, passionate people from across the globe. Our Bus Driver Guides are all about making your trip as fuss-free as possible so you can worry about the fun stuff, they're a wealth of local knowledge and love meeting new people! Grab one of our awesome Hop-On Hop-Off Bus passes and see everything this special country has to offer while forging friendships along the way with other world travellers like you. When you're not screaming back to earth on a skydive or conquering a mountain, you'll be busy swapping travel tips, digging into delicious eats and partying till dawn with a pack of your tour mates (aka new besties).
New Zealand might be a small place in comparison to other countries but we are all about bringing people together and helping travellers #EmbraceTheUnexpected, with high hopes that they will have an unforgettable experience and want to return again soon. We offer a range of different travel styles so you can experience New Zealand your way. Are you a social butterfly that likes to go with the flow and see where the wind (or bus) takes you? Grab a Hop-On Hop-Off pass and enjoy exploring and partying with the crew. Want to travel in a smaller tribe and have your accommodation take care of? Check out the range of Small Group Tours that we offer. Enjoy the comfort of a private vehicle as you take a tour packed with the most unforgettable experiences New Zealand has to offer.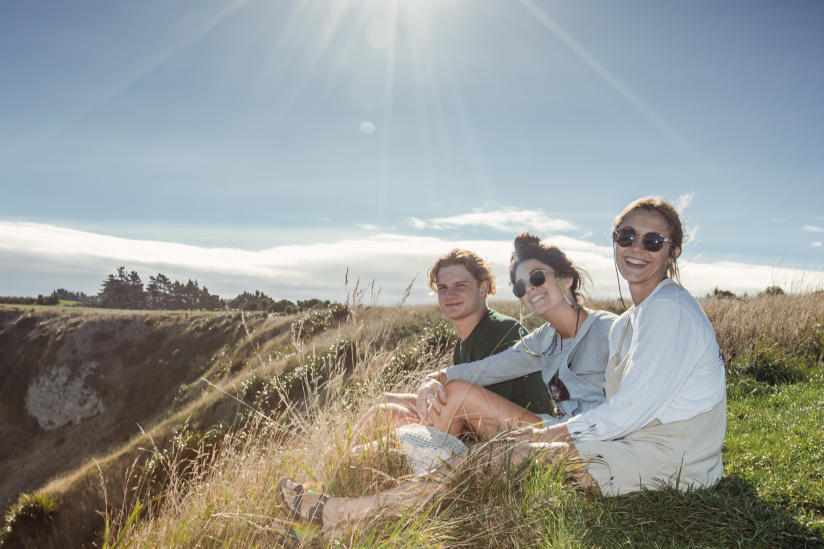 EMBRACE THE UNEXPECTED
What are you waiting for? Pack your bags and book your ticket! The best stop on your world tour is calling and we will be here waiting with open arms. Are you ready to book your Kiwi Experience tour? Check out our latest specials here!