Ahh, New Zealand. Home to some of the most laid-back people you'll ever have the pleasure of meeting. If you're getting ready to spend some time in our little corner of the globe, we reckon you should take a page out of our book and take it easy!
With so much to see and do and so many ways to get around, New Zealand is the ideal place to let your hair down and take each day as it comes. Explore an area until you're done, then move on when you're ready. No hectic schedules or jam-packed itineraries required.
Check out why we reckon backpacking New Zealand without a set plan is a great way to go, and our top tips on how to get started.
Benefits of visiting New Zealand with loose plans
Travelling halfway across the world to backpack through New Zealand might not have been a spontaneous choice, but once you're here, you can afford to be brave and throw caution to the wind. Enjoy taking your time exploring our little (two) island nation, and decide what you want to do on a day by day or week by week basis.
New Zealand is a safe place to backpack, whether you're doing it solo, as a couple or part of a larger group. We're rated continuously as the most peaceful country in the world, crime rates are low, and violence is pretty unheard of around these parts.
Once you're here, you'll quickly discover that we have something for everyone. Whether you're looking for the best flat white coffee, following the (hairy) footsteps of a Hobbit, or fancy being face-to-face with a whale, you'll find that New Zealand is one big playground waiting for you to explore!
Part of the joy of backpacking is sharing new experiences with new friends. That can be hard though when you're really digging the vibe of a place, but your plane ticket says you've gotta go. By taking your trip day by day and not making too many plans, you really open yourself up to choosing your own adventure every single day.
Tip 1 - Plan to be here for enough time to really experience New Zealand
New Zealand may be small, but it's packed with so much fun stuff to see and do. You'll want to make sure you give yourself plenty of time to soak up all the experiences and go with the flow. No-one wants to rush through a holiday and end up feeling tired and stressed at the end of it.
Grab your backpack and book in at least 14 days in New Zealand, so that you have some time up your sleeves both to relax and to play. We think the longer you stay the more you have to discover, so if you'd rather slow down the pace, you could consider an extended stay, or even think about picking up a Working Holiday Visa.
We get it though, not everyone has endless time to backpack around New Zealand. So, if you find yourself tight on time, but keen not to miss the best of NZ we've got you covered. Jump on a tour of your choice and let Kiwi Experience transport you between all the famous attractions and secret gems New Zealand has to offer. You'll meet other like-minded travellers and have the time of your life!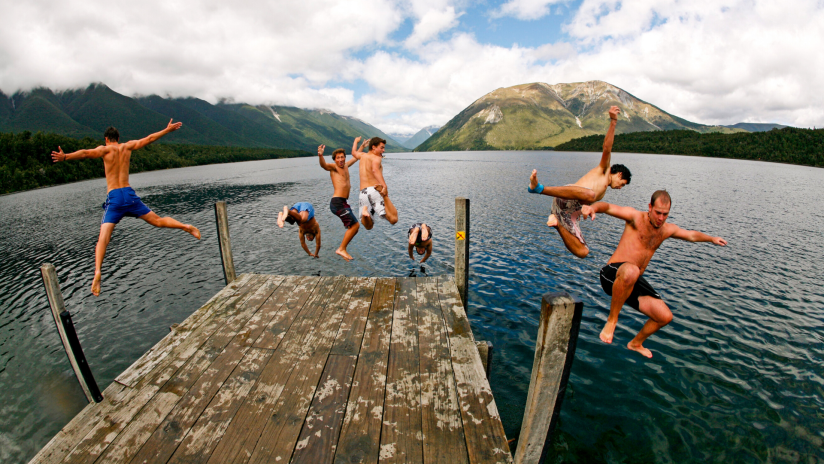 Tip 2 - Make sure you visit the North and the South Islands
If you've already searched for best places to visit in New Zealand or the best things to do in New Zealand, you've probably already got some idea about what you want to do while you're here. For such a small country, we have a lot of stuff to keep you busy. To get a real flavour for what New Zealand is like we suggest you hit both the North and South Islands because they're both awesome in different ways!
Visit the North Island for beautiful beaches, snow-covered mountains, caves and native bushland, plus two of our major cities, Auckland & Wellington. On the way, you'll find some cute kiwi birds, the birthplace of our national documents and have the opportunity to skydive, kayak, and come face to face with glow worms.
Then head to the South Island and experience the adventure capital of the world. Bungy jump, heli-bike, white water raft, and take in the incredible mountain ranges, lakes, and waterfalls. Your Instagram will love you for visiting, and hey, "The Remarkables" didn't get their name by being average.
Getting around New Zealand is easy. Making use of a Hop-On Hop-off bus pass will mean that you don't have to do too much backtracking while you're backpacking! Even if you do have to hit the same spot twice, it should be both easy and inexpensive, so get exploring!
Tip 3 - Visit during shoulder seasons
New Zealand is great all year round, with a fairly stable climate so there is no pressure to visit during one particular month or season. If you're going to be here for a while, make the most of Summer at the beach, then hit the slopes and play in the snow, once winter comes along. Both summer and winter are popular times to visit for festival-goers and adrenaline junkies alike with loads going on for both groups.
Visiting outside of the peak seasons means you can explore at a slower pace, and possibly get better deals on the things you want to do and the places you want to see. You'll also notice it's a lot less busy, so you can snap better pictures, and enjoy the sights that much more.
During the shoulder seasons, you'll find your budget stretches to more hostel nights, so you can maybe even extend your trip by a few days without breaking the bank. If you're worried about getting a bed, you can rely on your Kiwi Experience Driver Guide to help you get sussed and reserve a bed for you at your destination. Save the last-minute scramble and pre-pay for your beds with one of our accommodation packages. Or if you're travelling on our Small Group Tours then your accommodation is already included. Sorted!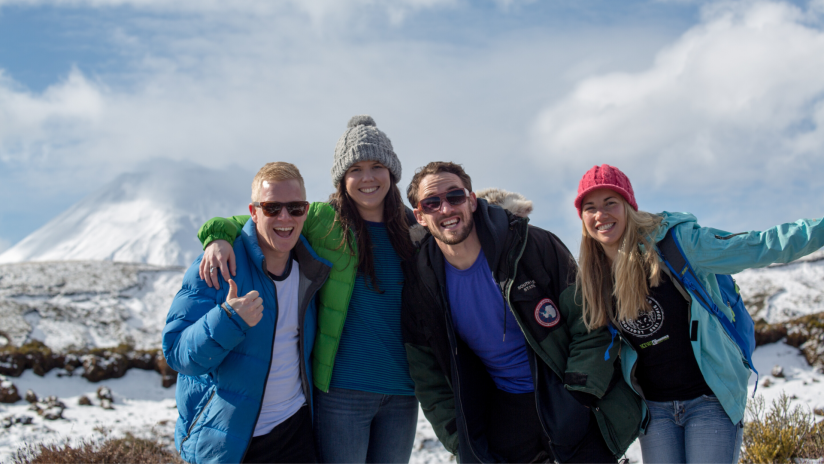 Tip 4 - Earn while you travel
Digital nomads or remote workers who are backpacking in New Zealand will find loads of good WiFi and some pretty sweet co-working spaces dotted around the country.
By planning to go with the flow, but earning an income on the side, you can manage your budget and your time around the places and things you want to see and experience on your trip.
A Working Holiday Visa can also open up the opportunity for you to come to New Zealand without too many plans. This visa entitles you to do some work between adventures, meaning you can base yourself in one place, or a handful of places during your trip, and earn some New Zealand Dollars to spend while you're here. You can grab a Kiwi Experience Hop-On Hop-Off Bus Pass that provides unlimited travel for 12 months so that you can move around between jobs or on your days off. Sweet!
Jobs that are popular with backpackers include hospitality, seasonal work, childminding and more. Learn about the 45 countries that this scheme is open to and check if you're eligible with New Zealand immigration services.
Tip 5 - Explore the unique locations
Getting off the beaten track doesn't take much in our little corner of the world. An hour or two in one direction or another can mean you're somewhere completely new and unexpected!
While there are well-trodden routes between the major cities and popular tourist destinations, you'll be surprised at some of the hidden jewels that you can find in regional New Zealand. They may take some time to get to, but remote destinations like our best-kept secret, River Valley, are well worth your trip.
While budget airfares are available within New Zealand, hopping in a car or camper is a popular option for many visitors. Driving in New Zealand can be a little hectic, with windy roads, farm animals crossing and so much beautiful scenery to look at on the way. Petrol and other costs can quickly add up too, making driving a little less affordable than people first assume.
If you're not a confident driver, or you would prefer to manage your budget, while making amazing friends while exploring, Kiwi Experience can help you get there without the hassle. Our passionate local Driver Guides can make recommendations for how to get to some of the most under-rated spots.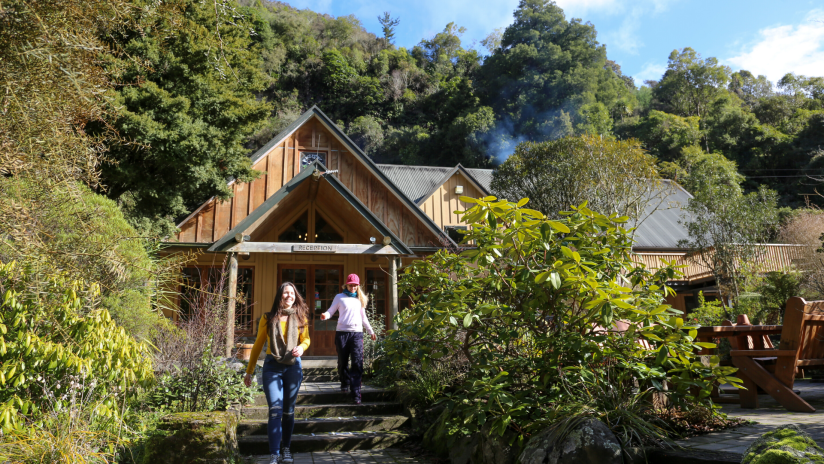 Tip 6 - Search out good accommodation
If you're only ever planning ahead to the next couple days, making use of apps like Airbnb can help you find awesome places to stay no matter where you are.
In popular tourist towns, you'll often find hostels where you can nab a bed within a dorm, or grab something a little more private if that's more your scene. New Zealand hostels are generally clean and tidy, but we recommend checking out reviews if you have the time. Once you're booked in for the night don't forget to meet some other backpackers and share stories, advice, experiences and maybe a beer or two too! Sharing stories over a glass of something cold is one of the most popular cheap things to do in New Zealand.
When you head to the beach, we recommend you book a bach (aka. holiday home) and get a taste for a typical Kiwi summer. Sites like book-a-bach can be a great place to get started.
For backpackers who want to sleep under the stars, there are plenty of camping and glamping spots to enjoy. The Department of Conservation provides huts on many of the popular hiking trails, just remember you might need to bring more stuff with you if you're planning on sleeping in a tent and unless you hire it, you'll need to take it with you on the road.
The Kiwi Experience team also have a handful of unique overnight experiences you definitely don't want to miss.
Tip 7 - Travel light and travel green
You know those memes with the lady and her giant suitcase going away for the weekend? Don't be that lady.
If you're hoping to come to New Zealand and take life day by day, the prospect of lugging around a huge suitcase can be a bit daunting and might even slow you down.
Backpacking with an actual backpack means you can get around just that little bit easier, and think how fit you'll get in the process! Check out our guide on how to travel New Zealand with only a backpack ​and make sure you read our packing list for all the tips and tricks about what to bring. Remember, you're heading to New Zealand, not the moon. You'll be able to buy bits and pieces like extra layers or toiletries and more while you're here. Supermarkets, pharmacies and malls are all available throughout the country. For more specific or niche travel goods you'll find plenty of camping, tramping and outdoors stores packed with goodies like New Zealand merino wool thermals and other Kiwi made essentials.
The Kiwi Experience team is committed to keeping travel green not mean. We recommend you also bring along a reusable water bottle, coffee cup and even a set of cutlery so that you can avoid single-use plastics while you're here.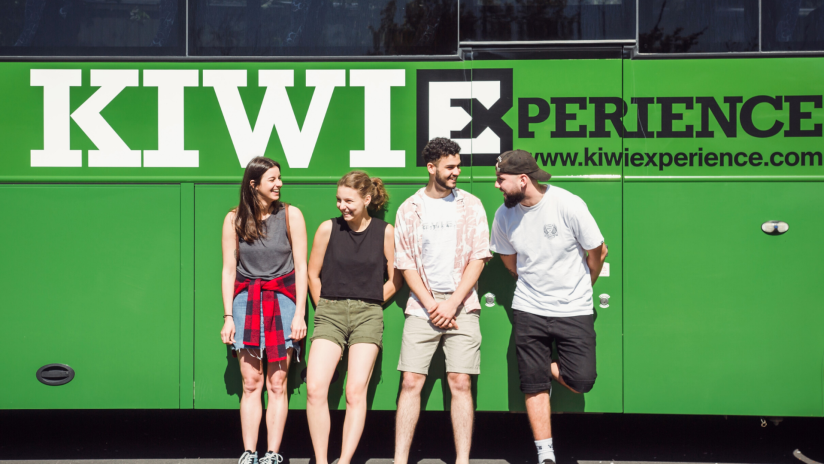 Tip 8 - Research the destinations before you come
To backpack New Zealand without a plan, you need to at least have an idea of what it is you want to see and do when you get here so that you can at least start your holiday with a bang! To get started, check out our backpacker approved e-book. It's packed with information on the best places to visit in New Zealand and the top things to do in New Zealand, plus planning tips, itineraries and so much more.
In the lead up to take-off, we reckon you should read lots of blogs, check out Instagram and get an idea of what your Kiwi bucket list looks like. Then, you can add to it while you're here. You'll find lots of useful tips and ideas from other backpackers both online and in-person when you meet them on a Kiwi Experience bus, at a hostel or even while you're waiting in line to do a bungy jump.
By having a rough plan of what you'd like to achieve in New Zealand, you will ensure you don't miss out on getting to experience everything you'd hoped for, even if you don't lock in every single minute of every single day. You can still be flexible and open as you go, and getting around on a hop-on hop-off bus allows you to go at your own pace.
Embrace the unexpected
Plans can always change, and with so much to see and do, we reckon you won't leave New Zealand feeling disappointed, especially if you throw caution to the wind and take yourself on an adventure!
Enjoy every minute of your trip by embracing the unexpected and going with the flow. If you need a bit of help finding your flexibility, grab a hop-on hop-off pass and get going. Ditch the itinerary and follow your heart.
Ready to book your Kiwi Experience? Check out our latest specials!