Considering backpacking in New Zealand? For a tiny country at the bottom of the map, you'll be surprised at the sheer amount of incredible things to do, see, taste and experience across our two unique islands. Every budget is catered for, from the 'Recent Lottery Winner' to those of us with something more modest in mind.
If you're a budget-conscious backpacker, you're in luck! Here's why New Zealand is a mecca for travellers and an easy place to make your travel money stretch a little further.
New Zealand is safe for backpackers and tourists alike
Once you start talking about your trip to the land of the long white cloud, you'll quickly get used to people like your mum, grandad, and best friend asking "But is New Zealand safe?!" Don't worry, they're just looking out for you!
Oh, and the good news is "Yes, New Zealand is super safe!" Just pack a bit of common sense, and safe travel in New Zealand becomes a no-brainer.
It doesn't matter if you're a solo backpacker, or if you're going on an adventure with your 15 closest mates. You'll never be far away from someone who will look out for you or lend a hand if you find yourself in need of one.
In the unlikely event that you end up in a pickle, and find yourself injured due to an accident, you'll be covered and patched up in no time, without a hefty bill thanks to our national 'no-fault' scheme. Travel insurance is still a must-have no matter where you're travelling as this usually covers you for trip cancellations or delays and lost or damaged luggage.
In terms of crime, the rates of assault or theft are low. Like in most cities, you'll want to follow safety guides and keep your important stuff like phone, wallet and passport handy and in-sight at all times. Mostly, because losing those could land you with some serious life-admin that no-one needs when they're travelling! Again, another excellent example of why travel insurance is handy when backpacking in New Zealand and elsewhere.
We're a pretty humble bunch, but us Kiwis are proud as punch that New Zealand is ranked not only as the most peaceful nation in the world but it is also viewed as the least corrupt country in the world! That means that you shouldn't encounter any requests for bribes (unless you're trying to get a selfie with a sheep, penguin or hobbit… then you're on your own!). Nor should you spot anything dodgy going on when you enter and leave New Zealand.
New Zealand is full of natural beauty - and you can enjoy lots of it for free
There should be a saying around these parts, "come to see Hobbiton, stay for the rest of the country." As showcased in the Lord Of The Rings films, amongst others, New Zealand has more than its fair share of incredible scenery for you to explore. Even better, most of it is free for you to enjoy with plenty of beaches, walking tracks, lakes and streams and other spots to lose (or find) yourself.
No matter what you want to see, you'll probably be able to find it here. You could spend lazy days at a lake, or enjoy a refreshing swim or surf at the beach. Climb a hill, scale a mountain or peek into a volcano. You could find yourself hiking through a forest or across a plateau, just like those pesky Hobbits. You could even go chasing waterfalls! Otherwise, chill out in a mud bath or hot spring and relax and unwind after carrying your backpack for a week. Once you've run out of gorgeous natural vistas to visit, check out our amazing towns and cities, each with their own unique natural beauties to behold.
Your options are plentiful here in New Zealand, and depending on who you ask, every single one is worth exploring. In fact, with so much beauty to feast your eyes on, you might want to leave New Zealand to the end of your backpacking trip, because afterwards, nothing else will compare.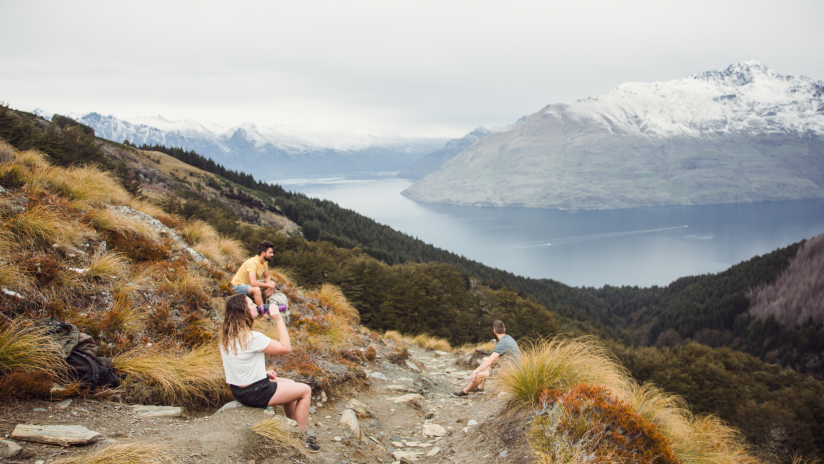 It's easy to get around the country, and you can do it on any budget
Getting around New Zealand doesn't need to be hard or expensive. With budget airfares on offer between major cities, you can choose to fly within or between the North and South islands with relative ease. If you're after a slightly slower pace of travel, you can also book a seat on our scenic train services too.
If you're after a cruisy trip between the islands, just jump on a ferry. Most services offer spaces for cars, in case you want to add a road trip into the mix at either end of the journey. Car spaces fill up fast and can start to nudge the upper end of some travellers budgets, but it's always an option worth considering.
The great New Zealand road trip, done either in a trusty car or campervan is also a super popular way for travellers to get around. Although, the price of petrol can eat into your budget, and occasionally overseas drivers complain that our roads can be a little hectic to drive on. Still, if you're up for the challenge and have a valid licence, then you're good to go!
If you'd rather not worry about driving yourself, you can pick up a Kiwi Experience Hop-On Hop-Off Pass and leave the driving to our top-notch Driver Guides. With our drivers making sure you get from A to B, you can sit back and relax, get to know your fellow passengers and have complete flexibility over your destination. If budget is top of mind, Kiwi Experience really does offer a low-cost, hassle-free way to get around, with trip lengths to suit you.
New Zealand is 'choice' in summer, winter and the shoulder seasons
If you're tossing up when to visit, maybe consider when you least want to be stuck at home...
While your friends are trudging to work in the cold Northern Hemisphere winter, you could be fishing, diving or digging your toes into the sand in New Zealand's summer. If you're feeling especially adventurous, you could even book a trip in December, to experience a Kiwi Christmas. Remember to pack your jandals, bikini and find someone to share a BBQ with!
If you'd rather find yourself on the slopes then come for a visit during our winter. Snow bunnies and winter festival lovers can escape the summer heat in the Northern Hemisphere and join us for a cool adventure. Experience the ski trip of a lifetime and carve up the slopes with our range of multi-day ski tours. You can even visit the 'winterless north' and still enjoy some sun on your skin at the beginning or end of your trip.
Even if you can't make a mid-winter or mid-summer trip work, New Zealand is still a remarkable destination in the shoulder seasons. You'll find a broader range of budget accommodation, fewer tourists and you'll get to enjoy just how beautiful the country is all year round. We reckon New Zealand's natural beauty shines through even more during spring and autumn.
During spring, you'll get to see millions of baby lambs, and enjoy chomping on new season strawberries, which will be well deserved if you've just finished one of our popular multi-day hikes. These fill up in summer, but in the leadup, there is a lot more space, peace and quiet for you to enjoy.
Autumn is best spent enjoying the scenery in the South Island, with the ever-changing colours of nature being reflected in some of the world's most stunning lakes. You've got to see it to believe it.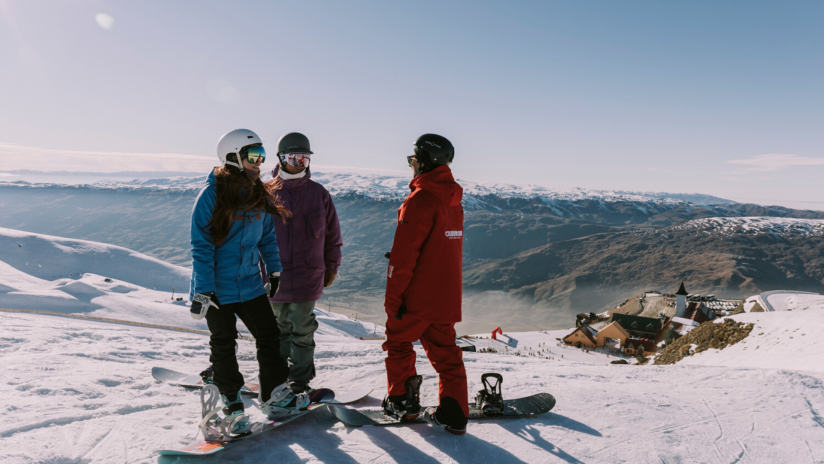 You can earn while you travel
Managing your travel budget can become heaps easier if you're making a bit of money while you travel.
Working Holiday Visas are available to young people, usually aged 18 to 30. Your visa lets you travel and work in New Zealand for up to 12 months with your main intention being to visit and explore the country while picking up work as and when you want to. Some rules and expectations will apply, so check out immigration.govt.nz for full information on the 45 passports that this visa is offered to.
Once you have your visa, you'll find there are some blossoming industries where you can use your skills while you're in New Zealand. Hospitality, seasonal farm work and childcare are just some of the popular job options for other budget-conscious backpackers.
Fit in your working holiday and exploring by making use of the flexible Kiwi Experience Bus Pass, one of the best travel packs in New Zealand.
Otherwise, make use of our fast broadband and Wi-Fi connections and put your skills to use as a digital nomad or remote worker. Skills ranging from photography, writing, admin and marketing to design and accounting are all useful and sought after by employers all over the world. If you need a place to sit down and work for a while, you'll find co-working spaces in the major cities. If you can manage it though, take some time to relax, disconnect and unwind while you're here. You'll feel all the better for it!
Kiwis - we're friendly as, bro!
New Zealand is a pretty young nation made up of people from all over the world, with many cultures, ethnicities and backgrounds represented in our communities. We reckon that's why we love hosting backpackers so much!
Kiwis are an easy-going bunch and will be happy to point you in the right direction if you find that you're lost or at a loose end.
While you're in New Zealand you can also "have a hoon" (have a try) at using some kiwi 'lingo'! Get it right and the locals will think you're "choice as!" The learning doesn't have to stop there either, have a go at picking up some Te Reo Maori, our other national language alongside English. "Kia ora" (or "hello") is a great place to start.
While you're here, you'll probably make some new mates for life, not just with the locals, but the other backpackers you'll meet on a Kiwi Experiences tour, or through hostels or adventure activities you choose to book in.
There's an abundance of affordable accommodation options
Being on a budget doesn't have to cramp your backpacking style. New Zealand offers a diverse range of accommodation to suit your needs.
Hostels are popular with backpackers in New Zealand, as they offer both somewhere to stay and a place to meet your new best mates and travel buddies. New Zealand hostels often operate with a range of mixed or single-sex dorms and occasionally private rooms too.
If you'd prefer a private space, or you'd like the chance to spend time with a local, Airbnb has rooms and entire homes available for short and longer-term stays.
When you take on a trip to the wilderness, you'll find Department of Conservation huts on many of the popular hiking tracks. Make sure you book as soon as possible to secure your spot. Otherwise, pitch up a tent at an approved campsite, or explore freedom camping and sleep under the stars.
Backpackers who are looking for something a little different, from glamping by the beach to sleeping in a traditional Maori sleeping house can also book a range of unique overnight experiences at awesome rates when travelling with Kiwi Experience.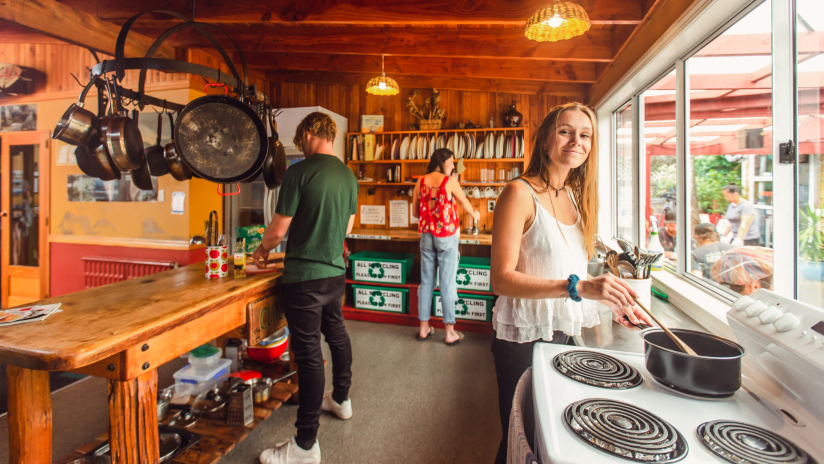 The adrenaline activities are worth the splurge
Talk to anyone about the best things to do in New Zealand, and you'll end up with a long list of adrenaline-pumping activities to try.
While there are plenty of cheap things to do in New Zealand, making room in your budget for a few extraordinary, slightly more expensive experiences, will be worth it. Just think of the memories you'll make!
Imagine yourself taking the plunge on a bungy jump or sitting face-to-face with a whale on a whale-watching tour. Feel the rush of river rafting down some rapids or skiing down pristine mountains and know that you'll enjoy the ultimate bragging rights when you get home.
If you have a few activities in mind for your trip, check out the Kiwi Experience Activity Packs. By buying a pack upfront, you will score the best prices on some of New Zealand's most popular activities. Mix and match your Activity Pack and your HopOn HopOff Bus Pass, and you'll have all the ingredients for a bespoke budget holiday package!
New Zealand is a foodies heaven
Kiwi's love their kai (food) and are spoilt for choice with the fresh meat, dairy and produce that our farmers grow.
Treat yourself to farm fresh kiwi fruit, berries, cherries and more at a roadside stall or regular farmers market over the weekends. Some weekend markets will include locally produced artisan goods like fresh loaves of bread, honey and locally blended coffee, which Kiwis drink a massive amount of! We recommend you try and sample as much as you can.
If you're looking to manage your meal budget, hit up the supermarkets and get cooking at your campsite or in your hostel or Airbnb kitchen. You'll find plenty of staple diet foods available, but don't forget to treat yourself to a locally produced wine or craft beer while you're there.
For vegetarian or vegan budget-conscious backpackers, you'll find plenty of options, whether you choose to cook for yourself or dine out. And, if all else fails check out these cheap eats ideas.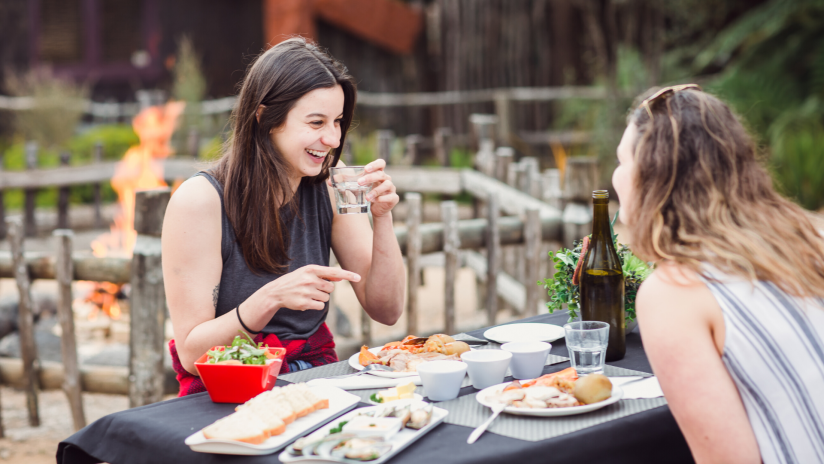 You can avoid the crowds but always find the party
Backpacking in New Zealand should be a safe, relaxing and inspiring adventure.
With fewer than 5 million people living here, even a busy market, mall or walking track can feel spacious. This is especially true if you're visiting New Zealand after backpacking through the hustle and bustle that South East Asia provides on the way. Imagine how much space we have in comparison to London, New York, Paris or Madrid too! You'll be amazed at how much space there is to spread out, and how good it feels to breathe in a lungful of fresh air.
New Zealand isn't just about 'finding yourself' though. We might have half the population of London, but we have a fantastic cafe, restaurant and bar scene, as well as a thriving arts community, all of which makes for fun nights out on the town, especially when you're travelling with Kiwi Experience and making friends on the road! Make the most of locally produced beers and wines, local artists performing at pubs and some top quality bars where you can show off your dance moves late into the evening. If you need to get out and party, then welcome home, you've come to the right place!
So, ready to visit the best little country at the bottom of the world? Of course you are. Save a pretty penny on your Kiwi Experience and check out our latest specials!