JACK'S SUMMER ON KIWI EX!
If you return from your Kiwi Experience exhausted, out of energy and upset to be leaving this beautiful country for your next destination, then quite frankly you've done the trip the RIGHT way!
MY KIWI EXPERIENCE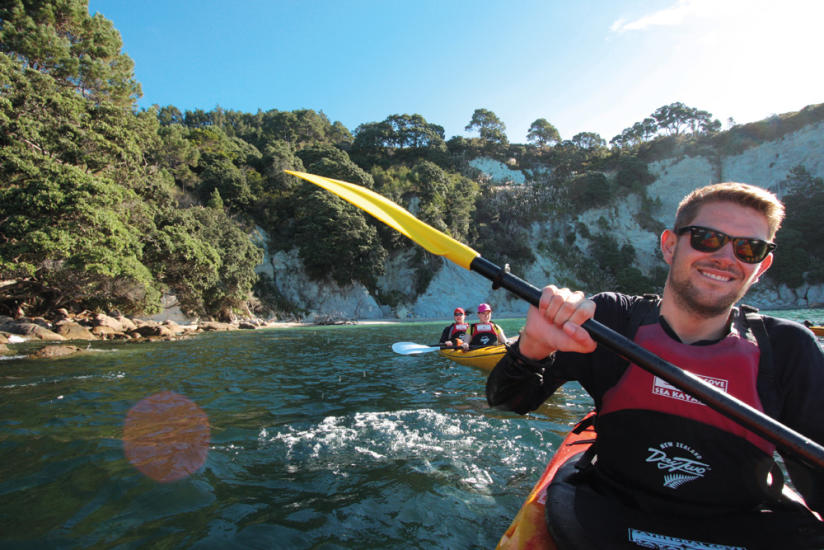 Originally, I went with the Funky Chicken pass, but quickly realized how much of the country I would be missing out on – so as soon as I was able to, I added the Bay & Cape and Deep South packages to my trip, effectively putting me on the Whole Kit & Caboodle pass – WELL WORTH IT. The drivers are as much a part of the trip as the friends you'll make along the way and are incredibly knowledgeable about each stop along the route, stating facts as you travel along the bus. The hop-on, hop-off system is a great way to meet so many people and also offers an opportunity to stay in places you'd maybe want to spend more time in.
3 MUST DO ACTIVITIES
New Zealand – the place to be for any adrenaline junky! Naturally, the activities on offer are enough to get your heart pumping just at the thought of them! So, a brief summary of my 3 best activity experiences!
SKYDIVING – Lake Taupo (North Island)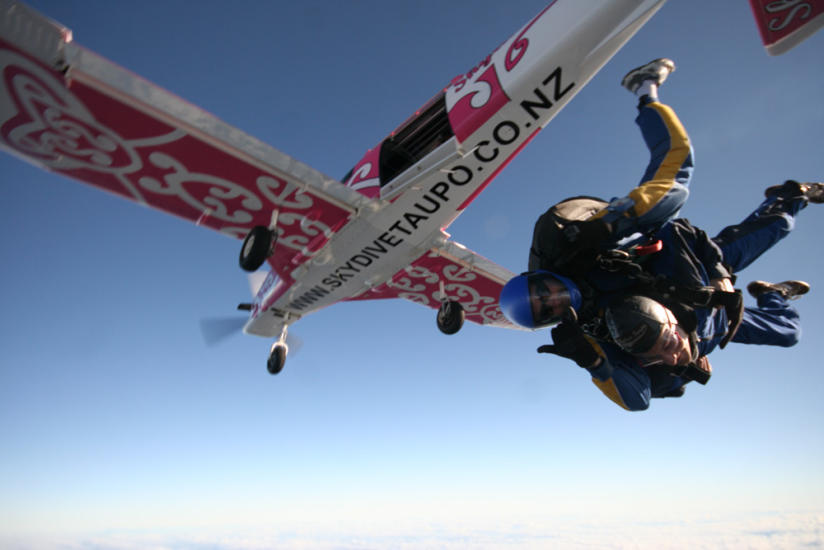 A skydive over the country's largest lake – who would say no to that! We were extremely fortunate to have almost perfect weather. I say almost perfect, there were a few scattered in the sky as we ascended to 12,000 ft. I only noticed this as we actually passed right through them, (only adding to the huge amount of nerves I had after watching my pals throw themselves out of the plane!). The stunning scenery of the lake and Mount Ngauruhoe, otherwise known as 'Mount Doom' on the horizon created an overall unbelievable experience. The adrenaline rush really does stay with you for a couple hours after! Make sure to get the photos and DVD to re-live the moment you pulled a facial expression you didn't even know you could make!
BUNGY JUMP – 43m Kawarau Bridge, Queenstown (South Island)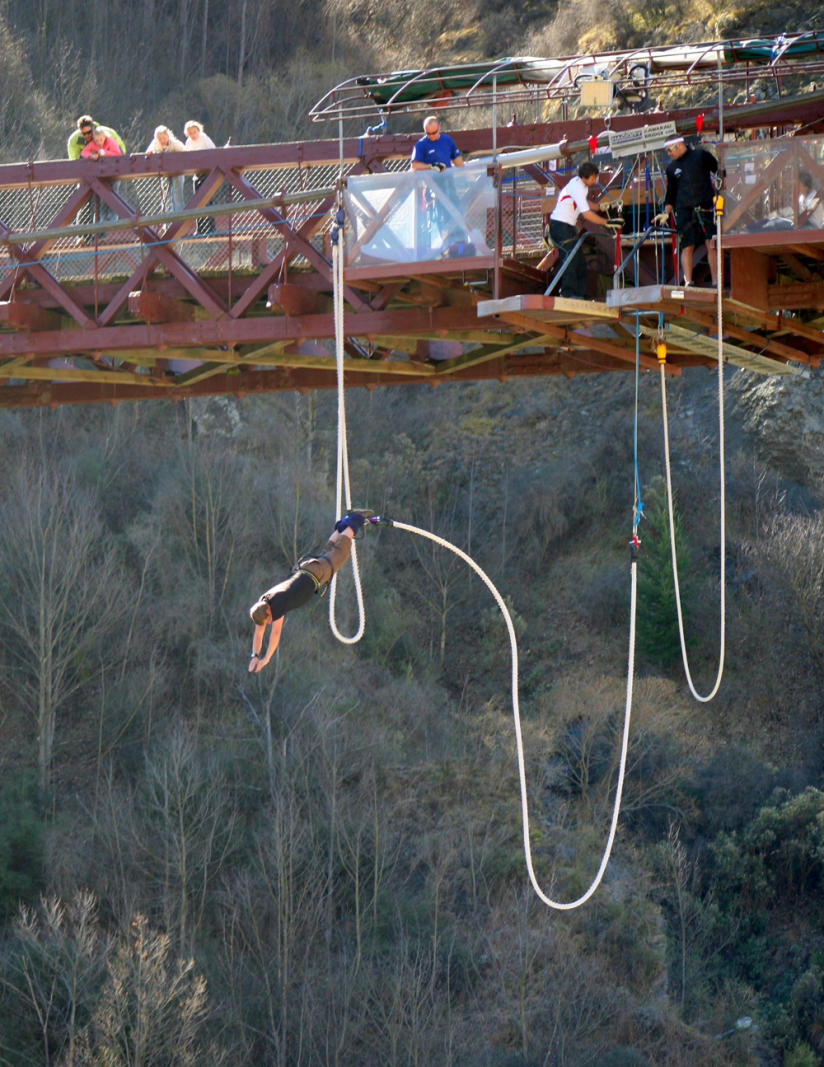 My first ever bungy jump I didn't know what to think – excited, nervous, thought the rope was going to snap, yeah, each of those feelings kept going on repeat in my head from the minute we left Wanaka. Within 2 minutes of having your weight checked and getting all your gear on, my toes were creeping over the edge of the platform. My heart skipped a beat and before I knew it I heard the 3… 2… 1. After being plunged into the water up to my ankles, the feeling was amazing. Definitely not the last time I'll do that. Again, I highly recommend purchasing the DVD and photos, it all goes so quickly it'll be worth looking back on and showing your achievement to folks back home!
WHITE WATER RAFTING – River Valley (North Island)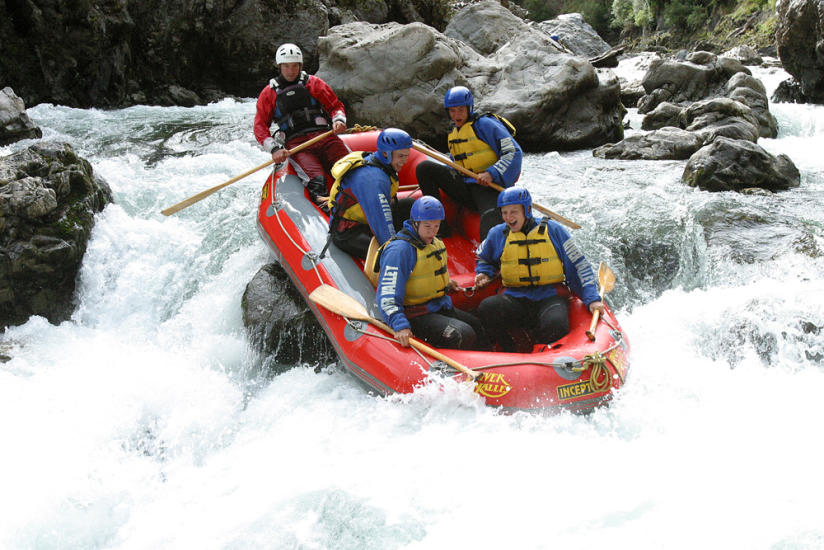 With no telephone signal and the nearest shop over 1:30hours drive away, River Valley is a welcomed break from all distractions from the outside world. The River Valley Lodge hostel lies in the depths of the valley where the Rangitikei River flows. Full of untouched scenery, tranquil surroundings and many activities on offer, River Valley really is one of the hidden treasures of New Zealand. White water rafting along the Rangitikei River was a real highlight of the trip for me. This grade 5 river rapid trail is appropriate for first timers to the expert rafter, but I warn you – there is a high chance you'll end up soaking wet!
I spent an action packed few weeks in New Zealand and I cannot recommend Kiwi Experience more as the perfect way to explore this beautiful country and given the chance, I would absolutely do it all over again.