Arlan the Intern's Kiwi Experience
Day 1: Hot Water Beach to Cathedral Cove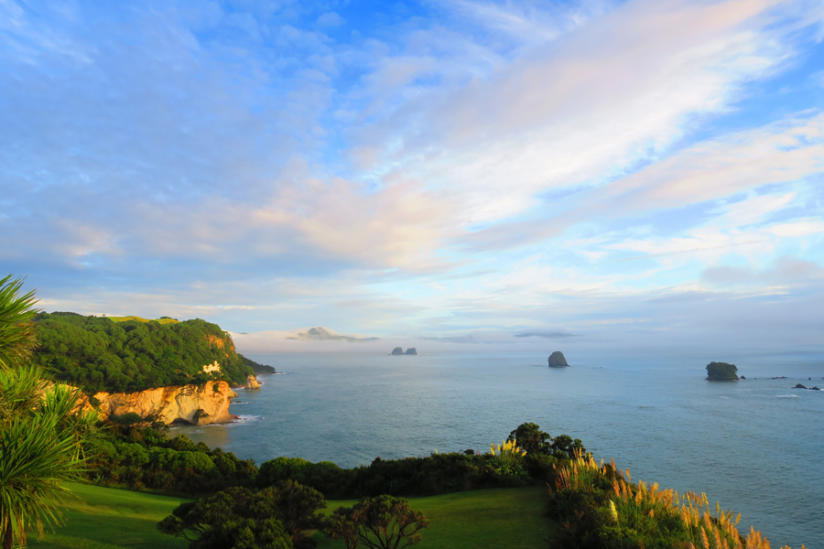 With my alarm set for 7:00am I was prepared for some adventure travel in the North Island with the big green bus, aka Kiwi Experience! As a Dutch marketing intern at this amazing New Zealand bus tour company, I was finally able to experience the backpacker world myself for the next 5 days. We had a quick first stop at Mount Eden, the highest volcano in Auckland. From Mt Eden you get an incredible 360º view of the Auckland region. Also, the 50-meter deep crater on top of Mt Eden made me think about coming back when it's fully covered in snow and sliding all the way down! Unfortunately, that probably won't happen, as snow is not very common in Auckland.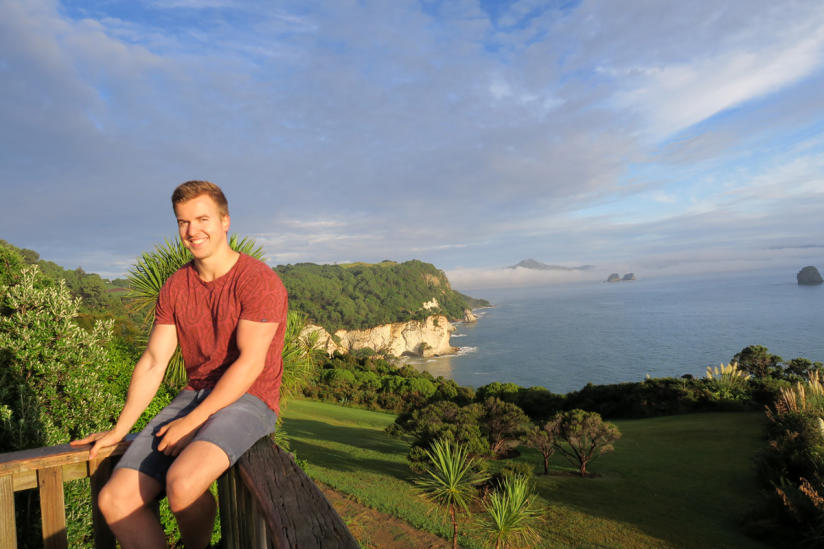 As the bus went on to make its way to Cathedral Cove on the Coromandel Peninsula, we drove through a nice town called Thames, a town which used to be the second largest city in New Zealand after Auckland and full of gold, is now a town with only 6,800 residents left due to the gold that began to diminish many years ago. After a quick supermarket stop to stock up food for the next 24 hours, it took just an hour to get to Cathedral Cove on the Kiwi Experience bus.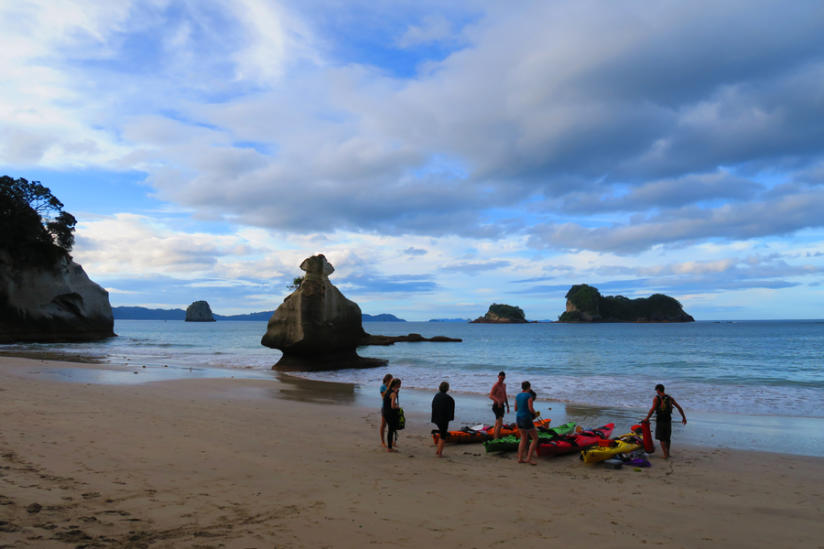 I booked a sea kayak tour with my driver guide on-board the bus along with 6 other backpackers who were also travelling on the Kiwi Experience bus. They offer best price guarantee on all activities if you book on the bus with your driver! The guys at Cathedral Cove Kayaking led us around the coast down to the famous Cathedral Cove beach, which was a nice alternative to the scenic 40min bushwalk to reach the iconic beach. On the way, our guide Hayden told us a lot about the history of this area, how the rocks were formed after explosive volcano eruptions 8 million years ago and he even pointed out Sting Rays swimming in the water, which I never would have noticed myself!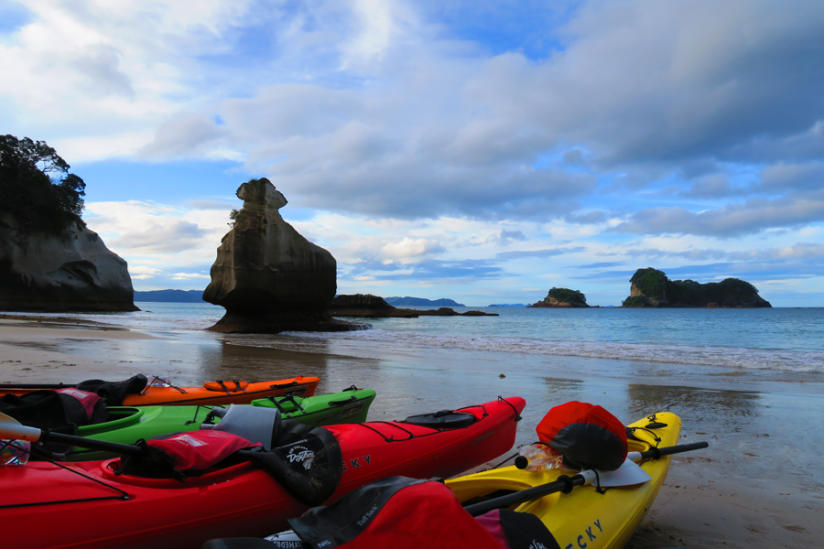 This was such a great New Zealand experience spent with people I met on the bus!
When we arrived at Cathedral Cove beach, Hayden turned into a real barista and made me the best café Latte I've ever had, at one of the top 10 beaches in the world! Life couldn't get any better. I was surprised how quiet it was at the breath-taking beach, and decided it was a great opportunity to test my photography skills and to snap some epic photos of this little paradise on earth.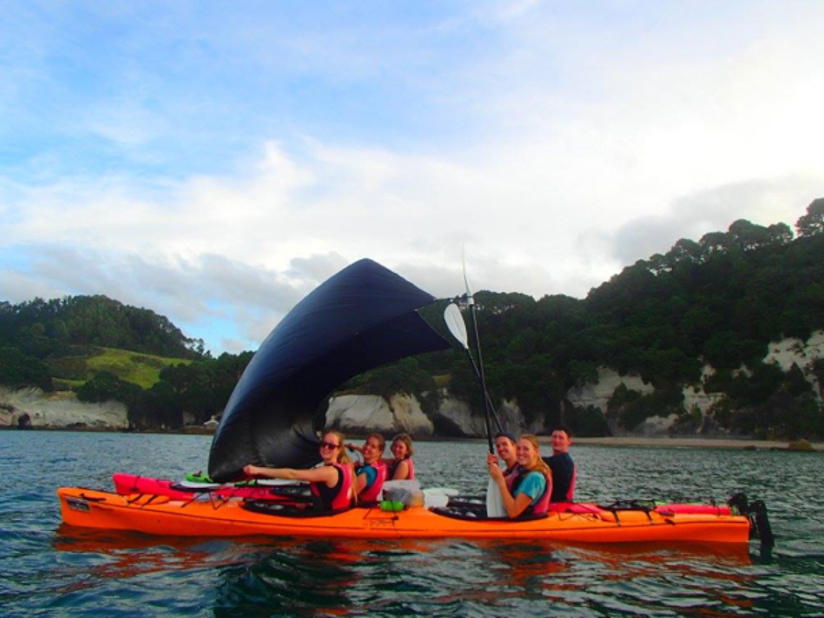 On our way back, Hayden told us to pull all of our kayaks together into one big raft and pulled out a sail and some large sticks. We pulled up the sail and when the wind was blowing in, we transformed into one big sailboat! How cool! Unfortunately, the wind soon dropped and we were left to use our own strength to kayak back to the beautiful Hahei beach. When we arrived back at our starting point, the shuttle from the Cathedral Cove Kayaking drove us straight to Hot Water Beach, as it was low tide.
At low tide you can dig your own personal spa pool in the sand, as hot water rises up from beneath the sand at a temperature as hot as 64°C (147°F) and breaks the surface into sandy hot pools.
The beach was full with people - friends, families, travellers who just came to chill out and experience this amazing natural wonder. If you don't want to hire your own spade for a small fare, just borrow an abandoned spa pool, there's plenty around! When high tide came in, the pools were suddenly washed away, leaving the beach looking normal once again. It was then time to head to our campsite just in front of the beach, have a nice warm shower and get prepared for a nice evening with food, drinks and getting to know more about the people I met on the bus earlier.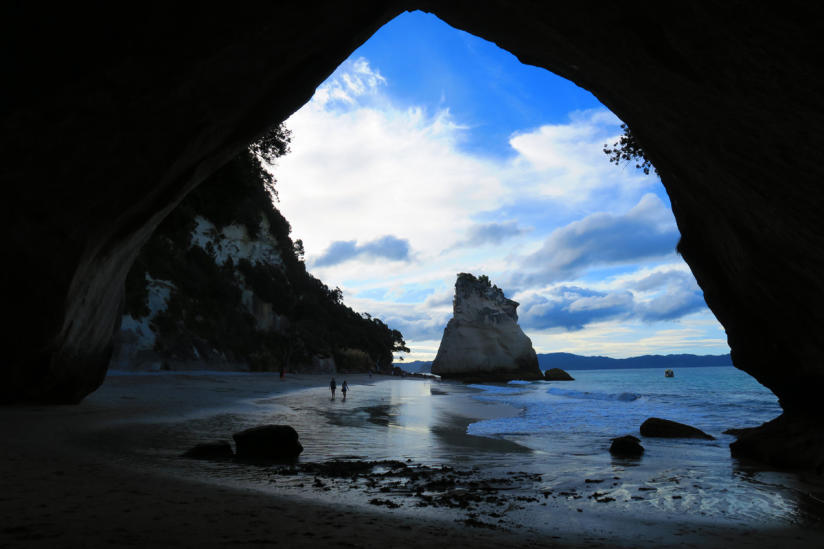 The first day with the Kiwi Experience bus has already been amazing. They offer a range of both adventurous and relaxing activities as well as free options. Our bus driver was so nice and funny and is there to help with anything during your Kiwi Experience!
To find out more about beautiful and unique New Zealand destinations, check out the Discover New Zealand section of our website.