KIWI EXPERIENCE DRIVER TRAINING TRIP
By: Jojo, Jess & Dan
Kiwi Experience Trainee Drivers - Class of 2013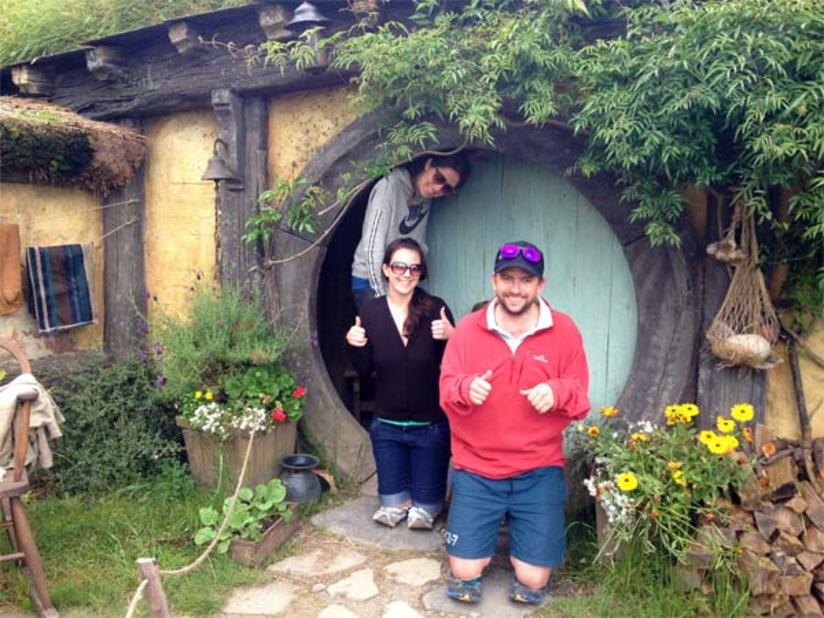 After venturing underground on our Black Water Rafting trip in Waitomo, we got an early nights sleep - we wanted to be ready for visit to Hobbiton! From when we first arrived, we immediately felt like we were transported into another world. Even the ticketing office is full of memorabilia that would satisfy even the most devout of fans.
The experience begins with a journey through the rolling hills of the Alexander family farm - which is still a working sheep and beef station, where our driver Dennis told us heaps of interesting things about the logistics involved in filming a Hollywood feature film deep in small town Aotearoa. The stats are mind blowing and only reinforce we are venturing into something truly unique and special. It was easy to see why Sir. Peter Jackson had chosen this location to use in both series.
Our guide gathered us up and took us out onto the set. It all begins with Hobbit holes and we were able to take as many photos as we wanted including using props and our guide was only too happy to help with this - an added bonus! There are no limits on taking photographs and video, so make sure you have cleared your memory card - we took so many.
Throughout the tour we are kept updated and informed on what we are seeing. The part we enjoyed the most was all the behind the scenes secrets - like how in a country of 45 million sheep - Peter Jackson imported sheep from Scotland because ours didn't quite look right.
After visiting Bag End and then the Party Field it was time for a special treat - a free drink in the recently completed Green Dragon. This cafe & bar is unreal and really compliments the entire set.
The staff are friendly, knowledgable and clearly big fans of both The Lord of the Rings and The Hobbit movies. We had a great time and it was so cool to get photos in scenes straight from the movies - all filmed here in New Zealand!