MY SOUTH ISLAND ADVENTURE BEGINS...
(English translation below...)
Am 2. Tag meines Southern Round up – Trips sind wir in Kaiteriteri angekommen. Ein sehr ruhiger und wunderschöner Ort. Wir haben in einer gemütlichen Lodge übernachtet, die direkt am Strand gelegen ist. Am nächsten Tag sind wir morgens von dort abgeholt worden, und in den Abel Tasman Nationalpark gefahren.
Es war zwar noch ziemlich früh am Morgen, aber das Wetter war schon wunderschön: warm, sonnig und ohne eine einzige Wolke am Himmel.
Man hat generell die Möglichkeit den Kajaktrip entweder für den ganzen oder nur den halben Tag zu buchen. Da wir am Mittag schon weiter gefahren sind, haben wir uns für den halben Tag entschieden. Wenn man aber länger Zeit hat, ist der ganze Tagestrip mit Sicherheit eine gute Entscheidung!
DER PERFEKTE START IN DEN TAG
Nachdem wir unsere Ausrüstung, sowie eine kleine Einführung bekommen haben, ging es auch schon los aufs Wasser. Die Sonne war gerade erst aufgegangen und als sie sich auf dem ruhigen Wasser spiegelte, sah es einfach nur idyllisch aus. Als wir näher an die Küste rangepaddelt sind, konnten wir die Vögel zwitschern hören, und haben uns kurz in unseren Kajaks zurück gelegt um den Moment zu genießen. An einem Teil der Küste war eine kleine Höhle in den Felsen, durch die wir alle nacheinander durchgefahren sind - was eine kleine Herausforderung war, da wir uns mit den Händen weiterdrücken, und rückwärts wieder herausfahren mussten.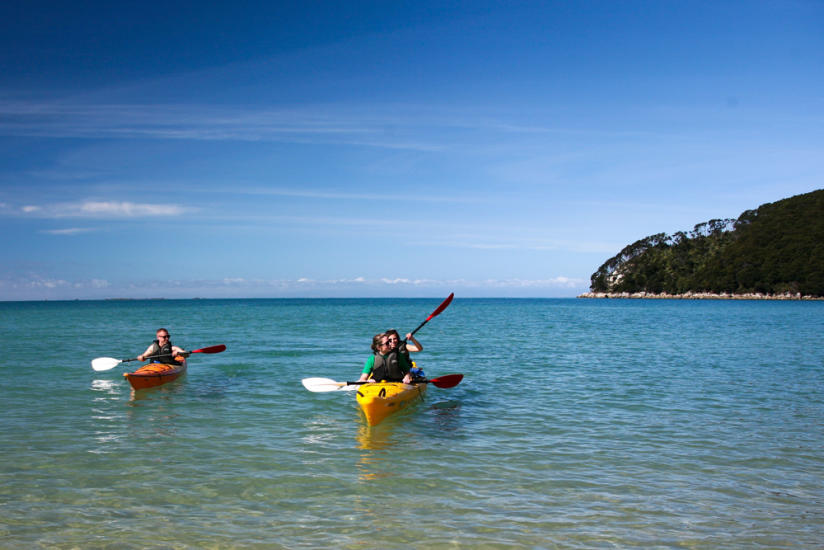 NATUR PUR
Nachdem wir fast die Hälfte unserer Tour geschafft hatten, haben wir an einem kleinen Strand angehalten. Unsere Leiterin hatte Kekse und Saft als Stärkung mitgebracht. Und während wir diese genossen, erzählte sie uns ein paar Sagen über die Entstehung einiger der umliegenden Felsen, die unter Maori seit Generationen erzählt werden. Danach hatten wir noch genug Zeit ins Meer schwimmen zu gehen und uns zu erfrischen, bevor es wieder weiter ging.
Unsere Leiterin hat uns zwischendurch immer wieder kurze und interessante Infos zur Umgebung gegeben und da wir nur eine kleine Gruppe mit insgesamt 3 Kajaks waren, konnten wir uns viel auf dem Wasser unterhalten. Die Aussicht, die wir von unseren Kajaks aus hatten war unbeschreiblich! Das Wasser war wunderschön blau und wir hatten unglaubliches Glück mit dem Wetter!
Ich bin vorher noch nirgendswo Kajak gefahren, und habe daher keinen Vergleich. Trotzdem kann ich sagen, dass es sich auf jeden Fall lohnt! Das Kajakfahren an sich hat mir schon Spaß gemacht, aber das dann auch noch in einem Nationalpark auf der Südinsel Neuseelands zu machen, umgeben von einer unbeschreiblich schönen Natur, hat dem ganzen noch das i-Tüpfelchen aufgesetzt. Es war für mich eine gute Mischung aus Abenteuer, idyllischer Natur, Kultur und Gruppendynamik!
---
English version:
On the second day of my Southern Round Up we arrived in Kaiteriteri, a very peaceful and beautiful place. We stayed overnight in a cozy lodge, which is located right on the beach. The next morning we were picked up and drove to the Abel Tasman National Park. It was rather early in the morning, but the weather was already beautifully warm, sunny and there wasn't a single cloud in the sky!
You can book either a whole day or half the day kayak trip. As our bus departed at midday, we were only able to do the half day trip. If you have more time, the whole day trip is definitely a great choice!
THE PERFECT WAY TO START THE DAY
After getting into our kayaking gear and listening to a small safety introduction, it was time to get out on the water! The sun had just risen and when it reflected on the calm water, it looked quite idyllic. As we kayaked closer to the coast, we could hear the birds chirping in the trees, and took a moment to lay back in our kayaks and listen to the beautiful sounds. At one point along the coast there was a small cave, which we all kayaked through. This was a bit of challenge as we had to push ourselves forward with our hands, and then do the same in reverse in order to get out. It was definitely worth it though as we got to see the inside of a sea cave!
PURE NATURE
After we had done almost half of our tour, we stopped at a small beach. Our guide offered us biscuits and juice as a little power snack. While we enjoyed this, she told us a few legends about the origin of some of the surrounding rocks. These stories are told by Maori for generations. We also had enough time at the beach to go for a swim in the sea and refresh ourselves before we went on again.
Our guide was constantly giving us brief and interesting information about the surrounding environment, and since we were only a small group, with a total of 3 kayaks, we were able to talk a lot while we kayaked. The view we had from our kayaks was incredible! The water was beautiful blue and we were really lucky with the weather.
I've never been kayaking before so I therefore have no comparison. However, I can say that it was
definitely an amazing experience! The kayaking itself was a lot of fun, but the fact that it was in a National Park in the South Island of New Zealand, surrounded by an indescribably beautiful nature, was the icing on the cake for me. It was a wonderful mix of adventure, idyllic nature and group bonding!