MANDY'S KIWI EXPERIENCE: PART 3
​Click here for Dutch translation
Since New Zealand's West Coast was ranked in the Lonely Planet's Top 10 Regions of the World to visit in 2014, I was very excited the day we were to embark on our drive to Westport. Unfortunately, the day started with rather a lot of rain, however, as the weather of New Zealand constantly changes, it luckily stopped raining by the time we got to our first stop: Nelson Lakes National Park.
Lake Rotoiti, Nelson Lakes National Park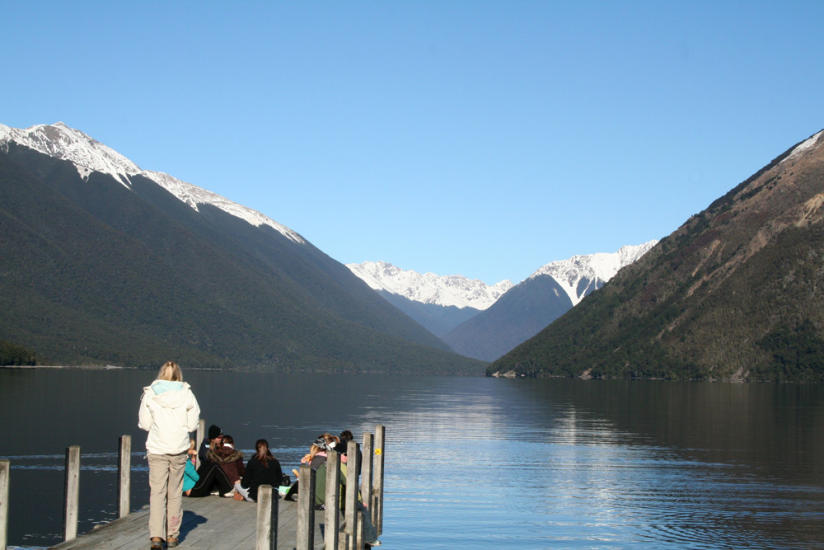 Yes, that lake where everyone takes pictures jumping into the water with the astonishing view in the background! We stopped here just after lunch and it was the perfect place to rest for a picnic and a swim. Those of us not busy jumping off the wharf into the rather chilly lake, gathered in the sun on the side of a lake and prepared our lunches together. I was enjoying the feel of the warm sun on my face as I watched others jumping into the water, when all of a sudden, we were interrupted by a huge group of ducks who began approaching us, seemingly rather keen to join our lunch as well!
Once we had all finished swimming and the ducks had eaten what was left of our lunches, we all jumped back on the bus and continued on our way to Westport. Again I was able to enjoy the view out the window as we drove through the incredible scenery of the South Island. When we arrived in Westport I was very pleased to discover that Bazil's Hostel, where we were to spend the night, was one of the coolest and most unique hostels I have ever stayed at. With its variety of rooms, cozy areas, options to get involved with surfing and two of the nicest, down to earth hosts you could every meet – surfer dudes Ray and Steve. I knew instantly I was going to be sad to leave this amazing little spot.
Bonfire on the beach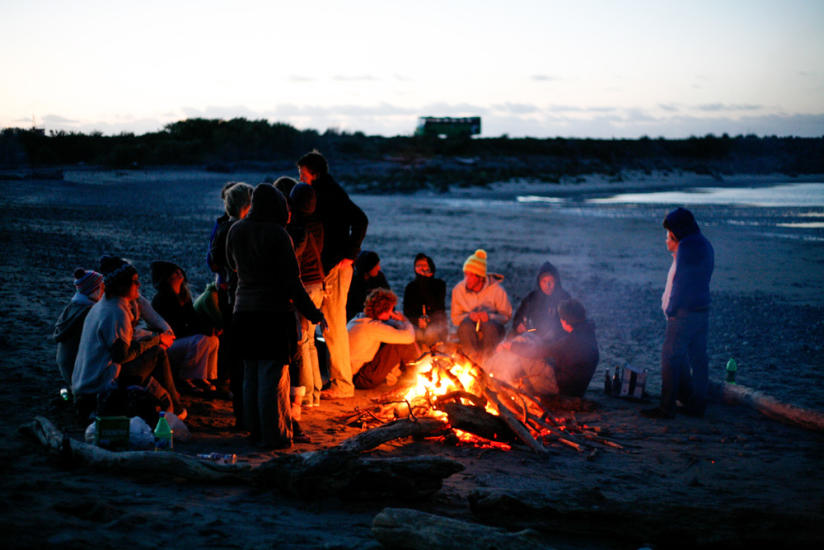 Known for its amazing surf and even more spectacular coastline, it only seemed fit that right after dinner we head down to the beach to see what this wild west coast was all about. The whole bus got involved and celebrated the great time that we'd had so far by having a bonfire on the beach. Not only was the promise of toasted marshmallows a great reason to go along, I also knew this would be a wonderful
opportunity to get to know everyone on the bus a little better! After a few hours on the beach, talking, laughing, sharing our travel stories and singing along to a guitar, the tide came in and it was time we made our way back to the hostel. Many of us had booked to attend a surf lesson the following morning so decided to have an early night as we knew tomorrow would not be bringing a sleep in!
Riding a surfboard (or attempting to)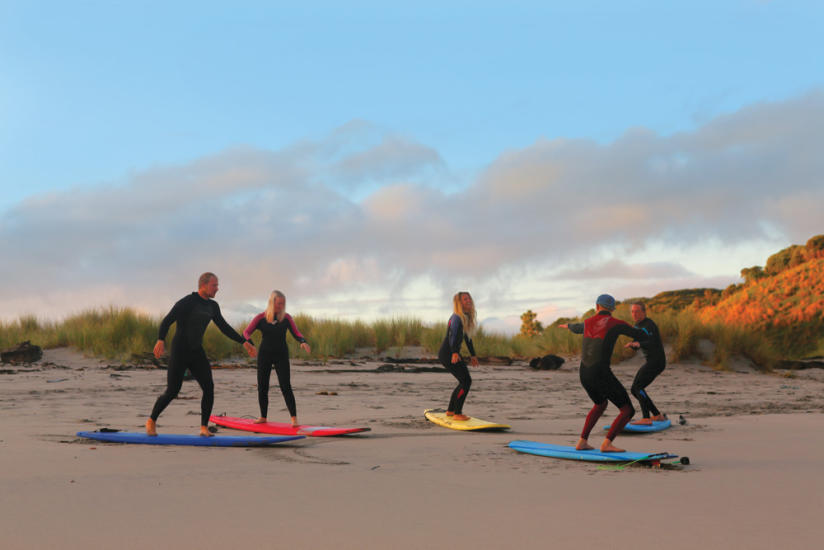 The morning came and by 7AM I was up, at the beach, in a wetsuit and ready for my first surf lesson. Even though the rain was pouring again, it didn't stop us from heading out to catch some waves. Anyway, once we were all packed into our wetsuits we didn't even feel the cold.
After a short, but thorough, surf lesson from our instructor Steve, we got straight into the water. Not long after, I discovered that surfing was to be my new favorite sport haha! Surfing is incredible and I didn't know what I had been missing! No matter the weather or what temperature it is, I definitely recommend this activity as it is so much fun, even if you've never done it before! And, it is totally worth the early morning start!
Aangezien de westkust van NZ in 2014 in de top 10 regio's van de wereld zat volgens Lonely Planet, was ik erg enthousiast om naar Westport te gaan. Helaas begon de dag met veel regen maar omdat het weer in Nieuw Zeeland continu verandert, stopte het gelukkig met regenen toen we eenmaal bij onze eerste stop aankwamen; Nelson Lakes.
Lake Rotoiti, Nelson Lakes National Park
Lake Rotoiti? Ja, dat meer waar iedereen foto's maakt van zijn of haar sprong in het water met dat geweldige uitzicht op de achtergrond! Ik nam mijn grote tas mee waarin ik al mijn eten voor de reis bewaarde en bereidde mijn lunch voor vlakbij het meer. Ik genoot van de warme zon terwijl ik wat kaas op mijn boterham legde en keek hoe anderen in het water sprongen. Opeens kwamen er een heleboel eenden op ons af die erg enthousiast leken te zijn om met ons mee te lunchen!
Na een goede lunch met de eenden vervolgden we onze reis naar Westport. Opnieuw kon ik van de uitzichten genieten terwijl we door de ongelooflijke natuur van het zuidereiland van NZ reden. Ook het hostel zelf was een van de unieke hostels waar ik heb verbleven met haar verscheidenheid aan kamers, gezellige ruimtes, en mogelijkheden om betrokken te raken in deze geweldige surf regio. Dat moest ik natuurlijk proberen. Maar eerst maar eens een kijkje nemen op het strand!
Strand in de avond
Meteen na het avondeten, vierde de hele bus de geweldige tijd die ze tot nu toe hadden gehad met een kampvuur op het strand. Een ideale gelegenheid om iedereen uit de bus nog eens wat beter te leren kennen! Uiteindelijk werd het vloed en doofden de golven het vuur dus gingen we terug naar het hostel. Velen hadden een surf les geboekt in de ochtend dus we besloten om op tijd naar bed te gaan wetend dat we morgen niet zouden kunnen uitslapen.
Op een surfboard staan (of poging tot)
Het werd ochtend en om 7.00 uur was ik wakker, op het strand en klaar voor mijn eerste surf les. Ondanks dat de regen met bakken naar beneden viel weerhield het er ons niet van om naar het strand te gaan. Nadat we ons hadden ingepakt in onze wetsuits voelden we de koude regendruppels niet eens meer!
Na een korte maar volledige surf les van onze surfinstructeur Steve, gingen we meteen het water in. Niet lang daarna kwam ik erachter dat surfen mijn nieuwe favoriete sport is, haha! Surfen is geweldig en ik wist niet wat ik al die jaren gemist had! Wat het weer of de temperatuur ook is, ik raad deze activiteit zeker aan omdat het zo leuk is, zelfs als je het nog nooit eerder gedaan hebt! En, het is de vroege start van de dag zeker waard!