MANDY'S KIWI EXPERIENCE
​​ ​See below for DUTCH translation.
The first activity on my tour through the South Island was a kayaking trip run by Kahu Kayaks in the Abel Tasman National Park. On the morning of my trip I woke up early to an amazing view of the sun rising over the beach. Even though it was still quite chilly, the warm sun on my skin made me forget the cold temperature. A perfect day for a kayaking trip!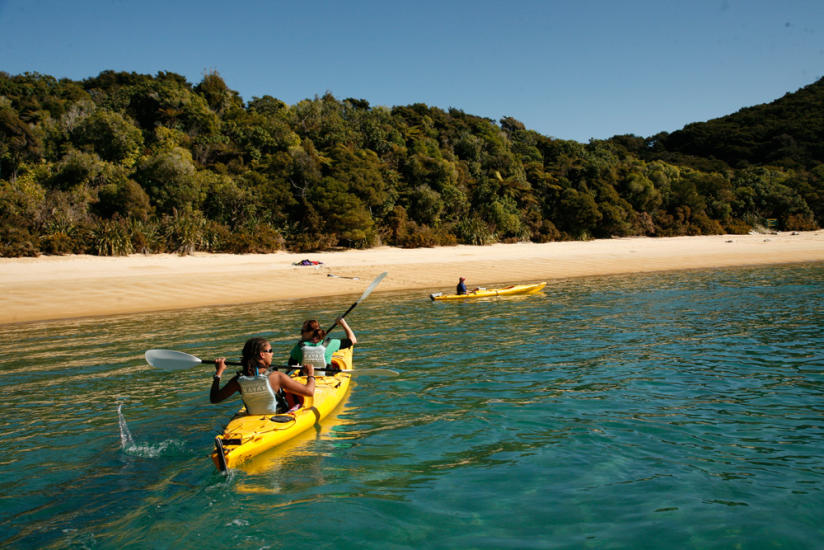 MORNING COFFEE & A LEGENDARY STORY
After a short "how-to" demonstration, we got our kayaks in the water and began to discover the wonders of the Abel Tasman National Park. The scenery was incredible and being on the water gives you a whole different perspective. After a short paddle, we took a little break on an uninhabited island for a delicious coffee. While drinking our coffees we were told the legend of New Zealand's origin, a story that had been told by Maori for generations.
A MAGICAL EXPERIENCE
Once we had finished listening to the guide's stories and had finished our coffees, we got back in our kayaks and began paddling out into the ocean once more. All of a sudden we discovered a whole family of seals. Yes, including seal pups! They were so close I could almost touch them as they played in the water alongside me.
After this magical and almost unreal experience, we were dropped off in the Abel Tasman National Park and began our hike through the native bush back to our starting point.
Many many steps later we arrived back at the point where we had been met by the kayaking guides earlier that day and were taken back to the hostel. It was such an incredible day and an amazing way to start my tour of the South Island. I couldn't wait for what was next!
Mijn eerste activiteit op mijn reis door het zuidereiland was een kajak trip georganiseerd door Kahu Kayaks. 's Morgens werd ik al vroeg wakker met een geweldig uitzicht van de zonsopgang op het strand. Ondanks dat het nog redelijk koud was, zorgde de warme zonnestralen op mijn huid ervoor dat ik de koude temperatuur snel vergat. Een perfecte dag om te gaan kajakken!
HEERLIJKE KOFFIE & EEN LEGENDARISCH VERHAAL
Na een korte "how-to" demonstratie, gingen we met onze kajaks het water in en ontdekten we al snel de wonderen van het Abel Tasman National Park. De natuur was geweldig en zag er vanuit het water heel anders uit. Na een korte tocht namen we een kleine pauze op een onbewoond eiland voor een heerlijk kopje koffie. Onder het genot van koffie werd ons de legende verteld van Nieuw Zeelands bestaan, een verhaal dat bij Maori van generatie op generatie verteld is.
EEN MAGISCHE ERVARING
Nadat het verhaal van de gids tot een einde was gekomen en iedereen zijn of haar koffie opgedronken had, stapten we weer terug in onze kajak en peddelde we weer de oceaan op. Opeens ontdekten we een hele zeehonden-familie. Ja, inclusief zeehonden pups! Ze waren zo dichtbij dat ik ze bijna kon aanraken omdat ze in het water aan het spelen waren! Na deze magische en bijna onwerkelijke ervaring werden we afgezet in het Abel Tasman National Park en begonnen we onze wandeltocht door de natuurlijke bossen terug naar ons startpunt.
Vele vele stappen later arriveerde ik terug op de plaats waar ik eerder op die dag de kajak gidsen had ontmoet en werd ik teruggebracht naar het hostel. Dit was zo'n ongelooflijke dag en een geweldige start van mijn reis door het zuidereiland. Ik kon niet wachten voor wat er allemaal nog meer te wachten stond!