MY SKYDIVE IN TAUPO
(English translation below...)
Das Highlight meines Nothern Round up – Trips war eindeutig der Skydive in Taupo! Ich habe noch nie vorher einen Fallschirmsprung gemacht und habe mich deshalb schon riesig drauf gefreut.
ERSTE VORBEREITUNGEN
Als wir am Skydive Taupo Office ankamen, wurden uns erstmal kurze Filme über die verschiedenen Video Möglichkeiten gezeigt. Man hat zwei verschiedene Möglichkeiten. Zum einen eine Handy-Cam, bei der dein Tandem Master eine GoPro an seinem Arm hat und sowohl vor dem Flug, im Flugzeug, als auch während des Sprungs filmt und Fotos macht. Die andere Möglichkeit ist die Freefall-Option. Dabei fliegt ein Kameramann mit dir mit und macht während des freien Falls ein Video. Auch bei dieser Option wird vorher und auch nachher gefilmt, während des Sprungs wird aber lediglich der freie Fall gefilmt, da der Kameramann danach schon schnell zum Boden muss um deine Ankunft zu filmen.
Danach gab es noch eine kurze Erklärung wie man sich richtig verhält während eines Fallschirmsprungs. Die Sprünge gab es von 12000ft oder 15000ft Höhe. Ich bin von 15000ft gesprungen- der freie Fall ist da länger (1 Minute, bei 12000ft sind es 45 Sekunden) und wenn man schon mal oben ist dann will man es auch richtig ausnutzen!
Danach bekamen wir unsere Ausrüstung für den Sprung: einen Anzug, Gurt, Helm und eine Brille. Mein Tandem Master war sehr lieb und witzig, was mir noch mehr Vorfreude auf den Sprung gemacht hat!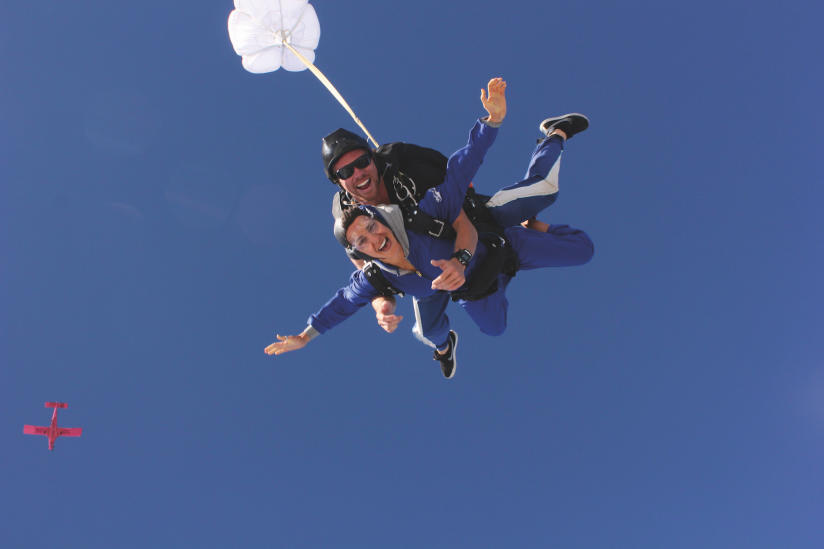 LOS GEHT'S – SPANNUNG STEIGT
Dann sind wir auch schon mit den 6 anderen Paaren, die mit uns geflogen sind, ins Flugzeug eingestiegen. Da war ich super euphorisch und habe die Aussicht über Taupo genossen. Es war ein wirklich wunderschöner Tag, ohne eine einzige Wolke am Himmel, deshalb hatten wir einen super Ausblick.
Als dann aber die ersten Paare vor uns auf der Bank rausgerutscht sind und mein Tandem Master mich auch langsam zum Ausgang geschoben hat, ist mit plötzlich mein Herz in die Hose gerutscht! Es war ein absolut komisches Gefühl auf der Flugzeugkante zu sitzen ohne sich festzuhalten.
EIN UNGLAUBLICHES GEFÜHL
Doch es war nicht wirklich viel Zeit sich Sorgen zu machen, denn dann sind wir auch schon gesprungen. Der Wind hat mein Gesicht ziemlich verformt, wie ich dann später auf dem Video bewundern konnte. Aber dieser freie Fall war wirklich unbeschreiblich, ein Gefühl von absoluter Freiheit!
Nach einer Minute, in der mein Herz gefühlt 50 mal schneller geschlagen hat als sonst, ging dann der Fallschirm auf und von da an sind wir deutlich langsamer geflogen. Das war gut, denn da hatte ich Zeit mir in Ruhe die Landschaft anzugucken. Es war wirklich wunderschön, wir sind über den Lake Taupo geflogen und konnten sogar bis zu den Bergen des Tongariro National Parks gucken. Mein Tandem Master hat mir zwischendurch die Leinen übergeben, sodass ich den Fallschirm alleine steuern konnte.
Vor der Landung hat er unsere Geschwindigkeit so abgeschwächt dass wir total sanft gelandet sind.
MEIN PERSÖNLICHES HIGHLIGHT!
Wieder am Boden konnte ich eine Stunde lang nicht aufhören zu grinsen und wollte am liebsten nochmal hoch!
Es war wirklich ein super tolles und einmaliges Erlebnis! Wenn ihr die Möglichkeit habt, dann probiert es auf jeden Fall aus. Der Skydive an sich war unglaublich, aber auch das Team war super nett und alles in allem war es eine super angenehme Atmosphäre!
---
The highlight of my Northern Round Up – trip was definitely the Skydive in Taupo. I've never sky dived before, which is why I was really looking forward to doing it.
FIRST PREPARATIONS
When we arrived in the Skydive Taupo Office, they showed us short videos about the different options of filming. One option was the Handy-Cam: Your tandem master has a GoPro on his arm and takes video and photos of both before the flight, in the plane as well as during your jump. A second option was the Free-Fall: a cameraman is flying with you and takes a video and many pictures. With this option you are filmed before and after the flight as well, but while you jump you only get filmed during the free fall, because the cameraman has to get back to the ground fast to film your arrival. After that we got a brief explanation of how to do during the Skydive.
The jumps are possible from 12000ft or 15000ft height. I did it from 15000ft – the free fall is longer (1 minute, at 12000ft it's 45 seconds) and as you're there for probably just one time you should go the whole hog. Then we got the gear: a suit, harness, hat and goggles. My tandem master was very nice and funny, which made me look forward to jumping even more!
HERE WE GO – TENSION INCREASES
We entered the plane with 6 other couples. I was so euphoric and enjoyed the view over Taupo. It was a beautiful day without any clouds in the sky, so we had a great look-out.
But when the first couples glided out in front of us on the bench and my tandem master slowly pushed me to the exit, my heart missed a beat. It was an absolutely strange feeling sitting on the edge of the plane without holding on.
AN INCREDIBLE FEELING
But there was no time to worry, because after a few seconds we had already jumped out off the plane. The wind deformed my face as I saw later in the video. But this free fall was really indescribable, a feeling of absolute freedom!
After a minute with my heart beating nearly 50 times faster than usual, we opened the parachute and from then on we flew much slower. That was good, because I had time to take a look around at the amazing landscape. It was really beautiful because we flew over Lake Taupo and could even look at to the mountains of Tongariro National Park.
My tandem master handed me the strings so that I could control the parachute myself. Before landing, he slowed down our speed so that we landed gently.
MY PERSONAL HIGHLIGHT!
Back on the ground I couldn't stop smiling for an hour and wanted to have another go straight away! It was a really great and unique experience! If you have the chance, you definitely have to try it out. The Skydive itself was incredible, but also the team was very nice and all in all it was feel-good atmosphere!