MY HIGHLIGHTS ON THE SOUTH ISLAND
(English translation below...)
Die 11 Tage, die ich auf der Südinsel herumgereist bin, waren wirklich sehr beeindruckend und einiges davon werde ich vermutlich nie vergessen! Leider vergeht die Zeit so schnell, wenn man viel unterwegs ist und immer wieder Neues erlebt.
Ein paar meiner Highlights habe ich ja schon in den vorherigen Blogs genauer beschrieben. Davon war mein Top Highlight eindeutig das Schwimmen mit den Delfinen in Kaikoura. Es war ein absolut einmaliges Erlebnis – ich konnte es kaum glauben, dass wir wirklich mitten drin in einem wilden Delfinschwarm waren. Noch einige Stunden danach, kam ich aus dem Staunen nicht mehr raus. Darüberhinaus war eins meiner Top-Ziele in ganz Neuseeland definitiv Queenstown– es ist einfach eine wirklich tolle Stadt. Der Strand ist wunderschön und ziemlich zentral, mit einem umwerfenden Ausblick auf das Wasser umgeben von riesigen Bergen. Außerdem kann man in Queenstown unglaublich viel unternehmen. Von Skydiven über Bungy Jumping und Jetboot fahren bis zu eindrucksvollen Walks durch die Natur ist alles dabei. Als letztes bietet Queenstown noch ein ziemlich aufregendes Nachtleben. Es ist also alles dabei, was man als Backpacker braucht!
1,2,3 BUNGY!
Einen großen Eindruck hinterlassen hat außerdem noch der Nevis Bungy Jump. Am 2. Tag in Queenstown sind wir gegen Mittag dorthin gefahren worden, und ich war unglaublich aufgeregt! Ich habe noch nie vorher einen Bungy Jump gemacht, und dann war es gleich der Höchste in Neuseeland und Australien, und der Dritthöchste der Welt.
Nachdem wir mit unserer Ausrüstung ausgestattet wurden, sind wir mit einem sogenannten cable car zu der Bungy Station gefahren, die mit mehreren Seilen zwischen zwei riesigen Bergen gespannt ist. Ich war eine der letzten die gesprungen ist, deshalb ist meine Aufregung immer mehr angestiegen. Der Höhepunkt meiner Anspannung war als ich auf dem Stuhl saß und man mir das Seil an den Füßen befestigt hat.
Ich konnte kaum herunter schauen als ich zur Kante laufen musste. Am Anfang wurde man noch hinten am Gurt festgehalten, damit man sich vorlehnen kann und in die richtige Position kommt. Ich hätte es ganz anders von mir gedacht, doch als ich dann die Worte 1,2,3 Bungy hörte, bin ich einfach gesprungen. Das Gefühl des freien Falls war unbeschreiblich! Als man dann 2 Mal wieder hoch gefedert wurde, musste man an einem Band am Fuss ziehen und hing ab dann in einer sitzenden Position. Als ich wieder oben war, war ich stolz es geschafft zu haben und voller Adrenalin. Dieses Erlebnis werde ich wahrscheinlich niemals vergessen!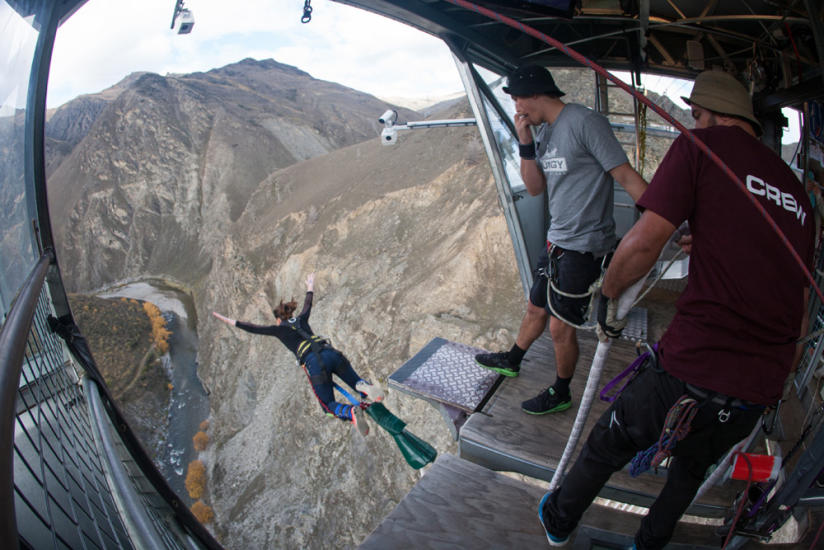 ROMANTISCHES LAGERFEUER AM TAG DER LIEBE
Einen weiteren wirklich schönen Abend haben wir in Westport verbracht. Wir sind dort am Valentinstag angekommen, und sind alle zusammen abends zum Strand gefahren. Dort haben wir viel Holz zusammen gesucht und daraus ein grosses Lagerfeuer gemacht. Wir saßen alle drum herum, haben es uns gemütlich gemacht und uns gewärmt. Später haben wir dann ein leckeres BBQ gemacht und am Lagerfeuer gegessen. Ohne die Sandflies die unsere Beine zerstochen haben, wäre es ein rundum perfekter Abend gewesen. Aber uns wurde gesagt, wenn man keinen Sandfly Stich hat dann hat man die Südinsel nicht richtig erlebt!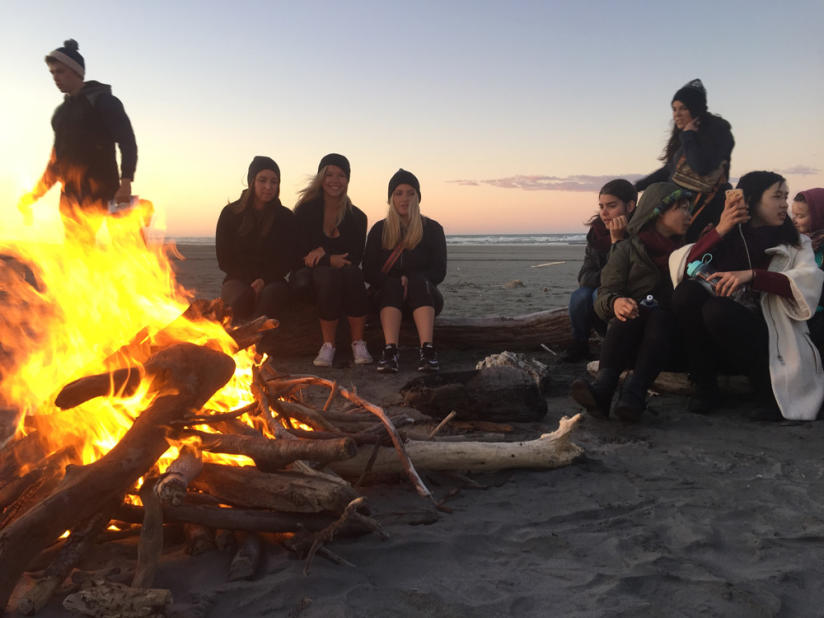 DER WUNDERSCHÖNE SÜDEN
Zusammenfassend kann ich sagen, dass mir die Südinsel wirklich ausgesprochen gut gefallen hat. Die Landschaften sind außergewöhnlich schön und vielseitig und es gibt unglaublich viel zu erleben! Ein weiterer Grund, der mich meine Reise noch mehr hat geniessen lassen, war unsere witzige und aufgeschlossene Gruppe. Die längeren Busfahrten zwischendurch wurden nie wirklich langweilig, da unser Busfahrer immer einen Weg gefunden hat, dass wir die Fahrten geniessen können und Spass haben, wodurch wir immer mehr zu einer Gruppe zusammen geschlossen sind. Als ich von Christchurch wieder zurück nach Auckland geflogen bin, war ich schon fast etwas traurig, dass mein Trip über die Südinsel vorbei war.
---
English version:
The eleven days I spent travelling around on the South Island were really impressive and I will probably never forget them! Unfortunately, time always goes by so fast when you are travelling and experiencing new things.
I've already described a few of my highlights in some of my previous blogs. One of my main highlights was swimming with the dolphins in Kaikoura. It was an absolutely unique experience - I couldn't believe that we were actually in the middle of a wild dolphin pod! Even a few hours later, I was still overwhelmed.
One of my top destinations in New Zealand was definitely Queenstown - it's just a really great city. The beach is beautiful and quite central and the view of the water surrounded by mountains is stunning. In addition, you can do many various activities in Queenstown. From skydiving to bungy jumping and a jet boat ride up to spectacular walks through native forests. Everything is possible there. Queenstown also offers an exciting nightlife. So it's got everything you need as a backpacker!
1, 2, 3 BUNGY!
One activity that definitely impressed me was the Nevis Bungy Jump.
We drove out here on my second day in Queenstown and I was incredibly excited! I had never done a bungy jump before, which means that my first one ever was the highest in New Zealand and Australia, and the third highest in the world!
After we got our equipment, we rode in a tiny cable car to the bungy station, which hangs on a wire, suspended between two huge mountains. I was one of the last who jumped, so as I waited, I became more and more excited and nervous. I reached the height of my tension when I was sitting in the chair, watching as they fixed the ropes to my feet.
I could hardly look down as I had to make my way to the edge. At the beginning, I was held on by a belt so I could lean forward and get into the right position. I thought I would react a lot differently, however to my surprise, as soon as I heard the words "1,2,3 Bungy!", I just jumped! The feeling of the free fall was incredible. Once I had rebounded twice, I had to pull on a short leash at my feet and this brought me into to a sitting position. When I got back up to the station, I was so proud I had done it and full of adrenaline. This is an experience I will never forget!
ROMANTIC BONFIRE ON THE DAY OF LOVE
Another really nice evening during my trip, was Valentine's Day in Westport. Here the whole bus went down to the beach together. We collected a lot of wood and made a big bonfire. Once it was lit, we all sat around and warmed ourselves. Later, we made a delicious BBQ and ate it around the campfire. If you ignored the sand flies that were biting us, it was a perfect night. However, we were told that if you didn't have any sand fly bites, you hadn't truly experienced the South Island!
THE BEAUTIFUL SOUTH
All in all I can say that I really loved the South Island.
The landscapes are extremely beautiful, multifaceted and there is so much to experience! Another factor, that made me enjoy my trip even more, was the lovely and cheerful group I was travelling with on the bus. All the longer bus rides never got boring, because our driver Gary always found a way to make them enjoyable and made us feel connected as a group. As I flew back from Christchurch to Auckland, I was rather sad that my trip to the South Island was over.